Inside the classroom: Manufacturing Technology

     Band saws, radial arm saws, planers, miter saws, jointers, electric sanders, and drills—staples of every home and commercial woodshop—Norwin's Manufacturing Technology students can use them all. The woodshop classes learn the ins and outs of a variety of tools and techniques in order to produce beautifully crafted wooden decor.
     Manufacturing Technology I & II, taught by Mr. William Hribar, are important core classes for Norwin's technology department. They teach students how to safely and effectively turn pieces of wood into something truly special.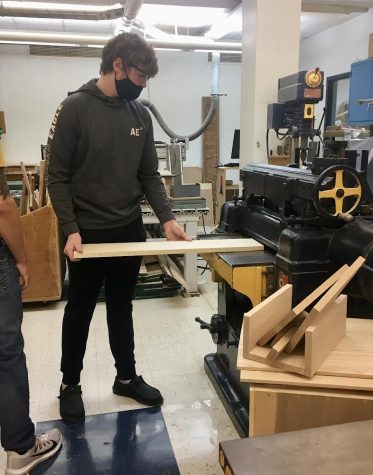 "I try to pass on the basic skills in Manufacturing Technology I classes in case kids don't progress to Manufacturing Technology 2," Mr. Hribar said. "I teach tool identification and problem solving skills. It's not what we make in the classes that is important, but what you learn along the way."
     Students in the introductory woodshop classes go through a series of safety tests on different machines and equipment to ensure that they know how to properly operate and care for them. Safety is the number one priority when sharp tools are involved. 
     Once students pass their safety tests they are free to acquire more knowledge about the art of woodworking. Beginner's projects usually include engraved boxes, stools with logos, and some students even progress enough in a single semester to make small side tables! Manufacturing Technology II only brings on more intricate and interesting projects, like the chain reaction machine featured in the video below.
     Mr. Hribar does his best to provide his students with knowledge that they can apply now, as young adults, or even in future careers.
     "We have an evolving society to the point where any young adult, if they have the ability to work with their hands, can have endless job opportunities," Mr. Hribar said. "Starting off with basic skills you can go on to be very successful."
     Students who take woodshop often have different reasons for doing so, whether it will help them in a future career or they just want to try something new.
     "I initially took Manufacturing Technology because I heard all of my friends talk about how awesome the teacher and class was, so I requested to have it in my schedule for my senior year," said Manufacturing Technology 1 student, Ryan Harrigan, 12.
     Due to the nature of the class, Manufacturing adds variety to the schedules of its students.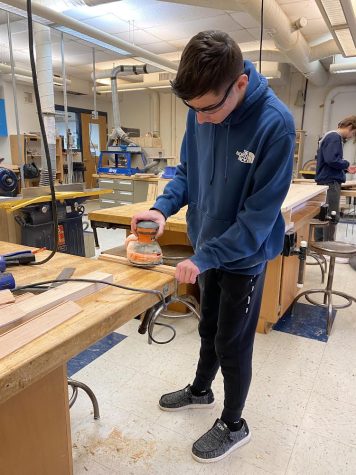 "It is a nice break in the day," said Manufacturing Technology 2 student, Tristan Watson, 10. "It allows me to be on my feet and not sit in a chair all day long."
     Those who take Manufacturing Technology always walk away with considerably more knowledge than when they first began, and they truly value the skills that they acquire.
     "I think [woodshop class] is very important," Harrigan said. "Learning how to use different tools and machinery has opened up new career paths that I now want to pursue because of this class. I think other students should do this as well because they may need to know this stuff for their future occupations or later in life itself."     
     Woodshop at Norwin truly is a unique experience that provides its students with applicable skills and knowledge. Manufacturing Technology is a class that anyone desiring a break from regular academics would enjoy. 
Leave a Comment
About the Contributor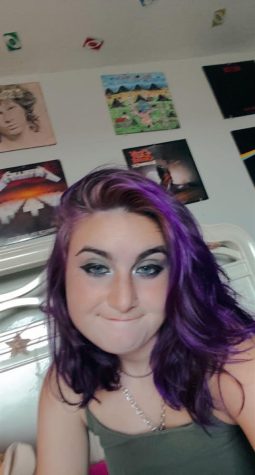 Elizabeth Long, Writer
 Elizabeth is a senior and a second year writer for the Knight Krier. She is the Vice President of the Science Challenge Squad, Treasurer of the Student...