Norwin hockey on a roll
     After a disappointing 2020-21 season, missing the playoffs and finishing with a record of 8-11, the Norwin Knights Ice Hockey team is off to one of the best starts in program history with a record of 10-3-1 (Win-Loss-Overtime Loss) as of Jan. 18, 2022.  
      "Our team's success definitely can be attributed to the depth we have," Mike Robinson, second year head coach of the Knights said.  "Our third line is putting up as many points as some teams top lines."
      The Knights are full of talent this season.  Senior Logan Fear has been the Knights leading scorer this season, with 30 points through Jan. 18.  Fear was named captain this season.  Senior defensemen Jake Meier and Will Dillner were named assistant captains for the season.  Meier has 20 points on the year, which leads all defensemen.  The Knights are not just talented this season, but also extremely motivated.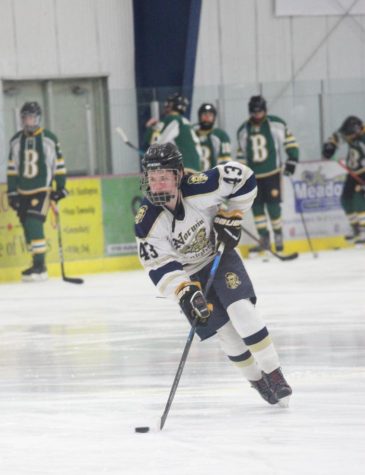 "The coaches held a players meeting during the summer and we went over expectations and goals for the season," said Robinson. "The boys all had the same goal written down. Win a Penguin's Cup and a trip to the state championship."
     For a long time, winning the Penguins Cup, a high school hockey tournament consisting of over 80 local hockey teams, seemed like a tall task for the Knights Hockey team.  But Knight's aforementioned depth has set them apart from their competitors this season.  Fear leads the team in points, but many other players have contributed this season including senior Ty Shigo, who is second on the team with 22 points.  The Knight's second and third lines also have 69 combined points so far this season, almost doubling their total points for the entirety of the 2020-21 season.  The Knight's second line is anchored by sophomore forwards Alex Thomas and Mario Cavallaro, both of whom have over 20 points on the season.  
    "We need to continue playing our style of play," said Robinson about his team's chances at making a playoff run, "which is fast and high scoring. If we do that I feel like this team will definitely succeed in the playoffs and we will reach our goal that was set this summer."
     The Knights change to their style of play has greatly contributed to their success this season.
     "We try to play fast paced and be a puck possession team," said senior forward Robert Chappell.  
     Another component of the Knight's success has been their defense, which many could consider the unsung heroes of the season.  The Knights top defensemen have been Meier and Dillner, along with senior Anthony Cavallaro and sophomores Dom Constantino and Aaron Varrati.  The Knights goalie this season is sophomore Owen Burmiester, who has 283 saves on a .845 save percentage.  Burmeister plays in one of the most difficult positions in hockey, and also has no backup this season, making him one of the team's most critical players.  
     "Being the only goalie puts a lot of pressure on me," said Burmeister. "Without a backup I need to understand I must stay healthy and keep a clear head when playing as no one else can come in for me."
      The Knight's losses this season have been to strong teams in Moon, Quaker Valley, North Hills, and Chartiers Valley.  They have beaten rival Kiski twice this season for the first time in Norwin Hockey history.  Some of the key wins for the Knights this year included the first time they played Kiski on Oct. 5 winning 5-4, and then played again on Dec. 13, winning 7-4.  Mario Cavallaro had 4 goals across the two games.  
     "This season has definitely been a historical one," said Fear.  "We've beaten teams we have never beaten before and we have won more games than ever."
     For many Knights players, this season makes them reminiscent of the 2020-21 season that they lost to the COVID-19 pandemic.  
     "That was the last time we were really good," said Fear.  "We lost that season, and then last year we weren't super strong.  This is our last chance and we don't want to let it pass by."