Playing to the next level
What it takes to become a college athlete
There are many high school student athletes who are wondering the same question: What is it going to take to make it to the top? Many high school athletes do not realize the difficulty it takes to play at the collegiate level. They may think that starting varsity is all they need to thrive in college; however, that is far from correct.
According to a recent poll in ScholarshipStats.com, a little over 7% of high school athletes go on to play a sport in college and less than 2% students go on to play at a NCAA Division I school. To make it to college athletics, even without a scholarship, is a lot of hard work and dedication, and consists of many struggles.
According to an article written by Kara Kots entitled "How to be a Successful Student Athlete", she states: "Becoming a student athlete is often desired by many but is only achieved by a select amount of individuals. When becoming a student athlete, a determined mindset and positive attitude will go a long way. These will push you to reach your goals and get back up when the going gets tough."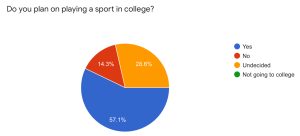 A major and common struggle that many athletes have experienced in high school and that has stuck with them into college is the balancing of schoolwork. Depending on the classes you take this task can be difficult on its own but when there is also sports to focus on, it can become more difficult.
"Finding balance between school and athletics is difficult at first, but the more you do it the easier it becomes," said Joey Astrab, Norwin graduate and swimmer at Grove City College. "For me, I found it best to work ahead and plan my day-by-day by dedicating certain times to work on certain things. There is a degree of sacrifice required to be successful at managing both but with time and practice it's something I think everyone can master."
Staying on top of school work is just one of the important parts of the student athlete's life. Another important key to success also includes staying fit and in-shape during the off-season, and these do not just apply to college athletes but high school as well.
"Lifting and doing speed work 4-5 times a week and going to the field to throw football when the weather is nice has summed up my high school off-season experience so far," said Norwin senior quarterback Luke Levendosky.
Another thing high school athletes may try to gain before even making it to their senior season is a scholarship. Obtaining scholarships to some sometimes seem impossible and like they do not have a chance, but they can be extremely helpful in the long run of your college career.
"
Communication with collegiate coaches has been an influence; getting my transcripts sent with my highlight tape has been a key factor so coaches know and understand my capabilities on and off the field."
— Luke Levendoski
According to an article entitled collegeraptor.com, the article states: "The more well known a scholarship is, or the more money attached to it, the higher the competition will be. That's just the way it is. However, make sure you don't overlook a scholarship with smaller awards or a local scholarship—these often have far less competition and increase your odds of winning! You may win less money, but if you apply to a bunch of smaller scholarships and win, you still end up with a good sum. Not to mention, with less competition, you have a higher chance of winning."
In addition, college athletics is not all about constantly attending practice, getting all school work done the day of, and attending parties on the weekends. There are also many cons to go along with all the fun stuff but like many things, it can benefit you later in life.
"Some of the cons of competing in athletics is that it can sometimes get hard to manage your schedule between school work and athletics," said Aleksandra Brozeski, Norwin graduate and track and field athlete at Slippery Rock University. "Your schedule can become very busy at times, but it does prepare you for the future when you are out of school and have to manage different aspects of your life."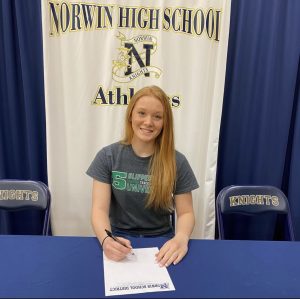 Even though being a student athlete can present its challenges and difficulties at times, there are many lasting memories to be made that make up for the strenuous parts.
"One of the most memorable moments I've had playing football is when we played Latrobe this past season and drove about 70 yards down the field with less than a minute to win the game," said Levendosky. "It brought our team closer together and was a good win for us going forward in the season. I will remember that one for a long time."
Many athletes may tend to have some unanswered questions going into the new and unfamiliar scene as well. Some things they wish they knew beforehand that could have benefited them in the long run and opened their eyes a little bit more.
"One thing I wish I knew about college athletics in high school would probably be that there are lots of more opportunities to grow and become a better athlete in college," said Astrab. "Trusting the process your coaches put on you from day one will yield results and making sure you focus on your goals is huge. Understanding this earlier would have helped me better prepare going in."
After everything and getting to where you want, things will eventually fall into place and you will naturally get through it in the end.
Becoming a collegiate athlete is no small task, and requires a lot of hard work and dedication. However, it's not impossible and can be achieved.