Love and divorce
Divorce effecting long term mental health
According to survivedivorce.com, more than 45% of American children will live in a divorced home by the age of 16.
Divorce often causes trauma for families all around the world. It is a major cause for children to begin feeling emotionally sensitive.
The separation of parents can destroy a person's healthy mindset. Divorce not only affects the parents, but can also affect the mental health of teens.  Many students at Norwin struggle with divorce while trying to maintain a "normal" school life.
In a recent poll done at Norwin High School of over 50 students, 84% of those polled believe their parents' divorce has affected their mental health.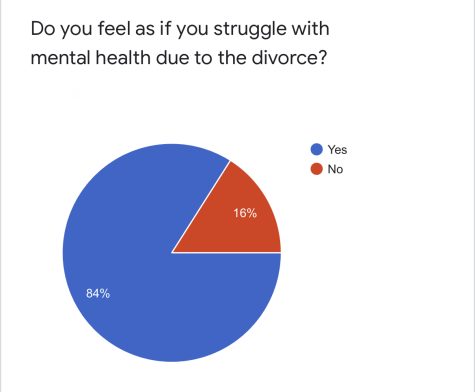 When the thought of getting a divorce comes about in a family, most parents will try to make it work because of the kids. If the parents decide to give up on trying, at times this causes inappropriate guilt to come to a child's head and thoughts like: "I hope this isn't my fault."
"When I work with students of divorced parents, I try to help them understand things like the divorce isn't their fault," said Rachel Butler-Pardi, Norwin's social worker. "And regardless of how their parents handle it, they can also make choices that work for themselves."
Divorce can be a very traumatic time period for a kid who just wants to see their parents together. They will often wonder, "Why did my parents suddenly stop loving each other?" Viewing the separation of their own family can scar them for a lifetime.
"Due to the divorce, I struggle with anxiety most when they fight on the phone, it still upsets me and my siblings," said a NHS student in the poll.
Many people believe their parents' divorce affected them mentally, but there are certain aspects of the separation that have really stuck with them.
"The hostility between my parents has affected me the most," said a junior at NHS. "It's hard seeing your parents be nasty to each other after they were together for so long."
It can be very difficult to think about one parent eating dinner alone at night. The guilt you feel while leaving out one parent or the other is unmatched.
"It's most difficult when picking and choosing between them, where to stay, where to go for holidays, having my belongings at both places," said a polled sophomore at NHS. "It's hard being separated from one parent, and never getting to see both at family gatherings, or holidays. It's two separate worlds."
Even though the aspect of divorce mentally affects so many students, does that mean the struggles from it will last forever, or go away?
As a result of the conducted poll, it is shown that 52% of the students who are affected mentally by divorce, also believe that these mental struggles will last for the rest of their lives.
A parent's divorce is one of the most difficult times in a kid's life. Even though it's tough, that does not mean one can not reach out for help.
"Within the school setting, students have the support of school counselors, SAP team members, school psychologists, and social workers," said Brianna Mainwaring, Norwin's Certified Psychologist. "and the potential for community based in-school counseling support is available as needed."
As time goes on after the divorce, the struggles children face could either get better or worse.
"Depending on how the individual student responds to the divorce, as well as any treatment afterwards, the challenges they encounter may increase or decrease as time progresses," said Mainwaring.
Divorce causes mental health issues that can last kids a lifetime. Although the period of time is very difficult, it's always best to look on the bright side. It will always get better, no matter what the situation is.
"
The hostility between my parents has affected me the most. It's hard seeing your parents be nasty to each other after they were together for so long. "
— Norwin High School Junior
"Helping is remembering that everything is a learning experience and everything happens for a reason," said one NHS student. "Also, reminding myself that I'd rather have parents who are happy separated, rather than unhappy together."
Leave a Comment