Sayonara Seniors
The examination of the transition to college from Norwin's Staff, Graduates, and Seniors.
On January 4, Norwin alumnus Eva Frankovic and her family carried dozens of boxes, packages, and containers to her empty apartment at the University of Pittsburgh, where she will pursue her academic and athletic career even further. Eva looks at the empty room thinking of all the future memories she will create in her new home.
Eva is going through the transition from high school to college, a process that many seniors will go through after graduation. The process can be grueling and challenging affecting the students physically, mentally, and emotionally.
"The transition to college graduating high school was a difficult one, especially due to the fact that I left high school a semester early. It was hard to leave home at 17 and say goodbye to all my friends and family early. Having to balance soccer and coursework was a huge stressor. It was either sink or swim, but being surrounded by a great support system, the women's soccer team, and my new friends I was able to adjust and settle to the college lifestyle" said Frankovic. 
"
The transition wasn't too bad for me. I have way more freedom and independence now that I'm in college, but since I attend LIU (Long Island University) I'm quite far away from my family and friends so sometimes it gets lonely."
— Morgan Sigut (Norwin Graduate)
College can be some of the greatest years of one educational experience, but it depends on how much work they are willing to put in. College is a time in one's life where they must decide on what type of person they want to be in the world. The college experience can be stressful and frustrating.
According to BetterYou.com "63% of students in the US reported overwhelming anxiety in the past year (2018). Since March of 2020, these college student stress facts and the percentage of anxiety related issues have only increased."
Transitioning to college can be a source of stress for most first-year students. Some predictable stressful times include studying for exams, competing for admissions or internships, and trying to master large amounts of content in small amounts of time. Kids have too learn how to adjust to these new issues and become more like adults 
According to a Norwin newspaper poll most students disagree. The poll stated that Majority voted a five on a scale from one  to ten on how stressed they are to transition to college.
Most students that go into college are just entering adulthood, not comprehending the tremendous amount of obligations that burden them. As time goes on  more and more students must learn to the manage the tremendous responsibilities they uphold.
"

The transition was difficult. It was hard saying goodbye to my parents, but since my brother was already at Penn State he was able to help me adjust to college."
— Eli Baglio (Norwin Graduate)
According to NCES.gov, "the current rate of college enrollments lies at 70%, which is an increase from the 2000s of 63%."
Universities enrollments are only growing, meaning even more students will go through the stressful process of transition from high school to college, but with a new environment means new chances for creating friendships, more freedom and independence, and opportunities to enroll in different activities.
A recent Knight Krier poll was taken from graduating seniors at Norwin about what they are looking forward to most about college.  Over 75% of students in the poll said they are looking forward to the opportunity to create everlasting friendships and relationships. College's main purpose is for students to further their academics, but offer extra curricular activities to help students develop their social skills.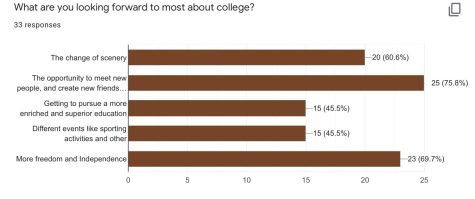 Numerous students here at Norwin plan on participating in extracurricular activities. For example, senior Reese Aqullio is going to school to further her academic and soccer career not only to stay active, but to be involved within the community and build new friendships.
"I committed to my school to continue my academics and play collegiate soccer at the next level," said Aquillio. I also intend to join a few clubs to stay involved. I plan on continuing these activities to not only stay active and involved within the community but to build new friendships while making the most out of the college experience."
"

I was super excited to leave high school and go to Pitt and play soccer, but I didn't comprehend the massive workload that I would receive. Having to balance school and soccer is way more challenging compared to high school."
— Lacey Bernick (Norwin Graduate)
Students go into colleges looking at the positives, but don't seem to comprehend the negatives. The difference of workload compared from high school to college is tremendous and most students don't understand how much work they must put in to be successful in college.
The American Association of College and Universities reports that "53% of students entering our colleges and universities are academically underprepared and lacking basic skills"
Many students go into college without knowing the adversity that faces them. During high school students don't really know how to prepare themselves for the challenges that college throws at them. What don't students do to prepare themselves for the major transition from high school to college?
"If they take college prep classes and AP/Honors track throughout high school, they are prepared academically," said AP Literature English teacher Mrs. Jenifer Boyd. "If they opted to take it easy in high school, they pay dearly at the next level. If they regularly expanded their network of socializing in high school, they are fine socializing at college. If they clung onto a few friends and activities as their entire world, they struggle at college to branch out and have the confidence to connect with new people and new situations." 
The transition to college can be frightening, but taking honors classes and expanding one's social platform can prepare students for the many challenges that college throws at them. College can be some of the best years of a person's life, but it's up to them to make it that way.
Leave a Comment