Unified Bocce kicks off season
The Knights started their season yesterday at Franklin Regional with a loss, but they gained some experience for the long run.
It's time to get up and rolling again for the Norwin Knights.
On Wednesday, Jan. 19, Norwin played their first match of the season at Franklin Regional, losing by a score of 3 games to 1. Sophomores Alina Harrigan and Angelina Angelcyk both scored multiple times for the Knights, while newcomers Quinn Kopas, Matthew Winwood, Matthew Bosley, and Zach Coates made some effective rolls of their own. Despite the loss, the team was able to gather some game experience for the first time in nearly a year, and they were able to utilize some of the strategies they had been working on for weeks.
"We work really hard on 'trick plays' in practice, and [we] used them to our advantage at the meet," said coach Alyssa Rittenhouse. "This is where you roll the ball toward the side boundaries, which guides the ball right along the boundary to hopefully stop near the pallina. We got several points this way!"
The athletes enjoy the camaraderie and competition.  "I love snacks before Bocce and being with my friends,"  said senior Bocce athlete Quinn Kopas.  Being a part of a team and competing as one is key to a successful unified team and program.
"
Unified Sports are important to athletes with and without disabilities…We call it the 'Inclusion Revolution'"
— Coach Alyssa Rittenhouse
Bocce is an unfamiliar sport for most, but generally, the game goes like this: to start a round, one player rolls a ball into the center (or close to the center) of the rectangular hardwood court. After that, each team of 4 must roll their 4 balls to try to get them as close to the pallina, or center ball, as possible. Whichever team has the closest ball to the pallina gets one point for every ball they roll closer than the losing team's closest ball. So, for example, if Team A rolls all 4 of their balls extremely close to the pallina, and all of Team B's balls are far away, Team A would win 4 points for the round. These rounds are played for a set time limit, and whichever team has more points after time is up wins the game. The first team to win 3 games wins the match.
The sport is certainly not mainstream, and in fact, it only got its start 2 years ago at Norwin High School when Rittenhouse observed it being played at a Unified Sports conference in Slippery Rock, and it became the second Unified sports team in the district (after Track and Field). Unified sports programs are a bit different from traditional sports, as they feature children with and without special needs on their teams, giving the former group a chance to be part of a team that they would likely not have otherwise.
"Unified Sports are important to athletes with and without disabilities," said Rittenhouse. "We call it the 'Inclusion Revolution' because it is shifting the idea that athletes with disabilities are only capable of being a part of a team with each other to the fact that they are capable of being a valuable part of a team with athletes both with and without disabilities. Our society was so used to assuming kids with disabilities are not capable of this, and putting them in their own divisions (or on Varsity teams as managers or practice squad members), that we neglected to give them a chance to compete with peers. However, with Unified Sports, athletes with disabilities get to play meaningfully the entire season."
Unified Sports are often confused with the Special Olympics, which, as Rittenhouse describes, gives athletes with disabilities the chance to play against each other, with "helpers" being appointed to assist them. Although the two are similar in nature, Unified Sports teams feature more balanced rosters; in fact, the Knights' bocce team has a nearly equal balance between kids with special needs and those without them.
"We don't have specified 'helpers' on our team—having helpers is more from the original version of Special Olympics, which has athletes with disabilities competing against only other athletes with disabilities, which, if you think about it, is quite exclusive," said Rittenhouse. "Special Olympics has evolved and created the Unified Sports program to be more inclusive. It is designed so that all members contribute equally to the team. Our teams are made up of approximately half (it can go 40/60% either way if need be) athletes with disabilities and half without in order to 'level the playing field,' and if we (or the other team) have absences that take our team outside of that ratio, we switch the meet to an exhibition meet instead of counting towards our record. All team members have the same opportunities to score points for our team. As their coach, I expect that all members of the team help each other out when needed, just like other teams."
Last year, the team faced some challenges due to COVID-19, and although they got to play out a full schedule, no spectators were allowed at the games. This year, fans are allowed back inside, and masks are optional for home matches (the team has to follow the COVID-19 protocols of whatever school they travel to for away matches).  After over a year of having to see the play-by-play from home, Norwin's fans traveled in large numbers to see the team in action at Franklin Regional.
"Parents and spectators are allowed at games this year, and we have an amazing group of parents," said Rittenhouse. "The Franklin Regional coach remarked that it looked like Norwin had more fans in the stands than they did, which is so great! Bocce meets are quiet during rolls, but it's always great to have a cheering crowd as those rolls settle in."
Up next for Norwin is an away match against Deer Lakes on Thursday, Jan. 27, and soon after that, on Feb. 9, they will have their senior night, a home rematch against Franklin Regional.
The Knights may not have a win in the record books just yet, but the season is young, and they will be sure to give their all in every game down the road.
Leave a Comment
About the Contributor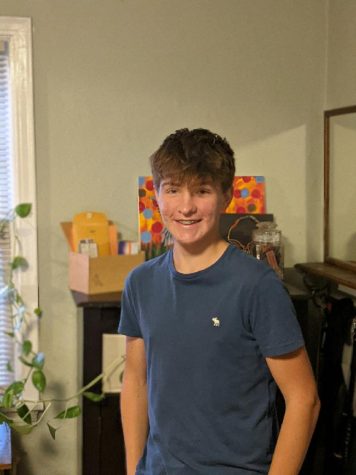 Oliver Hinson, President/ Website Manager
Oliver is a senior, and he has been a part of the newspaper staff for 3 years. He covers a wide range of topics, from school news to student features,...