Norwin's Got Talent
Norwin's Got Talent returns after a year hiatus due to Covid.
    Flashing lights, intense dancing, melodic tunes all shape one of the most exciting nights for some of Norwin's most talented.
     After a year hiatus due to Covid, Norwin's Got Talent is back with some of the most talented acts in the high school. Norwin's Got Talent took place on Jan. 21 at 7 pm in the high school auditorium. There were 17 acts throughout the night, starting off with a group performance by Abrielle Brown, Alex Fumero, Anna Oestreich, Julia Shavel, Elizabeth Szymanski, and Beck Whittaker of Ex-Wives from the musical Six.
      "My favorite part of performing with my best friends was definitely seeing everything come together," said Elizabeth Szymanski. "We spent nights practicing our choreography as well as practicing our harmonizing." 
      Following sextet, CJ Johnson and Paige Tokay performed Man or Muppet from The Muppets, a movie that came out in 2011. The quirky performance was highlighted by their entertaining interactions as well as their melodic voices.
     "CJ and I are best friends and we really wanted to do a performance together that captured our friendship," said Paige Tokay. "In our friendship CJ is the muppet and I'm the man so we just had to go with this song."
     Following Man or Muppet senior Victoria Barone performed her senior dance solo of Ending. Barone dances at All Bright Dance Stars and is finishing out her time with them this year.
     "I was so excited to perform to this song because it has a personal meaning to me," said Barone. "I feel that this gives me the chance to share my story with so many people. I feel that this song represents the ending of my dance career and my senior year and I was so excited to share it with everyone."
     Following Barone's dance, Taylor Provence performed Etapes Du Deuil on the piano. Following Provence's piano performance Serena Borelli sang I See The Light from the 2010 film Tangled. 
     "I sang this song at my fifth grade talent show and something go messed up so I decided to do it again and make it as perfect as I could," said Borelli. "I decided to participate in the talent show pretty late too so I had to pick a song I already knew."
     After Borelli's rendition of I See The Light, Chase Rigo and Alex Fumero took the stage to perform Therapy from the hit musical Tick, Tick, Boom. 
"
"Alex and I grew to be really good friends through our time practicing and performing in Sussical," said Rigo. "We both also had an obsession with Tick, Tick, Boom when it first came out on Netflix so it was only fitting that we picked Therapy.""
     Gracie Paulovich followed up with her rendition of Different Drum, a 1967 song from The Stone Poneys.
     "This song has always been my favorite song to sing since I was a kid," said Paulovich. "My grandma and I would sing all kinds of different 60s ad 70s songs in the car and I've jut stuck with it ever since. I'm so glad everyone enjoyed my performance and I am so thankful to have been able to do this."
     Ending out the first act of the show, Julia Shavel and Elizabeth Szymanski performed a song called Come To Your Senses from the musical Tick, Tick Boom.
     After a brief intermission Norwin's Got Talent resumed with Nicholas Cormas performing his self-taught piano solo of Moonlight Sonata.
     Following the melodic piano performance Justine Stolinski brought the engorge back up with her spunky performance of All Falls Down from the musical Chaplin. 
     "I found this song through actress Renee Rapp who sang it when she received her Broadway Jimmy Award," said Stolinski. "I loved her performance so much I couldn't help but want to put my own spin on it. I was so excited to go out there for the last time and give it my all before I graduate."
     Audrey Switzerland then took the stage with their performance of the love song If It Kills Me. Following up the sentimental love song, Ashley Bodnar and Casey Colcombe took to the stage with their duo dance called Partners In Rhythm.
     Following the up-beat dance performance Mr. Amic, Mr. Fleck, and Mrs. Bryant competed in a corn hole competition against three lucky audience members. The teachers managed to pull through with the win after sinking five bags in the hole.
     "Mrs Bryant was a real shark at corn hole," said Mr. Fleckenstein. "She has a real hidden talent for corn hole and was definitely a key player on our team."
     After the teacher's intense game of corn hole, Angelina Angelcyk performed Adele's chart-topping song When We Were Young. Angelcyk's performance was not only captivating because of her voice but also because she is blind and  taught herself how to play the piano as well as sing.
     "I discovered I was really good at singing that song when one of my friends was giving me piano lessons and asked me to sing it," said Angelcyk. "After I realized I could sing the song I worked to learn it on the piano. Ever since then I have been able to learn songs by ear and translate them onto the piano."
     Following up the moving piano performance, Ashley Baker took the stage to play her ukulele and sing Bored. After Baker's ukulele performance, Enzo Washowitz followed with his accordion. 
     "My performance was very last minute," said Washowitz. "I wasn't asked to perform until I showed up to help out with the behind the scenes part of the talent show. The song I performed was the very first song I ever learned on the accordion when I started about two years ago. My family has Polish roots so I grew up listening to polka music so I definitely wanted to learn how to play."
     The last singing act of the night was Abrielle Brown and Anna Oestreich performing I Am A Girl Like You from the Barbie movie, Princess and the Pauper.
     "We chose to do this song because we both had this song stuck in our heads after hearing it on TikTok," said Brown. "We also remembered watch this movie as a kid so we bonded over that too."
     Finally the last performance of the night was a Saxophone Quartet consisting of seniors Steven Chi, Traye Geissler, Brett Myers, and Joe Zaradzki. They performed the entrance theme to Zelda: Breath of the Wild.
     Finally, after some deliberation the Judges made their final decisions. The people's choice award went to Abrielle Brown, Alex Fumero, Anna Oestreich, Julia Shavel, Elizabeth Szymanski, and Beck Whittaker for their performance of Ex-Wives.  In third place was Victoria Barone with her dance solo to Ending, followed up by Chase Rigo and Alex Fumero with their performance of Therapy. The first place winner was Angela Angelcyk with her moving piano and song.
     "I have never won first place in any talent show I have ever participated in," said Angelcyk. "I'm so excited to have this opportunity and place first tonight."
Leave a Comment
About the Contributor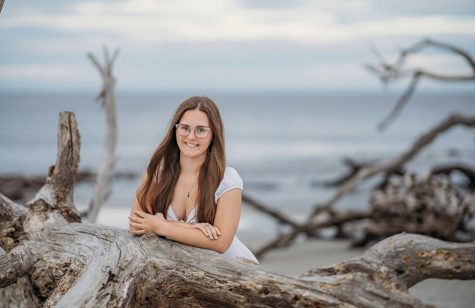 Ashley Cramer, Vice President/ Editor
Ashley is a Senior at Norwin High School and has been participating in writing for the Knight Krier for two years. She also is the club president for Norwin's...