Like mother like daughter
Mrs. Spadaro, a teacher at Norwin High School, and her daughter Gracie scored 1000 points in their high school careers.
Scoring 1000 points in a high school basketball career is quite an accomplishment and a rarity for any high school basketball player. This is something that former basketball player, and now a graphics design teacher at Norwin, Mrs. Susan Spadaro accomplished at Southmoreland High School back in 1990s. Even more rare or an accomplishment is the fact that not only did she score 1000 points in her career, her daughter, who is a current senior at Southmoreland, just recently scored her 1000th point in her career as well–like mother like daughter.
Mrs.Spadaro was a star at Southmoreland high school when she was playing in the late 90s. She started as a freshman and broke the scoring record as a senior. Unfortunately in her time in high school, her team never reached the playoffs and she overall had a successful career. Hitting 1000 points really was just the icing on the cake and is quite an exciting accomplishment. 
"I remember being so excited when I was close and finally achieved that goal of 1000 points," said Mrs. Spadaro. "Honestly, after my high school days, I never really thought much about it. I was proud of myself but I just thought it was a common thing.  Now looking back I realize how much more special it is and realize that it's not that common."
Mrs. Spadaro is an assistant coach at her alma mater coaching her daughter, Gracie Spadaro. Gracie is a current senior and is committed to going to Indiana University of Pennsylvania to play basketball. At Southmoreland, with her mom on the sidelines, she's been a star averaging 14.6 points just this season. This mother-daughter duo is some of the greatest that Southmoreland has seen; both fantastic basketball players with a competitive spirit, especially when it would come down to playing against each other 1 v.1.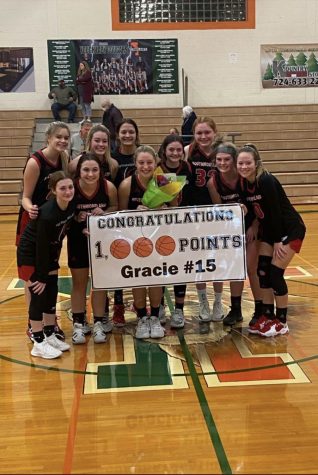 "I don't like to lose and I have confidence in my playing ability but I would have to say Gracie for sure would win [in a game of 1 v. 1]," said Mrs. Spadaro. "She is a much better athlete and player than I ever was.  But I will say if it came down to foul shooting I think I might win."
"Nowadays I would beat her in 1 v. 1 but she will still kick my butt in foul shooting contests," said Gracie. "But I don't know how it would go if we were both the same age."
Gracie reached her 1000th point with her mom on the sidelines as an assistant coach making the moment even more special. Gracie reached her 1000th point against Yough Senior High School on Jan. 19, who is coached by Gracie's AAU coach, making her moment even more special.
"
"I really can't put into words how good it feels. I've always looked up to her and sharing that special moment with her was so special. It's always something I wanted to accomplish to be just like her.""
— Gracie Spadaro
"Being an assistant coach is a very special job, a very rewarding job and then to be able to coach my daughter even makes it more special and fun," said Mrs. Spadaro. "Gracie and I have a special bond on and off the court so it has been a great experience for both of us. I wouldn't say it made it more special, it was special no matter where I was but it was definitely special to be right on the sideline with her, her coaches and teammates and have that experience with all of them and to share that moment."
Southmoreland is looking to make a run again this year in the playoffs with a current record of 15-2. Since Gracie has been in high school as a freshmen, the team has made deep runs in the playoffs and even made it to the WPIAL championship game during the 2019-2020 season. They are hoping to make it again this year and hoping to win it this time around. But first they have to worry about winning the games in their section. 
"Southmoreland overall is looking pretty good, we are currently sitting #2 in the WPIAL for 4A and we returned all of our starters from last season," said Mrs. Spadaro. "I'm really hoping we can make a big playoff run this season, but we are taking one game at a time.  The girls really want to win another section title first then look ahead to making a playoff run."
View Comments (1)
About the Contributor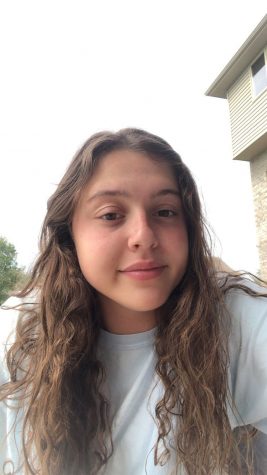 Alyssa Laukus
Alyssa is a first year writer for the Knight Krier and a senior at Norwin High School. She is also a participant on the Norwin girls volleyball team and...