Unified Bocce celebrates Senior Night against Franklin Regional
The Knights lost their match against the Panthers, but they still got a chance to honor their seniors.
On Feb. 9, Norwin's Unified Bocce team played their last home game of the season, losing 3-2 against Franklin Regional.
The Knights split the first 4 matches of the game against the Panthers, but they dropped the tiebreaker match 7-0. Seniors Emma Rigone and Paloma Swankler both contributed a few "spocks" – that is, a roll that hits another team's ball in order to keep them from scoring – while Erin Alexander, Anthony Altier, and Ian McCoy all put points on the board with some accurate rolls of their own. Despite the loss, Coach Alyssa Rittenhouse had positive feedback about the team's performance:
"Since our first game, we've been working on our 'short game' and not over-rolling the ball," said Rittenhouse. "We definitely have improved on this. I also saw some players being more aggressive defensively by trying (and succeeding!) to spock."
The game was Norwin's 14th of the season, bringing their record to 5-9, and their position in the Allegheny/Westmoreland playoff division now stands at 7th, placing them in line for a March 1st state playoff matchup at Deer Lakes. Typically, the postseason would be played  in Hershey, PA with all of the state qualifiers, but due to the COVID-19 pandemic, the format was modified so that three brackets would be played out separately – one western, one central, and one in the eastern part of the state.
Despite the playoff circumstances, the 2022 season was overall much freer of COVID protocols compared to 2021, and last week's match against the Panthers gave the team an opportunity to honor their seniors without masking or social distancing. Additionally, unlike last season's senior night, the athletes' parents were able to watch the match and celebration in person.
"It was really great to be able to pull out all the stops for our seniors this year," said Rittenhouse. "Last year with COVID, we weren't able to have spectators, and there was a technological issue that prevented us from even streaming it to parents, so we really did it up big this year, with help from parents, teachers, admin, and the athletic department. We even celebrated our one returning senior, Ian McCoy, again this year since his family wasn't able to see him last year. We had cheerleaders and the mascot, senior banners, a senior program, and the Norwin arch for our seniors to run through at our meet. We gave the seniors personalized cookies and had a reception for them afterwards. I was so happy that we were able to give them a nice experience, especially since this is likely my last year coaching. These seniors mean a lot to the team—I look to them to be leaders during practices and meets, and they are great examples for the underclassmen to look up to."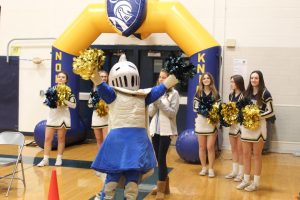 Among this year's seniors were returning players Colby Horvath, Ian McCoy, and Will Baverso, as well as first-year athletes Emma Rigone, Paloma Swankler, Matthew Bosley, Zachary Coates, and Quinn Kopas. Although some were unfamiliar with bocce at first, they got the chance to learn from their more experienced teammates and grow their skills throughout the year.
"Seeing all of their confidence grow throughout the season has been great," said Rittenhouse. "Several of them were new to the game this year, and they quickly understood it and came to love the game. They've become more confident in their rolls, and in their ability to talk strategy with their teammates during the games. I also love watching them during downtime in practices, talking and laughing with their teammates—they care about this team, their teammates and inclusion a lot, and it shows. I'm proud of them."
As a Unified sports program, the Bocce team allows athletes with and without disabilities to play alongside each other, an environment that is hard to come by in other sports. Because of this, many students who would otherwise be excluded from athletics are given the opportunity to not only play a sport, but also to be a part of a team.
"
I like hanging out with my friends on the bocce team. It's so much fun to do this."
— Senior Matthew Bosley
"I like hanging out with my friends on the bocce team," said senior Matthew Bosley. "It's so much fun to do this."
From another perspective, the program also gives "helpers," or students without disabilities, the chance to participate in a program that grants these opportunities, and it can mean the world to some students to see their peers having fun in a new environment.
"Unified Bocce has compelled my other teammates and I to realize that, no matter what disadvantages we possess, every student-athlete can still share the same passions for sports," said Swankler. "I am incredibly humbled and grateful that a healthy competitive drive is a universal experience that can be shared through opportunities like Unified Sports and the Special Olympics."
From here, Norwin will have one more regular season match, and then it's on to the playoffs against Deer Lakes. With another season under their belt, the Knights hope to handle anything that rolls their way.
Leave a Comment
About the Contributor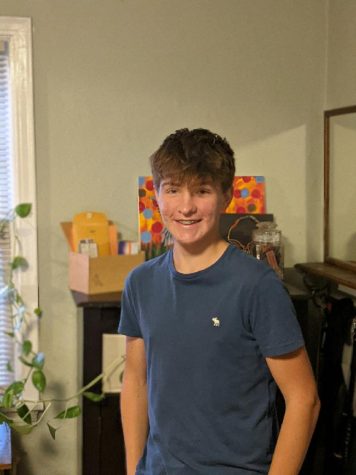 Oliver Hinson, President/ Website Manager
Oliver is a senior, and he has been a part of the newspaper staff for 3 years. He covers a wide range of topics, from school news to student features,...