Being a friend to all: the global scholars personal care kits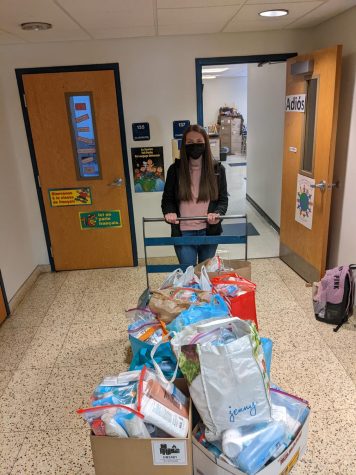 The Global Scholars know how to be a friend, not just to people at Norwin, but to people all over the world.  Mrs. Llerena, the club organizer, defines the global scholars as "a program that helps develop global awareness or competency and better prepares students for personal and professional success in an increasingly global society."
This January, the Global Scholars program made personal care kits for local social service organizations, residential or emergency housing facilities, senior centers, mental and behavioral health facilities, youth and family centers, and educational facilities. The personal care kits, items included were: shampoo, soap, toothbrushes, toothpaste, dental floss, moisturizer/lotion, and deodorant. Most students made two or four kits.
"I felt that it was important to participate in this project because we provide people with resources they need and help our country," said Anna Oestreich, a junior in the Global Scholars program.
"
Making personal care kits for Global Links was an awesome way to give back without sacrificing any safety and we have confidence that the organization will deliver our kits to worthy people in need."
— Elizabeth Mahoney
The idea for this project stemmed from inspiration from Mrs. Llerena. "I have always wanted to get involved with the company Global Links, which is in Greentree. I discovered them years ago at the Latin American and Caribbean Festival that the University of Pitt has each spring," said  Llerena."Pittsburgh-based non-profit dedicated to improving health in communities with need. They share surplus rescued from the U.S. healthcare system to support health programs globally and locally." 
 Future projects for the global scholars are National Foreign Language Week in March. Where they dedicate a week to promote language learning through art, culture, and food. Teaching foreign languages at the elementary schools internship, Duolingo competition, etc. 
"It was really nice to be able to do something to help others, since Covid-19 really limited those possibilities," said Elizabeth Mahoney, a senior in the Global Scholars program. "Making personal care kits for Global Links was an awesome way to give back without sacrificing any safety and we have confidence that the organization will deliver our kits to worthy people in need."