Norwin Track takes home medals at TSTCA Indoor Championships
17 Norwin athletes qualified for the TSTCA Indoor Championships, and several went home with hardware.
After three months of cold, bitter training, the Knights capped off their winter season with some hardware.
On Saturday, Feb. 19, the Knights traveled to Edinboro University to compete in the TSTCA Indoor Track and Field Championships, which were canceled in 2021 due to the COVID-19 pandemic. Only the top 18 individual competitors or relay teams in each event were taken, so athletes were required to qualify in one of the various indoor meets held in the tri-state area this winter. Although the team didn't win an overall award, many team members placed highly in their own respective events.
"Overall, I was rather impressed with our athletes growth on and off the track," said head coach Timothy Van Horn. "Many of our athletes really stepped up and I was encouraged by how some of our athletes performed on the competitive stage… many of our veteran athletes could be overheard offering motivation to our younger athletes competing. To be successful, you really need team leaders, and it was nice to see our athletes stepping in to that role."
On the girls' side, there were several medal-winning performances. The 4×200-meter relay team took second place in their event with a time of 1:51.84, while the 4×400-meter relay team placed fifth with a time of 4:25.83. In the long jump, junior Nataiah Robertson-Dutrielle took fifth with a mark of 16 feet and 9.75 inches, and senior Layla Robertson placed sixth in the 60-meter hurdles with a time of 10.02 seconds.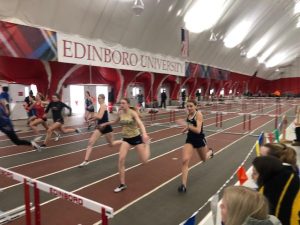 "I was really happy with my performance," said Robertson. "My last race was really bad, but this race, I went into it being more confident, and I set a personal record."
There were no boys' medalists, but a few athletes were able to improve upon their personal bests, including junior Andy Breauchy, who ran a time of 9:43.84, beating his seed time of 10:13.58 by nearly 30 seconds.
"Really, I just didn't want to lose to one of the kids in my race," said Breauchy. "So, I just did everything that he did, and in that last lap, I just kicked it in and beat him."
This was the Knights' third indoor meet of the year; on Jan. 29, they competed at a TSTCA-sponsored high school meet (also in Edinboro), and on Feb. 5, they traveled to Youngstown State University for the third of four open meets held at the WATTS Indoor Track Facility in 2022. Aside from competition, though, the team has been training since late November, and without a proper facility to be able to hold indoor practices, they were forced to face the winter conditions head-on. In fact, the track itself was covered by snow for nearly a month in January and early February, forcing them to find a way around the obstacle.
"We have had a solid winter training in spite of Mother Nature," said assistant coach Brian Fleckenstein. "We utilized parking lots, hills, and loops.  The winter provides a necessary base for Spring Track.  We really tried to touch on all the systems this winter and develop our aerobic, anaerobic, and speed development systems as well as get stronger in the weight room and core."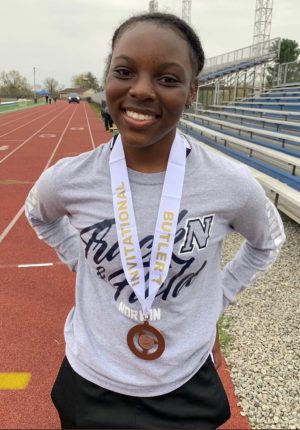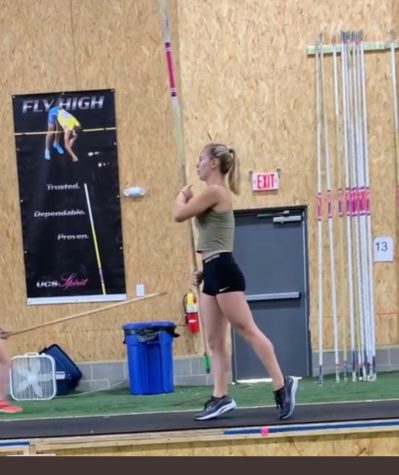 While the TSTCA championships ended the season for most of Norwin's athletes, Robertson-Dutrielle and junior polevaulter Hannah Shaw qualified for and competed at the Pennsylvania Track and Field Coaches Association Indoor Championships, which took place on Feb. 27 at Penn State University. Robertson took 17th in the long jump with a mark of 16 feet, 1.5 inches, while Shaw vaulted 11 feet in the polevault, good for 15th place.
"It was a great experience," said Robertson. "It could have been a better [performance], but overall, it was good to go there."
"I felt surprised [that I made it], but I also know that I worked for it," said Shaw. "I wish I would have done better, but if that's where I was ranked, and I placed at the same level, then I'm happy."
With the season now at its end, the focus is towards the spring. In 2021, the boys and girls both finished with undefeated 5-0 records in section play, and they will attempt to defend their section titles this upcoming season.
"Having those dual meets are important because they are good, pure tests," said Fleckenstein. "It's you versus the other team. Watches don't matter.  You learn to race and compete, which is so important as an athlete. Track is great because there's not variables that determine your success.  It's you and a pair of shoes versus the other athletes. Go compete. As a coach, we always have the same goals: win the Section, grab lots of medals at County Meet, make the WPIAL Team Final Four, and qualify as many as possible for the WPIAL Championship and PIAA Championship."
Leave a Comment
About the Contributor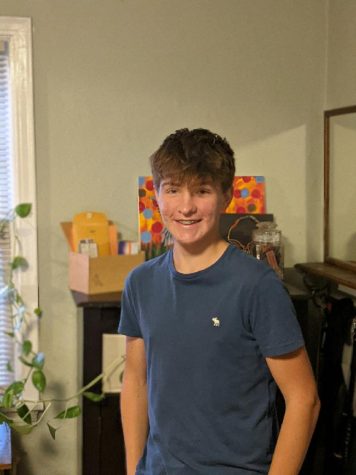 Oliver Hinson, President/ Website Manager
Oliver is a senior, and he has been a part of the newspaper staff for 3 years. He covers a wide range of topics, from school news to student features,...