Norwin Cheerleading takes on Disney
The opponent's music stops and applause fills the air. Anticipation builds as they walk off the floor. Nervously looking at each other, the cheerleading squad walks on and looks out at the dense crowd. It's go time; no turning back now. 
Norwin's Competitive Cheer and Gameday Cheer squads prepared day after day for the National High School Cheerleading Competition in Orlando, Florida. 
The National High School Cheerleading Competition is one of the largest cheerleading competitions in the country, hosting hundreds of teams each year. Norwin High School's Competitive Cheer and Gameday Cheer squads both competed in their respective competitions. 
Competitive Cheerleading focuses on the execution of a routine packed full of dancing, tumbling and stunts. They are judged on the difficulty of their routine and how well they execute it. This type of cheerleading differs from Gameday Cheerleading. Gameday Cheerleading mostly takes inspiration from sideline cheer, as the objective is to connect with the audience through cheers, chants and stunts. These routines often include eye-catching aspects such as pom poms, signs and energizing dancing.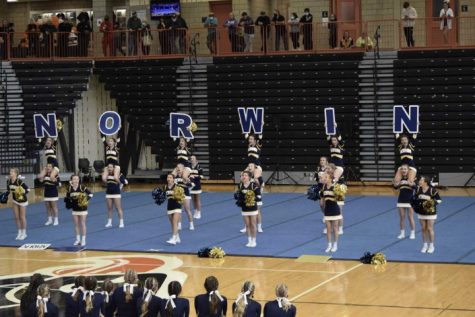 Though each team is different, both teams worked incredibly hard to secure their bid to Nationals. To attend Nationals, the teams had to receive a bid at an Universal Cheerleaders Association (UCA) regional competition. 
The teams were scheduled to perform at 3  separate competitions in hopes that they could get this qualification. However, they won their bid at their very first one this fall in Centerville, Ohio at the Miami Valley Regional. The Competition Cheer squad received first and the Gameday Cheer squad received second, thus both earning a spot at Nationals.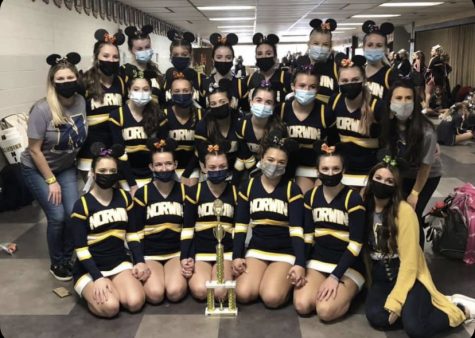 To prepare for Nationals, the girls maintained their skills through practice and competing at States in Hershey, Pennsylvania on Jan. 28-29. There they made it through the preliminaries to the semifinals, winning ninth place. 
Leading up to their weekend in Disney, the girls received a royal sendoff from many of their family and friends at Norwin. On Feb. 8 the girls performed their routines for family and friends in the gymnasium before traveling to Florida. 
"The sendoff really did make us more confident because the last routine we did was really good," Gabrielle Andrykovitch, 11, said. "It's probably one of the best ones we've ever done."
After a job well done, the girls were finally ready for Nationals. They left Feb. 10 during the day and started competing the very next day.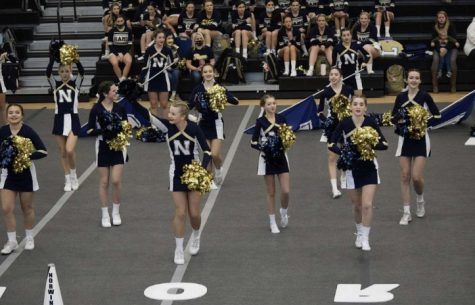 The girls had high hopes for the competition, and were determined to perform as best as they could. 
"We hoped to hit a clean routine at Nationals," said Laiken Burmeister, 12. "Our overall goal was to make it to finals this year, which would more than likely only happen with a clean hit routine, as everyone else would be fighting for the same spot that we are."
To achieve success, the girls needed a routine that was as close to perfect as possible. The judges would be very observant and reduce their score for even the tiniest mistakes. 
"On the scoresheet, there are several different categories from the routine that get scored by different judges," Burmeister said. "The most basic things that get judged from each category are difficulty and technique. Difficulty is based on the level of skill you have in each section of the routine and technique is scored based on the execution of the skills. The sections that get scored on the scoresheet are partner stunts, pyramid, tumbling, jumps, dance, and cheer. Within each category on the scoresheet, there are multiple skills in the routine that correspond to those categories."
Unfortunately, the competition did not go as well as the girls had hoped. Despite their best efforts, the competition team placed 15th in the Large Varsity Division II semifinals with an event score of 72.7 and the Gameday Cheer team placed 9th in Super Varsity Division II Game Day semifinals with an event score of 85.1.
"
I think both of our teams did very well at Nationals. There are obviously things both teams need to work and improve on for next year, but overall we did a really good job. This season is also us coming back from COVID-19. Coming back from being off for such a long time, both teams worked really hard and reached our goal of getting to Nationals. "
— Addison Pons, 9
Although they did not place as high as they wanted, the girls thoroughly enjoyed their time in Disney and learned a lot from the experience. 
"From performing at Nationals, I learned working together with your team has a major impact on your performance," Addison Pons, 9, said. "Working together and cheering each other on helps everyone get through the routine."
Leave a Comment
About the Contributor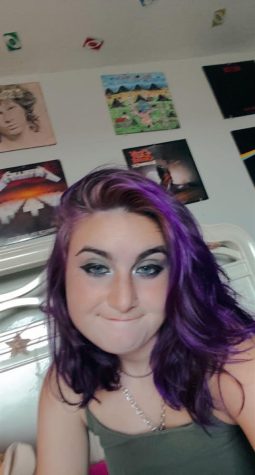 Elizabeth Long, Writer
 Elizabeth is a senior and a second year writer for the Knight Krier. She is the Vice President of the Science Challenge Squad, Treasurer of the Student...