Inside the classroom: Financial Math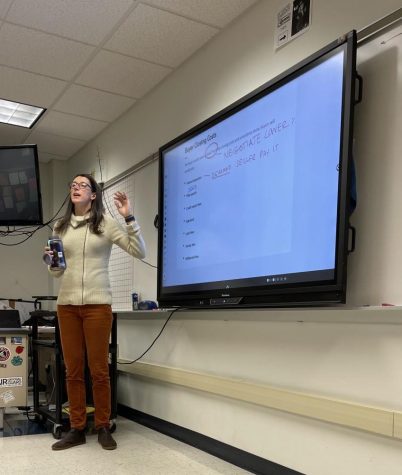 Paying taxes, buying a home, and budgeting are all things that everyone has to deal with at some point in their lives. Financial Math is a full year senior elective teaching students the ins and outs of managing financials as they prepare for adulthood.
"I honestly had no idea what all goes into buying a house or a car," said Chase Rigo. "This class has talked me through the process and has really made me understand just how intricate this process can be."
One of the big topics that students learn about in Financial Math is how credit cards work. Students look at actual credit card bills, advertisements for new cards, and how credit card debt can affect someone's life. 
"I like to teach this class from the student's perspective because in reality they will all be experiencing this for the first time," said Mrs. Knipple. "I want to keep watching them grow as well as helping them not feel so nervous about their future and the unknowns about it."
Mrs. Knipple takes a realistic approach to showing her students how finances can affect people's lives by talking about things she has learned and experienced throughout her life.
"Her stories are what really keeps my attention and shows me the importance of some of this stuff," said Tabby Bramhall. "She really puts herself into this class and that's what makes this class worthwhile."
Another big topic that students learn about in this class is the stock market. They simulate what it's like to buy and trade stock as well as watching real time stock prices.
"
"I never thought I would ever take the time to look at the stock market and figure out how it works," said Kayla Clark. "Knip's class has really shown me the importance of it and how I should invest once I can.""
— Kayla Clark
While learning about buying cars and houses students are given a budget to buy a car or a house which furthers their understanding of the process of buying a car and getting the money available to them. Every lesson is personalized to the student because students are able to select what will fit them best and base their learning off of that.
"It's so much easier to be interested in a class like this when it can be more tailored to what I want for my future," said Alex Raymond. "I'm not interested in the same thing as everyone else in my class so being able to see the financial info for what I want is so much more beneficial."
Financial Math is a class only available to seniors and is a full year class. Many seniors decide to take this class because of the real life applications it has. 
"I took this class because I thought it would be a good easy class to have my senior year but I've ended up learning so much more about my future than I could have ever imagined," said Laiken Burmeister. "I feel so much more confident about my future's financial well-being because of this class."
Mrs. Knipple has been teaching this class for five years and every year adapts it to what is currently happening in the world.
"I'm growing too with these kids everyday," said Mrs. Knipple. "While they learn from me I also learn from them. Everything is always changing and we do our best to learn about finances while keeping it up to date with the changing world. Start saving for your retirement today!"