Table Tennis Club causing a racket
Many students choose to join a variety of clubs in high school.  Some students choose to join clubs to participate in more extracurricular activities, some join because they are interested in the club's main focus, and for some it's a combination of both.  Students at Norwin High School can find a club for essentially any interest, such as Art Club, History Club, Science Challenge Squad, and also Table Tennis Club, Norwin's newest phenomena.  
Table Tennis Club, which meets every other Friday after school in the auxiliary gym, has become one of Norwin's most popular clubs this school year.  In past years the club, sponsored by Mrs. Ferragonio, has not drawn many participants.  While many people have signed up for the club, not many have gone to the actual meetings.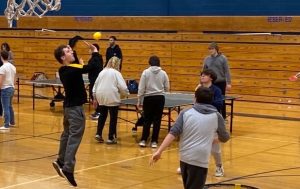 This year, that has began to change.
"Ping Pong Club is a great setting to hang out with friends," said senior Maddie Butina.  "It's also a school activity, so you can put it on things like college applications even though it's just a fun activity to hang with friends."
Ping Pong Club is not just ping pong.  Students can also choose to participate in games like spikeball and basketball, although most choose to play ping pong on one of the many tables provided for the club.  
"That might actually be my favorite part of Table Tennis Club," said Butina. "If you want to take it super seriously and play hard against your friends you can, if you want to play a casual game you can, and if you want to just sit around and watch other people play you can.  There's something there to do regardless of what you want to do."  
"
There's something there to do regardless of what you want to do."
— Maddie Butina
"It's really nice that the club is not just limited to ping pong," said senior Nicole Tougher.  "There's a variety of games for anyone who wants to go."
 Even teachers have started to get in on the fun at Table Tennis Club.  Mr. Fleckenstein and Mr. Bartels have both been in attendance, and even faced off in a game of ping pong.
"My favorite memory from the club is definitely when Mr. Fleckenstein and Mr. Bartels faced off," said sophomore Marty Tougher.  "It was really fun because everyone was gathered around them, everyone was cheering, and everyone was so into the game.  Every person in there was watching that game at that time."
Table Tennis Club has provided an activity for students to participate in that many haven't had.
"It's something fun to do after school at times when there is nothing," said Butina.  "I think a lot of people that go to Table Tennis play in fall or spring sports, or maybe no sports at all, and the winter can get really dull if you have nothing to do every day after school.  Even though it's just one day a week it still gives me something special to look forward to each week."
While many students choose to play a casual game of ping pong, the club provides opportunities for students who want to take it a little more seriously as well.
"That might actually be my favorite part of Table Tennis Club," said Butina.  "If you want to take it super seriously and play hard against your friends you can, if you want to play a casual game you can, and if you want to just sit around and watch other people play you can.  There's something there to do regardless of what you want to do."