Norwin Sophomore makes their voice heard
For sophomore CJ Johnson, music has always been a crucial part of their life. In January, Johnson, an active member of the Norwin Theatre Company, decided to enter the WYEP Reimagination: The Teen Recording Project that Rocks. To their amazement, they were 1 of 13 artists selected as winners. 
The contest, which has been held since 2013 connects Pittsburgh based teen musicians with established mentors that will help them record and produce their own original music. 
Since the start of the Reimagination contest, over 240 selected young musicians have been able to pursue their own dreams in music because of this opportunity. Mount Lebanon native, Daya, one of the most notable recipients of this contest went on to become a record charting musician winning her first Grammy in 2017 for her hit song, Don't Let Me Down. 
Johnson, an avid jazz lover and Ella Fitzgerald fan first heard about this opportunity through their voice teacher just days before the deadline.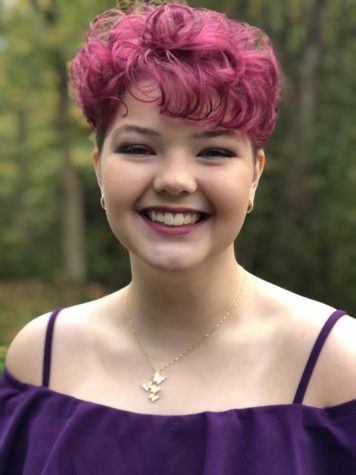 "My voice teacher knows I write music and sent me this contest," said Johnson. "I have chickened out of other contests in the past, but this one seemed local enough and worth a shot." 
With only 48 hours to spare before the contest closed, Johnson got to work. They wrote, recorded, and submitted their original song, Villain.
Villain, a personal piece to Johnson, was inspired by a number of experiences they have faced as a proud LGBTQ+ member.
"I'm a part of the queer community, so being victimized and treated as less than can really have an affect on you," said Johnson. "So I wrote about not wanting to be the villain." 
Villain made quite the impression on judges, as Johnson was one of only 13 teens whose songs were selected. As one of the chosen artists, they get to workshop songs with fellow winners, as well as record and produce an original song with them.
The news that they were one of the selected artists came as a surprise for Johnson who received the news at a rather unexpected time; 7th period Honors Chemistry to be exact.                                                                                                                                                                                     
"I was in my Honors Chem course when I got an email on my iPad," said Johnson. "I went to check it and saw my song was chosen. I started sobbing, I couldn't believe it. My teacher actually called on me to answer a question, but I was so excited that I didn't even realize." 
Although only a sophomore, CJ Johnson doesn't see music going away in their future.
"I would like to be a music composer or a producer. It would be awesome if I got to work with digital media like movies and commercials! Whatever I do though, I know music will follow."