Norwin Boys finish successful season
Knights qualify for WPIAL but fall short in first round.
     The Norwin Boys Basketball team took a lot of steps in the right direction this season. Despite starting the season off a little shaky, the Knights bounced back and had significant success towards the end of the season, including one of their best games, a thrilling win vs Penn Trafford to earn their first playoff berth in 6 years. The main key to this late season success was junior guard Adam Bilinsky. He was averaging an impressive 24.3 points per game towards the end of the season. Arguably his most impressive performance of the season was a win at Franklin Regional where he put up 31 points. 
     "I knew that as a team we had to win," said Bilinsky. "I worked my hardest the last few weeks. I put into my mind that it's win or go home so I did everything I possibly could do myself. If it was from working on my shot after practice or running sprints after knowing that if I didn't play well myself our chances of winning went down."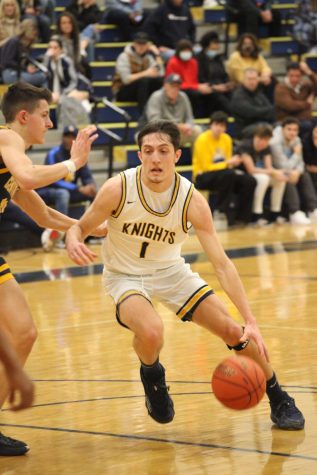 The Knights came into the playoffs in a good rhythm vs a talented Butler team. Both sides came out hot right out of the gate, as there wasn't a single missed shot by either team through the first 4 minutes of the game. The first half resembled more an all star game with a combined 15 three pointers made between each team. It was a high scoring affair throughout the whole game with each team gaining and losing the lead constantly. The game came down to the wire and the Knights were barely outplayed by the Golden Tornado with a final score of 81-73.  Leading scorers for the Knights were Adam Bilinsky with 27 and Justin Weaver with 19.
       Obviously the Knights would have liked to have made it farther but for a team with a new coach Coach Maha and a lot of new faces competing in the playoffs is a major  accomplishment, especially when they haven't made the playoffs in 6 years. There's a lot to look forward to for Knights basketball, the team is filled with talent and has a coach that has everyone on the same page. 
     "Coach Maha came in and set a foundation of how we are going to be for the next few years. This year's team showed how he has coached in the past few years," said Bilinsky.