Norwin's Own: Cody Sabol
"There's a million paths to take, but there's not a set one that leads you to success."
America hustles along the highways on a dreary Monday morning. They rush to the same cubicles they've been stuck in for twenty years, with the urgency of those who have something to gain. They are overworked, yet underpaid. Worst of all, they know exactly what's happening to them, but they can't stop doing it. That's typicality.

Cody Sabol YouTube

To say the least, Cody Sabol isn't interested in anything typical.

Sabol, a Norwin graduate from the class of 2013, has made a name for himself in the past few years with his art; as a live speed painter, he creates realistic pictures in mere minutes with only his fingers. More often than not, he's performing in front of thousands of people, whether it's at a wedding, a college, or an athletic event. He's been able to make a business out of it, as well as a livelihood.

When on stage, you could easily mistake Sabol for a mad scientist, rather than an accomplished artist. By the time he's finished with a performance, it's often hard to tell whether he was painting his canvas or his wardrobe, and his subject is usually dotted with a border of urgent splatters. He knows as well as anyone, though, that it's all part of a system. "There's a little equation I have in my head," he says. "'How can I create the most realistic image in the least amount of time?'" It's a question he's answered nearly a hundred times, but every time he slaps on his final handprint, it seems more emphatic than the last; with more recognition, after all, comes more expectations. Often, he notes, it's more about the stage than the art itself.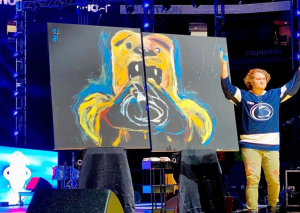 "Typically, the pieces I've grown to love over the years are the situational ones," said Sabol. "You don't know if they're going to turn out, but they do. As long as your client's happy, you love all of those."
Of course, making clients happy has brought Sabol his fair share of recognition, and it's certainly scored him a few primetime gigs. In the span of a few days last year, he went from painting Kenny Pickett and Dan Marino live at the Chic-Fil-A Peach Bowl to creating a masterpiece of Ben Roethlisberger on ESPN's Monday Night Football. He's made the Nittany Lion at Penn State University; he's done Kobe Bryant on a live Twitter broadcast; just a few days ago, he painted the legendary Mike Krzyzewski and his longtime assistant Jeff Capel at the Duke vs. Pitt basketball game at Petersen Events Center. From Mario to Marilyn Monroe, it's tough to find a challenge he hasn't taken on, and it's even tougher to find one he hasn't beaten.
As if the live shows weren't enough, though, he's also been commissioned by several professional athletes, including Sidney Crosby, Austin Meadows, and Najee Harris (along with nearly a dozen other Pittsburgh Steelers). Although the pieces he creates for them aren't necessarily created in the same impressive time frame he boasts for his live shows, they gain him a fair amount of acknowledgment nonetheless – just ask his 11,000 Twitter followers. But still, he shies away from the fame.
"I don't know if I give myself the appropriate time to feel good about a painting once it's done," said Sabol. "It's hard for me to go back and watch."
In fact, when over 13 million people watched his depiction of Roethlisberger being shown on Monday Night Football, he wasn't even in front of his television set.
"I think I fell asleep before I was able to watch," said Sabol. "The truth is that once it happens a few times then you're just kind of used to it. It's a very fleeting moment. The joy comes from being in the work and doing the work, and then after it's done… anything you get from it just comes and goes so quick."
For Sabol, the work has been there a lot longer than the success; for starters, he didn't even consider following this as a profession until long after high school was over. While he took drawing and painting classes during his time at Norwin, most of what he took away wasn't based in skill, but rather in motivation.
"A few things that Miss Satterfield [Norwin High School AP Studio Art teacher] said to me just stuck in my brain," said Sabol. "I remember where it was when she said that I was going to unlock an achievement, like from a video game, but in my own brain as an artist."
After graduating high school, Sabol attended Kentucky Christian University to pursue a double major in Biblical studies and preaching, and it was here where the foundations for his career started to lay their roots. Up until this point, the extent of his art was the occasional pencil drawing to pass the time, but after watching a fellow creator make paintings in a fascinatingly short amount of time, he taught the craft to himself, and he began to make pieces of his own, starting with a painting of Phil Kessel in 2017 that gained nearly 7,000 views on YouTube. After finishing college, he took a job at a church, but he continued to put on his own performances.
"
You have to love the grind of it. That's what sustains me all this time; I'm always hungry to get better. That's what carries people through careers."
— Cody Sabol
"I didn't always know that I was going to be able to do this full-time," said Sabol. "Eventually, I started realizing that I'm making more money doing live events than I am at this job. Everybody that draws and paints, their goal is to eventually start making money; there's no better feeling than making something where people say, 'Wow, that's so good, I want to spend money on that.'"
Things only started to speed up from there.
"There was this cool thing where athletes would be interested in what I'm doing," Sabol notes, recalling an experience with Penguins star Evgeni Malkin. "There was an event in Pittsburgh where I was painting at… all the players were there, and [Evgeni] comes up behind me and he's with his wife Anna… he just looks at her and says something in Russian, and then just like that, they both walk off. I was like, 'Oh, I hope that's good.'"
Beyond that, he remarks that several players would ask him about his art, including stars like Sidney Crosby and Kris Letang; before long, they would be requesting their own pieces.
"When guys that you look up to are interested in what you're doing, that was one of those moments, like maybe I'm doing something cool here," said Sabol.
Later on in his career, he would paint his first pair of cleats, and a partnership with Steelers' linebacker TJ Watt would be formed that would shape much of the fame he's received today. Whether for Christmas or the NFL's My Cause My Cleats, Sabol has painted several pairs that Watt would wear in-game, leading to a plethora of acknowledgment on social media.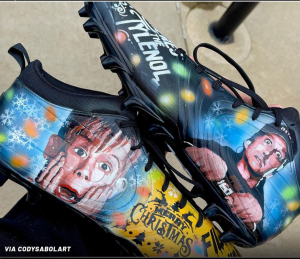 Still, they come with a catch.
"If I never painted cleats again, I don't think I would miss it. They take forever," Sabol jokes, although he says he'll paint Watt's cleats until he's retired. "Sometimes, the time frames that I'm given on these…I'll get a text on Thursday night for a pair they want Sunday, but they leave on Saturday, so really, I only have one day to get it done, and that's assuming I'm not already busy on that day."
Regardless of the circumstances, Sabol still comes through for his clients, especially Pittsburgh sports players; one of the major themes of his artwork is an appreciation for the city.
"I don't think I'd be able to have done this in any other city," says Sabol, whose grandfather and great-grandfather were both steel workers. "I got connected with Pittsburgh sports early on, and I don't know if there's a city that prioritizes their sports more than Pittsburgh does."
Of course, there's added motivation for him nowadays; with two children under two years old in the house, he remarks that he's stressed more and sleeping less. "There are a lot more people that depend on me, and because of that, I feel like it does bring me to work a lot harder," Sabol says. "You do things now so that when your kids grow up, they look at some of the stuff you've done. I put pressure on myself because of them to do better and work harder."
Since having children, Sabol has actually moved back into Norwin, which gives him a chance to look back on his time in high school. From making drawings for the yearbook to being sandwiched in between Max McDowell and JJ Matijevic on the baseball field, he shares a mostly positive recollection.
"There's this weird thing that happens after you graduate where a lot of people say, 'I'm never going back there again,'" says Sabol. "That's not the case [for me]; I love being from Norwin and I love so many of my teachers. A lot of them believed in me, so it's cool to be working to try to prove them right, in a way."
So, what's next? He hopes his partnerships will get bigger and better, as well as his business, but it's hard to lay down an exact path.
"You set a bar for yourself when you're starting out doing this," says Sabol. "You're like, 'Oh, I'd love to do stuff with Sidney Crosby, I'd love to do stuff with Ben Roethlisberger and Mario Lemieux,' and I've done that. Now, I have to raise the bar even higher. These are things I never think about until I'm unimpressed."
Regardless of who he collaborates with, though, he will always be sure of one thing, and that's the sentiment he shares on a daily basis, from one artist to another:
"There's a million paths to take, and there's not a set one that leads you to success," says Sabol. "The biggest thing I've learned over time is that the rewards you get for having good work don't outweigh the joy of overcoming challenges. It doesn't matter what each project gets you in terms of followers or likes or whatever. What matters is if you have that joy of work, you will always be getting better."
Leave a Comment
About the Contributor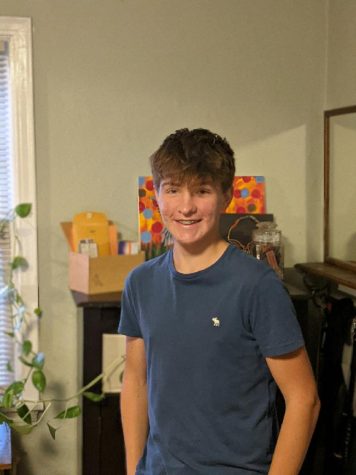 Oliver Hinson, President/ Website Manager
Oliver is a senior, and he has been a part of the newspaper staff for 3 years. He covers a wide range of topics, from school news to student features,...