Crumbl cookies review
The new hot spot in North Huntingdon is sure to make any cookie lover's dreams crumb true. Crumbl Cookies is a new bakery fresh in our town that bakes delicious new cookies each week. 
The nationwide franchise first gained popularity this past summer when it blew up on TikTok. Videos of users trying the weekly flavors quickly gained views and became a popular trend amongst the app. 
This past Thursday, two Knight Krier cookie enthusiasts, Nicole and Mackenzie travelled to Crumbl to really see what the hype was about and try the cookies themselves. 
For the week of  March 7-12, the flavors were cereal based; cereal milk ft. Fruity Pebbles, cornflake marshmallow, chocolate ft. Reese's Puffs, and cinnamon ft. Cinnamon Toast Crunch were all on the menu. The classic chocolate chip and chocolate chip chip chip frosted pink sugar cookies were also on the menu as well and the only cookies to consistently be available each week. 
Upon arrival at Crumbl, we were immediately greeted by a long line and a friendly staff. The kitchen area was immense and light pink was vibrant throughout the store. The line to order moved quickly and when it was our turn, we ordered ordered 4 cookies–sugar cookie, chocolate chip, cornflake marshmallow, and Reese's Puffs for $14.77! Unfortunately, they were out of Fruity Pebbles and Cinnamon Toast Crunch. 
As we stood inside waiting, we couldn't help but notice how much goes into making these cookies. About 10 people were working in the kitchen making dough, placing the cookies on trays, icing them, etc. 
The waiting area for the cookies isn't very large, so we were jammed in a bit with other patrons. However, it was never uncomfortable or overcrowded. People of all ages surrounded us waiting to try Crumbl for the first time just like us. During our wait, however, they ran out of chocolate chip cookies so we had to pick a substitute; another sugar cookie. In total, we waited 35 minutes. 
Sugar cookie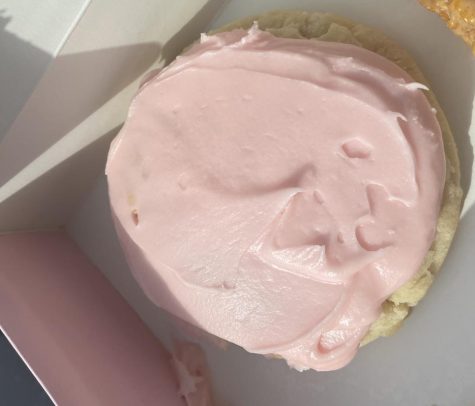 Kenzie-My first observation of the sugar cookie was that it felt very, very, very heavy and I was very excited to take my first bite. The icing was extremely sweet and the cookie itself was absolutely delicious. Out of all the cookies we tried, this cookie was the most timeless and classic but it still left a lasting impression on my taste buds. However, this cookie was not my favorite cookie I had at the store. The cookie wasn't bad by any means but once I took one bite, I found it hard to take another bite. It was very heavy and sweet and I could only take one bite of it because of how intimidating it almost was. A solid cookie but it was a little too much for me personally.
My score: 3 out of 5
Nicole- This was undoubtedly the largest sugar cookie I have ever seen. It was iced with pink frosting that matched the aesthetic of the Crumbl store. As I picked it out of the box, I couldn't help but notice how heavy the cookie truly was. As I tried it, I was amazed by the sweetness of the frosting and how well it complimented the cookie itself. The cookie wasn't too sweet which matched well with the sweetness of the icing. Overall, I really enjoyed this cookie and would order it again.
My score: 3.5 out of 5
Cornflake Marshmallow-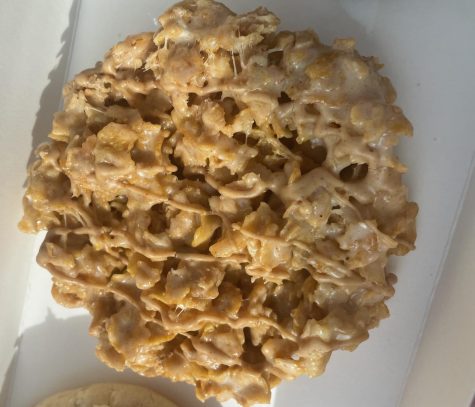 Kenzie-This was by far my favorite cookie of the week and I enjoyed every crumb. It fell apart in my hands and it was absolutely delicious. I'm not the biggest fan of peanut butter but the peanut butter was a very nice addition to the cookie. I could eat a whole dozen of these cookies and they definitely left a positive impression on the new store. 
My score: 4.5 
Nicole- I can confidently say this is one of the best cookies I have ever tasted. Just like the sugar cookie, it was heavy and full of flavor. The cornflakes created a crunchiness and the peanut butter and marshmallows added a savory taste to this already delightful cookie. I won't lie, I definitely could have eaten this entire cookie alone and would pay for this again. I wish this wasn't a weekly flavor and was there consistently.
My score: 5
Reese's Puffs-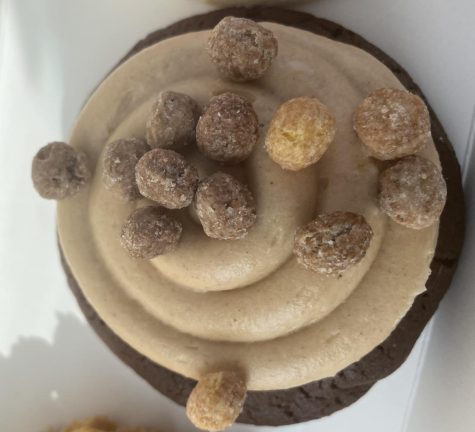 Nicole– I grew up eating Reese's Puffs cereal and watching the iconic commercial. I was really looking forward to trying this one, but it ended up being my least favorite of the three. Overall, it wasn't a bad cookie at all, it just wasn't for me. It was a chocolate cookie with massive chocolate chips loaded inside, which were delicious. The icing was extremely creamy peanut butter which gave me a stomach ache and was topped off with Reese's Puffs on top. The icing was just a bit too creamy for my liking, but the chocolate cookie was phenomenal and I loved the creativity of the Reese's Puffs on top. You could really tell the company's attention to detail with this cookie. 
My score: 4
Kenzie-I'm not the biggest fan of peanut butter which I said before but the chocolate cookie underneath the frosting was absolutely amazing. The frosting wasn't my favorite but I also don't love peanut butter so who am I to judge. But I still will judge because that's what this article is about. 
My score: 3
Crumbl was an unique experience that pleasantly surprised us with every bite. The fresh new bakery has taken North Huntingdon by storm and for good reasons. With its kind staff, welcoming atmosphere, and delicious cookies, Crumbl is guaranteed to be a success. 
View Comments (1)
About the Contributors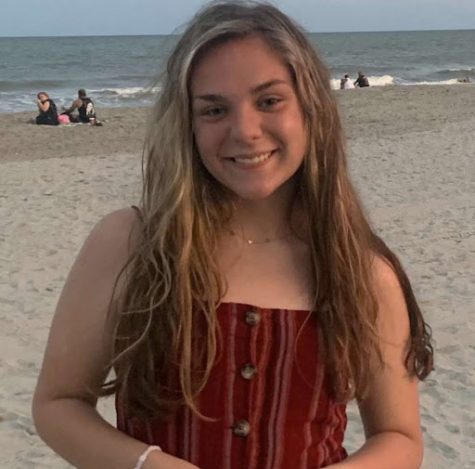 Nicole Tougher, Secretary/ Social Media Coordinator
Nicole Tougher is a senior at Norwin High School and has been a part of the Knight Krier staff for 2 years. One of her favorite memories in newspaper include...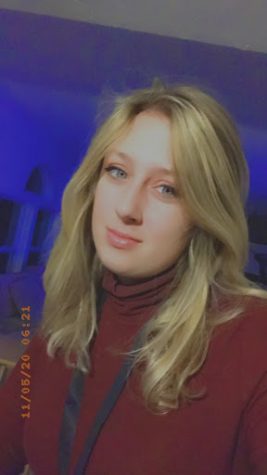 Mackenzie Shrum, Treasurer/ Advertisement Coordinator
 Mackenzie Shrum has been a member and writer of the newspaper staff for three years and is a current senior at Norwin High School. She enjoys and loves...