Spending the day at KDKA Radio
Ever since I was a kid, I always dreamed of a career in news. I was never sure if this would be in print or broadcast, but I always knew my passion for news was strong and my desire to share it even stronger. This past Friday, I ventured to Green Tree with my dad, who works in sales for Audacy, a nationwide company that owns KDKA Radio, to see what really happens during his 9-5. You see, instead of working in a building full of cubicles and people working days end in silence, it's the complete opposite. He works at KDKA radio, a building full of news personalities and home to 4 radio stations. 
As we made the long drive to the station, I couldn't help but feel nostalgic to "take your kid to work day" back when I was in the 1st grade. My dad worked at the Tribune Review at the time and after about an hour of sitting there, my young mind was bored and ready to head home. A decade later though, I found myself yet again at work with my dad. This time, my mind was at ease and filled with questions for some of the best in the business; people I hope to be like one day.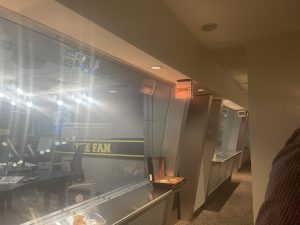 As we walked in, we passed radio stations 93.7 the fan, 100.7 star, country station Y108, and KDKA 1020 AM radio. We waved at the people inside the studio who were live on air. It was especially awesome to walk past the 100.7 star studio and see Bubba and Melanie recording the "Bubba Show." Instead of listening to it on my way to school, I was able to see it with my own eyes. 
Walls were lined with records sent from artists including Carrie Underwood, Sam Smith, Taylor Swift, Kenny Chesney, and dozens more. As we walked to my dad's desk, we passed a painted timeline on the wall with notable moments in KDKA's over 100 year history.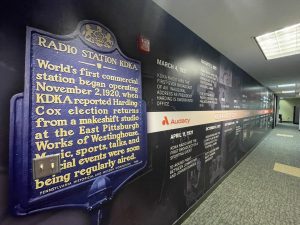 The first person I officially met was Marty Griffin, radio personality and KDKA news reporter, known for his "Get Marty" segments. 
When I was younger, I dreamed of being an investigative reporter, so meeting Griffin, who is known for his work uncovering the truth, was unreal. He was incredibly kind towards me and helpful as I embark on the next chapter. 
Following Griffin, my dad introduced me to Shelby Cassesse, a news reporter on KDKA television and radio. It was awesome being face to face and talking with someone I'm normally only used to seeing on my TV. Cassesse gave me great advice as I head into college, telling me to get involved immediately, apply for internships, take advantage of any opportunities presented, and always make time for myself because those four years will undoubtedly fly by. 
As the day went on, I met with more people with all different sorts of jobs all contributing to the company's success. Jonathan who maintains social media accounts, Corie in HR, reporter Paul Alexander, journalist and my future college professor, Melinda Roeder, among many others. 
News Brand Manager, PJ, even took me on a tour through the different studios and control rooms. I was able to stand in the control room as Marty Griffin was live on 93.7 the Fan. I watched as calls from viewers were transferred directly to him on air and even got to watch as he got heated with a caller discussing rising gas prices. 
From there, I was led to the room where artists used to come in and perform pre-Covid. Some of the most notable artists who have visited include Ed Sheeran and Steven Tyler. My dad was even able to watch country artist Luke Combs perform there nearly 4 years ago.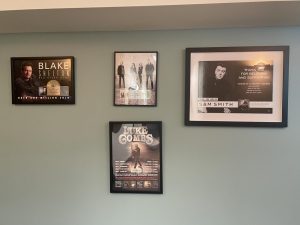 Following this tour, I was led to the Y108 country station and got to go inside the actual studio. I met with on air personality Kristen Buccigrossi, who showed me what really goes into running a radio show. She showed me a screen with analytics displaying audience interactions with the various social media accounts, control panels, and even told me how Garth Brooks was one of the nicest celebrities she has ever met. Our entire interaction was very laid back and she offered great advice as I hope for a future in the media.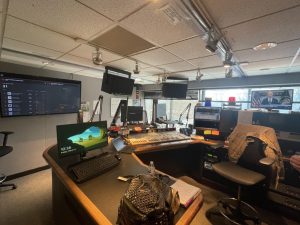 The day went by fast and was filled with great interactions with all sorts of individuals. As I sat in the studio and talked with everyone, I really could envision a future in this field. When I enter Waynesburg University this fall to study Communications, I know I will cherish this experience and look at it as my first step in hopefully a lifelong journey. 
Leave a Comment
About the Contributor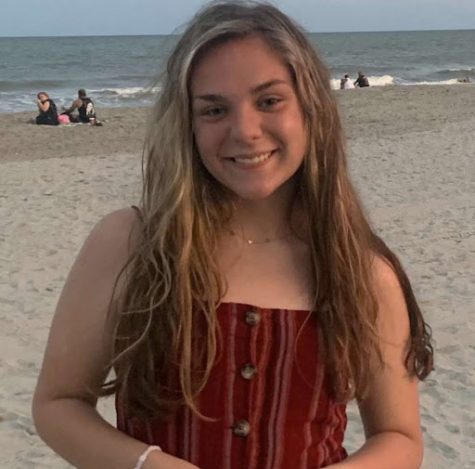 Nicole Tougher, Secretary/ Social Media Coordinator
Nicole Tougher is a senior at Norwin High School and has been a part of the Knight Krier staff for 2 years. One of her favorite memories in newspaper include...