Community members voice concern over several topics at school board meeting
The board's latest meeting was intended for legislative items, but the majority of the time was taken by taxpayer or student comments.
On Monday, March 21, the Norwin School Board held a meeting at Norwin Middle School, and after a quick summation of agenda items, the floor opened up for public comment, prompting a number of lengthy statements.

The meeting was originally intended for legislative purposes, but when community members were given the chance to speak on non-agenda items at the end of the meeting, the focus quickly turned to other educational issues, with students and taxpayers alike taking the chance to air their concerns.

Norwin School District YouTube

Superintendent Dr. Jeffrey Taylor began the meeting with a detailed superintendent's report, in which he unveiled several plans related to Vision 2031, an initiative to modernize facilities and opportunities in the school district. The objective of the initiative, which will take place over ten years, is to improve STEM education in the district in order to prepare students for careers in expanding fields. Taylor quoted the famous educator Ian Jukes, who said: "We need to prepare students for their future, not our past." He listed several potential job opportunities that could arise in the next decade, such as drone traffic optimizers or biofilm creators/installers.

"Those careers are not the future [anymore]," said Taylor. "They are now our present. We need to think differently about STEM education, and that's what Vision 2031 does."

One of the main components of Taylor's plan deals with the STEM and Innovation Lab at Hillcrest Intermediate School, a space where students can experience new, technology-oriented activities. The project would "reimagine" the library space at the school, with several spaces being designated for new purposes, and it would likely remove many of the books that are currently stored there.

"Libraries today are not what they once were," said Taylor. "They don't need to have six foot, eight foot-high shelves of books because students all have iPads in their hands and they can access digital databases from our library, [or] they can access e-books from our library."

Among the new spaces would be a creation and collaboration station, esports/coding station, application station, and makerspace station, as well as a SMALLab (Situated Multimedia Accelerated Learning Lab), which is a 3D mixed reality learning environment where students "actively engage both their mind and body to learn new subjects." Several of the stations would be available not only to students, but to community members and businesses.

As Taylor puts it, the goal of the project would be to "redesign learning environments in schools to prepare students for their futures."

As of now, there is a tentative timeline for the initiative; in May, the old library will be moved to what is now the project room at Hillcrest, and renovations are slated to begin on the new space in June. By August, there could be a grand opening, and students could begin to use the new library starting in October.

Due to factors like inflation, there is no specific estimate for the total cost, but Taylor has received over $350,000 in grants so far, which has been used to purchase class sets of 3D printers, virtual reality goggles, DIY drones, obstacle courses, and robots.

"Together, we can prepare students for their future, not their past," said Taylor.

After the Superintendent's report, student representative Alex Fry gave a quick briefing about the Easter Egg Hunt at Norwin High School, which will take place on Saturday, April 2 at 2 PM at the stadium. Over 8,000 eggs will be on the turf, and the festivities will include an appearance from the Easter Bunny, games, prizes, a petting zoo, and an Earth Day station.

The board members then voted on several agenda items, all of which were passed. Some of the more notable items included a raise in wages for summer workers to $13/hour and a $5/hour increase in salary for district-employed paraprofessionals.

After, Taylor gave his Norwin Proud report, which highlighted several points of student achievement. Featured in academic excellence was senior Ben Bergman, who placed as a top 10 participant in the North American Computational Linguistics Open Competition, as well as the AP Physics class at Norwin High School, who competed in the Pasta Bridge Engineering Contest at St. Vincent College; one of Norwin's teams received both the best-engineered bridge award and the most aesthetic bridge award. Mentioned in athletic excellence was the boys' varsity ice hockey team, who qualified for the PIHL Penguins Cup Final on March 21; they would end up winning the game, which took place shortly after the meeting at the UPMC Lemieux Sports Complex in Cranberry, PA.

"As you can see, we have many reasons to be very proud for our students and staff," said Taylor. "We are Norwin Proud."

The turning point of the meeting came next, as community members were given the chance to comment on non-agenda items. Several Norwin residents signed up to speak at the meeting, many of whom aired their concerns about the presence of critical race theory (CRT) in the district's curriculum.

"You've already done something great in eliminating biased CNN10," said community member Robin Simmons. "Now, I ask you to take one more huge step: forever eliminate critical race theory. It's important to define exactly what CRT is and what it stands for… CRT teaches that one race is inherently racist, sexist, and intentionally or inadvertently oppressive… CRT teaches that a person's race or sex makes them responsible for past transgressions of that race or sex… CRT asserts that the United States of America, as a whole, is racist and sexist… does anyone think that venom should be injected into the minds of our students?"

CRT has been the subject of debate in many of Norwin's previous school board meetings, especially after one teacher's assignment was said to be indoctrinating students. The assignment in question featured an article called "Two Americas" from NY Times Upfront Magazine, a piece that many took issue with.

"'Two Americas' is not appropriate literature on so many levels," said community member Fran Bevan. "It surprises me that this article would be chosen at all… basically, this article is socialist propaganda."

Removing CRT from the district was a stated goal for many of the board's new members upon election. Some taxpayers, however, believe that they are not fulfilling that promise.

"We voted for change, but we are seeing no change," said community member Tammy Moreno. "The whole point of having an elected school board is so that the community is able to set the policies of the school… if we're going to focus on education, it shouldn't be racism."

A crackdown on CRT, however, could have consequences for the district, as senior Evan Blenko pointed out. The College Board states that if any district bans 'required material' in Advanced Placement classes, that class would lose its AP designation, and such a ban would likely affect five of Norwin's AP classes, including United States History, Psychology, World History, Government and Politics, and Human Geography.

"I'm not here to try to change your views, but rather show you the concrete damage this would have," said Blenko. "Whether you like it or not, your policy will make required parts of AP classes forbidden in our district."

However, according to school board member Alex Detschelt, any policy would take these concerns into account and would include exceptions to the rules, such as "the impartial discussion of controversial aspects of history" and the use of historical documents that are permitted by present law.

So far, no official policies have been implemented, but that could change at any moment. On April 11, the next board workshop meeting will take place, and if the last few are any indication, there will likely be a number of community members registered to speak. Any Norwin resident is permitted to do so, and signups are available on the Norwin School District website under the "Board" tab. (LINK)
Leave a Comment
About the Contributor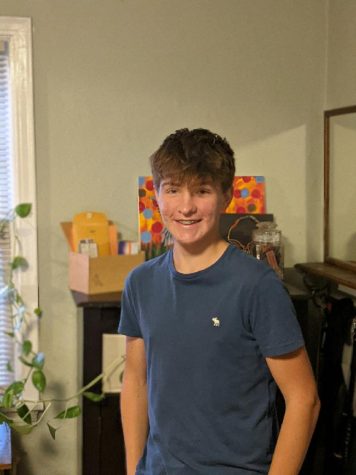 Oliver Hinson, President/ Website Manager
Oliver is a senior, and he has been a part of the newspaper staff for 3 years. He covers a wide range of topics, from school news to student features,...