"The academy" rolls all the way to state finals
Norwin Ice Hockey team makes it to state championship for first time in program history!
For the first time in its history, the Norwin Ice Hockey team has won the Pittsburgh Interscholastic Hockey League Championship, otherwise known as the Penguins' Cup.
The Knight's competed in the Penguins' Cup against Erie McDowell on Monday, March 21, at the UPMC Mario Lemieux Sports Complex, dominating the McDowell Trojans 5-0.  Sophomores Alex Thomas and Mario Cavallaro both had 2 goals in the final, and senior Logan Fear added 1 more in the statement win.  Goalie Owen Burmiester posted a shutout for the second time this season.  
The Knight's then qualified for the state final for the first time as well, where unfortunately they fell to powerhouse West Chester East of District 1 who has won 46 straight games.  
While the Knights may have dominated the Penguins Cup finals, the same can not be said for the rest of the playoffs.  It took overtime to beat first overall seed Fox Chapel 5-4 in the semifinals.  The Knight's also played a tightly contested quarterfinal game against Westmont Hilltop, winning by a score of 3-2.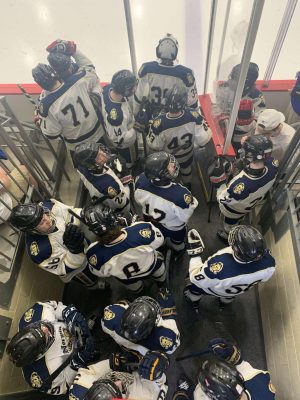 "I think in the finals it was a case of how hungry our guys were to win that Pens Cup," said head coach Mike Robinson about the dominant win over Erie McDowell.  "We came out from the first shift of the game and did not stop until the final horn. The guys played our game to a t, hard forechecking, speed, team play, and sound defense. Not that we didn't want to win the early round games but there were definitely moments of time during those games that we let up and gave our opponent a chance to get back in it. In the final, that was not the case."
For Robinson, the final ended up being a bit more personal than expected, as he graduated from and played hockey at Erie McDowell.
"It was definitely a fun experience," said Robinson about playing against his alma mater.  "After we beat Fox Chapel for the semi final and there was a potential to play them, deep down I was rooting for the Trojans to come out on top, but I needed to treat it no differently than any other game. Things have changed a lot since my time playing for McDowell, but for my first Cup final behind the bench, to win it against them was definitely something special."
The second-year head coach cites many of his experiences at McDowell in his current coaching of the Knights.  
 "I think the one thing I took from playing there from one of my coaches was buying into a team is crucial to winning," he said about his years at McDowell.  "No matter how skilled a team you may have, without a team game you won't succeed."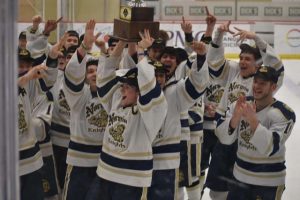 The Norwin team had no trouble buying in this season, in part thanks to the leadership of Norwin's senior class.  
"The leadership that those guys bring to our locker room has definitely been crucial to our success," said Robinson.  "We have a quote that we brought to them in August about how on great teams, players must lead. They have taken that role to heart and truly have embodied what leaders are. I hope that they will rub off on our underclassmen and show them how to run a team for future years."
One of those leaders has been captain Logan Fear.  The forward netted 19 goals during the regular season, accumulating 34 total points.  Fear's ability both on and off the ice has garnered him plenty of praise from his teammates.  
 "Logan is a great friend, and he is such a good leader," said sophomore forward Thomas.  "He always pulls through with big goals.  I think Logan has really shown us the way that a real leader acts.  He led us in so many close games where we had to grind it out.  He was the go-to when we were in a tough spot."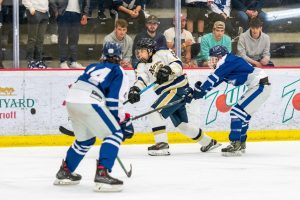 The Knights played in many hard fought games this season, going to overtime 5 times throughout the season, losing 3 of those overtime match ups.  
"Throughout the season we had a lot of ups and downs," said senior forward Robbie Chappell.  "We were battle-tested and we got hot at the right time."
The Knight's greatest accomplishment of the regular season was beating then-undefeated Fox Chapel in overtime 6-5, overcoming a three goal deficit in the third period, with sophomore Alex Thomas netting the game-winner.  This game served as a turning point and a major source of confidence for the team.  
 "After that Fox Chapel game, there was no question in my mind that we were winning the Penguin's Cup," said Knight's senior captain Logan Fear.  "Even at the beginning of the season, even when we had tough losses, through everything I was expecting this.  I know these boys and I know my team and I knew we could do it."
The team's connection was something that benefited them all season.  
"I've been best friends with my teammates since I was a little kid," said Fear.  "They're my brothers, so we have incredible chemistry on the ice."
Chemistry, which has been showcased by the Knight's balanced scoring.  Along with Fear and Thomas, seniors Ty Shigo (38 PTS) and Dom Barca (15 PTS), sophomore Mario Cavallaro (27 PTS), and freshman Dom Cerilli (15 PTS), all had significant contributions to the Knight's scoring.  Senior Jake Meier led all defencemen with 29 regular season points.  
"The fact that everyone contributes on offense really makes us strong," said Thomas.  "Our first line goes out and wears teams down, and then our second line comes out and plays at the same exact speed, we're gonna score a lot of goals playing like that.  We can make other teams tired, because every person on our team can score on you.  Our third line comes out and can score too."
 The Knights didn't just have a prolific offense.  They also had a lockdown defense, anchored by sophomore goalie Owen Burmiester.  Burmiester was the only goalie on the team, and had to start in all JV and Varsity games this season.  
"Owen's hard work this season has culminated to the level that he is playing at right now," said Coach Robinson.  "He's playing very well and at the right time. He is doing exactly what we need him to and that is to make the saves that he needs to make and nothing more. That Pens cup final game was the best game I have seen Owen play and that bodes well for us in the future."
Burmiester's hard work has also been noticed by his teammates.  
 "Owen has put in so much hard work," said Fear about his teammate.  "I would say he is our most improved player and he has turned himself into an elite goaltender.  I could not have more faith in him."
Reflecting upon this historical season, it's impossible for the seniors to not take note of the lessons being on this team has taught them. 
"For me, this has shown me that even the best things have to come to an end," said Fear.  "I've loved every minute of playing hockey here.  And now to say we won the Penguins Cup, it's an incredible honor.  It's a fairytale ending.  I couldn't have imagined a better way to go out."
Leave a Comment
About the Contributor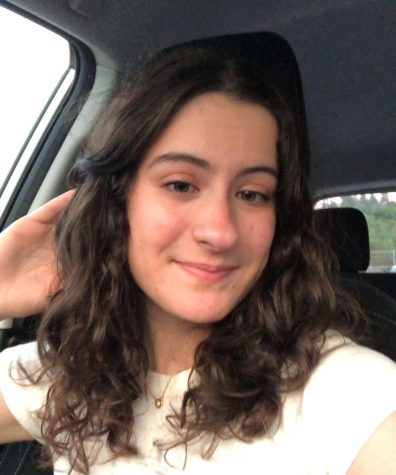 Julie Chenot, President/ Website Manager
Julie is a current Senior and has been writing for the Knight Krier for two years.  She is the co-president of the newspaper club and also serves as an...