New podcasts headed to Norwin High School
A "Knight LIAR" special edition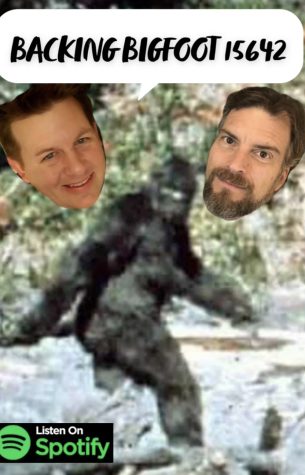 Move over The To-Knight Show, there's two new podcasts making their way to Norwin High School! Zale's Tales and Backing Bigfoot 15642 will both be hosted by English teacher, Mr. Michael Zale and will be airing this spring. Zale will be joined by co-host, Mr. Douglas Knipple for Backing Bigfoot 15642. 
Zale, an avid storyteller and podcast fan, always dreamed of hosting his own show; the timing, however, was never right. With the recent finale of The Bachelor though, he finally decided he has enough free time to pursue this dream. 
"With work, my kids, and waiting to see who Clayton gave his final rose to, I didn't have much free time," said Zale. "Since the season has wrapped, I started filming both of these podcasts. I will be taking a hiatus from them though when The Bachelorette starts in July."
Both podcasts will air this April with weekly episodes and will be available to stream through Spotify. 
Zale's Tales will air Tuesday's at 7 PM EST, with each episode featuring a former student of Zale's. Guests will endure a "roast" session where Zale will bring up their embarrassing high school moments. From there, an open conversation will be held talking about everything from what the guest student is currently doing, former classmates of theirs, and memories shared over their 4 years of high school. Conspiracy theories and urban legends will also be on the table for discussion. 
"A conspiracy theory I'm most excited to discuss is that Walt Disney's head is frozen. When you visit Disney, I can assure you that Walt's head is not chilling in a freezer inside a park. It's an absurd theory that needs to be debunked." 
On Wednesday's, Zale will host another podcast, this time joined by physics teacher, Mr. Knipple. Backing Bigfoot 15642  will follow the two men throughout North Huntingdon and Irwin as they search for Bigfoot.
"When Mr. Zale presented this idea to me, I knew I had to get on board," said Knipple. "Bigfoot is real and within our community; it's time we find him." 
Episodes will be about an hour each and cover that week's findings. To see more of the hunt, be sure to follow @backingbigfoot15642 on TikTok. 
"We will be looking for Bigfoot in a number of places," said Knipple. "Hot spots we expect to find him include Oak Hollow Park, Irwin Park, and the Sheetz by Walmart." 
"I'm honestly really excited about both shows," said Zale. "I can't wait to roast former students and find Bigfoot each week."