Norwin High School puts on interesting school musical this upcoming fall 2022-2023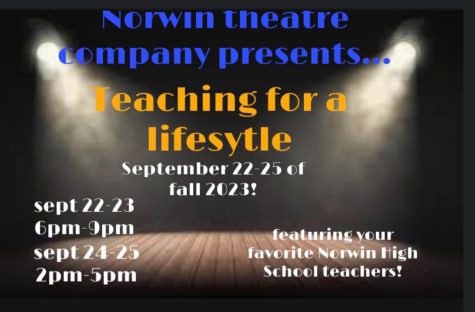 For this fall the Norwin Theatre company has announced that they will be producing an interesting musical that will grasp everyone's attention. This upcoming musical will be having the cast members as teachers! The upcoming fall musical will be called Teaching for a Lifestyle.
This show that teachers from Norwin High School will put on is about the assumptions of a teacher's life outside of school. For example, teachers sleep at school, teachers are robots and teachers give out homework for fun. A lot of the teachers participating in this musical are very excited to show the Norwin High School students their talents. The teachers are going to be working very hard over summer break. 
"As a teacher of Norwin High School I think this is a great opportunity to finally get all our teachers together to produce something that no one is expecting," said a teacher at Norwin High School. "I can't wait to show our students the talent we have all worked hard on!"
The Norwin Theatre Company announced that this new musical will be ready to attend in mid-September. The dates of this musical will be, September 22 through the 25. Tickets will be online for $113 or tickets can be purchased at the doors for general admission for $113. Most of the teachers that are participating in the musical are not going to be present for teaching in the fall while this musical is happening throughout the week. 
This new musical can be a great experience for everyone, and is recommended for all people of all ages to come and experience this great show put on by our Norwin High School teachers!