Norwin student by morning; District intern by afternoon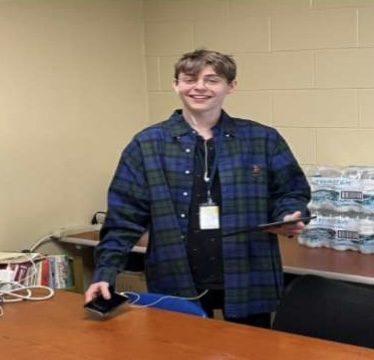 For most seniors, their last year of high school is a breeze. Easy classes, goofing off, and just waiting for graduation to roll around. Russell Tyson is a bit different though. 
Everyday at noon, Tyson leaves the halls of Norwin High School and walks to the administration building serving as an Informational Technology intern.
 In this position, Tyson is expected to do a number of tasks including disassembling and rebuilding laptops, updating district iPads, learning different software networks, etc.
"Dr. Choby was actually the one to offer me this position," said Tyson. "He knew I was slightly educated on different aspects of technology and knew that I have an interest in a future career involving it. I thought this opportunity could lead to future opportunities."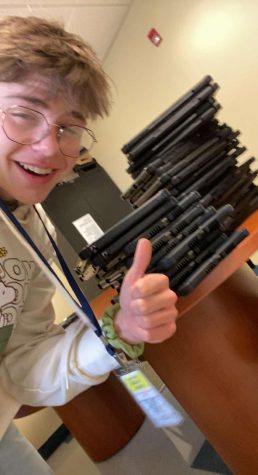 Tyson's first day came at the beginning of January this year. Since then, he has learned a number of different skills working alongside a number of individuals including Mr. Edward Crist, Norwin Director of Technology and Mr. Rick Spiker, Norwin's Infrastructure Engineer. 
"He gets along very well with the entire IT staff," said Crist. "I can confidently say that the internship experience has been very positive for both Russell and our IT department."
While completing his internship, Tyson is also studying for the COMP-Tia A+ certification, a step that will undoubtedly help him as he ventures into college and a future career in technology. 
"It's a certification for technical support," said Tyson. "You take a test to show your understanding on categories of support like software, hardware, ports, etc. Many IT jobs look to see that you have this certification to accept you."
Despite being so technologically knowledgeable, Tyson did not take many programming classes during high school. Instead, he learned outside of the classroom; on his own and alongside his grandpa. 
"I taught myself the hardware needed to build a PC when I built my own when I built my own with computer parts in the house that my grandpa had."
As a child, Tyson would often follow his grandpa to work, learning and educating himself on different aspects of technology. 
"My grandpa worked at Computer Connections, so I would follow him around watching him fix simple computer problems and I even repaired an iPad screen there." 
In addition to his internship, Tyson is also a member of the high school's IT Club, going to the tech turret throughout the day helping students with any technical help or questions they may have. 
Outside of school, you can expect to catch Tyson working on cars or working part-time at Dunkin Donuts.
"I will be attending Westmoreland County Community College going into their Technical Support Program," said Tyson. "I am excited to start the next chapter and thankful for the opportunity I've been given this year."