Knights Volleyball off to a hot start
Going into the 2022 season, there were plenty of unknowns for Norwin Boys Volleyball.  In fact, they didn't even have a coach until just a few months before the season, after former head coach Nick Fallone stepped down from the role to pursue administrative duties with Norwin School District.  Fallone was replaced by Mike Palashak, who is completely new to the program, along with veteran coach Sue Mihalov serving as the assistant coach.  Mihalov  served as the freshman girls volleyball coach for many years, and also previously served as the girls varsity coach as well.  A little over halfway into the season, the Knights are 8-2, falling only to Seneca Valley and Hempfield.  
The 2021 season was riddled with cancellations, as the Knights had their first 7 home games postponed for a variety of reasons.  Due to this it was an up and down season, but the Knights still prevailed and were able to make it to the second round of the WPIAL playoffs.  The Knights returned much of their starting lineup from this 2021 team, only graduating two starters.  Returning starters include sophomores Jackson Genicola and Troy Horvath, juniors Ethan Painter and Michael Mihalov, and seniors Tyler Hussey and Michael Fleming.  Painter, Hussey, and Genicola were all named to all-section teams in the 2021 season.  
As just a sophomore, Troy Horvath has been one of the Knights biggest contributors this season.  Horvath plays both front and back row and contributes in all facets of the game.  
Added to the starting lineup this season, seniors Luke Mumpower and Kevin Skweres have served as leaders for the team.  Mumpower has stepped into the setting position for his first year on varsity.  Skweres serves as the Knights opposite hitter, and has been a consistent offensive leader for the duration of the season.  
"Mumpower and Skweres, along with Hussey and Fleming have been the core senior contributors on this team, not just on the court, but they also serve as leaders and examples for everyone else on the team," said Coach Palashak.  
The senior class has had quite an impact on the underclassmen.  
"The senior class has been really motivating to the younger kids in the group," said Horvath.  "Being an underclassman as well, I feel as if they have taken us under their wing and welcomed us in.  They really showed us what being a team really was about and how to strive for greatness."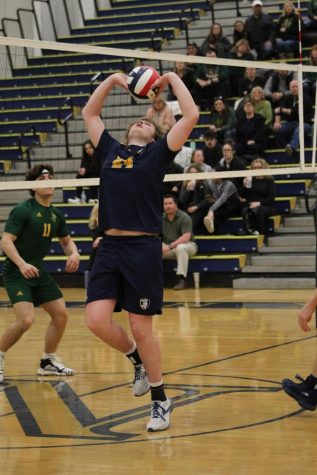 The Knights strong senior class includes the aforementioned Hussey, Fleming, Skweres, and Mumpower, along with Jack Apgar, Jacob Meier, Nathan Safko, and Mason Amic.  
The offensive starters have been Hussey, Fleming, Horvath, Painter, and Mihalov.  The Knights defense and ball control have been anchored by Genicola, Horvath, and first-year libero Lucas Churchfield.  
"Our team's biggest strength has been ball control and defense," said Palashak.  "Our young players have stepped up and been leaders in the backcourt."
The Knight's first line of defense, their blocking, has been one of its biggest improvements from last season.  
"Our strategy behind our blocking has really improved this season," said Palashak about the first line of defense.  "Not just our strategy, but also our skills in terms of blocking."
The Knight's blocking improvements came out in their April 19 win over Penn Trafford.  This was the Knight's first win over Penn Trafford in over three years.  The team put up a wall against Penn Trafford, shutting down almost everything the Warriors attempted to put over the net.  
The Knights also had big wins against Latrobe, and Hempfield in their first game of the season.  
"My favorite moment from the season thus far would have to be our win against Hempfield in our first section game," said Horvath.  "It felt great to beat them this year. It started off our year with a bang"
The Knights then fell to Hempfield when playing them for the second time in the season, with a score of 1-3.  The Knights other loss this season came against boys volleyball powerhouse Seneca Valley on April 11, with a score of 0-3. The Knights hope to grow from these losses as the season continues.
"I think our team could improve on starting each game with a spark," said Horvath.  "Sometimes we start out pretty slow which is ineffective for the rest of the game.  We have to fight to work our way back up to really have a chance at winning."
The Knights will head to Harrison City to face off against Penn Trafford again on May 12, looking to make it the first season sweep of the Warriors since long before the Knight's seniors were in high school.
Looking forward not just to this Penn Trafford match up, but also to the possibility of being section champs and going far in the playoffs, the Knights still hold their unity as a team as their biggest strength.  
"This year is the closest I think a Norwin boys volleyball team has been in a while," said Horvath.  "We are not just teammates but also best friends."
The Knights next game is Pittsburgh Central Catholic Thursday May 5, 2022.
Leave a Comment
About the Contributor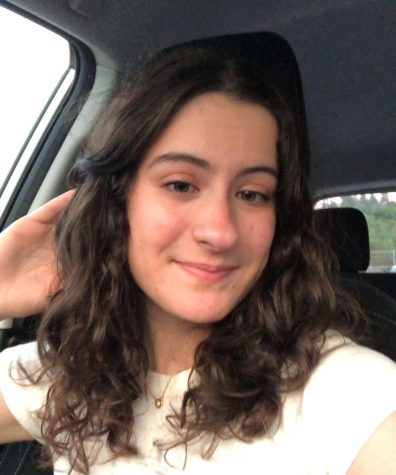 Julie Chenot, President/ Website Manager
Julie is a current Senior and has been writing for the Knight Krier for two years.  She is the co-president of the newspaper club and also serves as an...