Revival in Pittsburgh
Knights of Faith participate in walk for Jesus.
Mia Pierce, Intro to Journalism Contributor
May 3, 2022
On Saturday, April 23, the first annual Pittsburgh Walk for Jesus event was held in the North Shore.  The event was started by students in the Student Outreach Club network.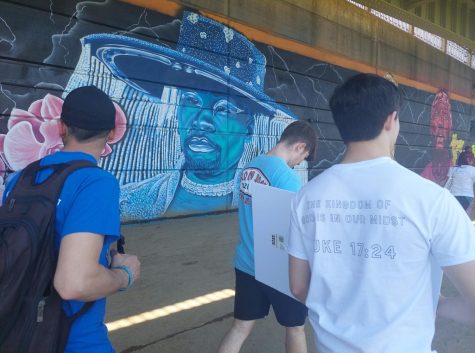 Before the walk itself, around 11:00 AM, there was a group there to lead worship, as well as multiple speakers including two local pastors. At noon, the walk began in the park across from Stage AE, and the group, escorted by Pittsburgh police officers, went past PNC Park, across the Andy Warhol Bridge, around the Point, through the streets of Pittsburgh, and then back to Stage AE. 
"It was amazing to see the faces of those we passed light up and the hearts of those who heard us be touched!" said a Norwin attendee. 
Many different people from all sorts of backgrounds came together to walk for one cause, and were able to do so in positive ways which left a lasting impression on the community. After being invited to a meeting in March where the initial announcement of the walk was made, the Knights of Faith continued to discuss the possibility of partaking in the event. 
"I personally was excited at the prospect of the Knights of Faith students participating in the PW4J since they were going to have the opportunity to interact and engage with other like minded students from nearby schools," said Mr. Salany, school adviser of this student-led club. "It immediately seemed like a wonderful event when a member presented the idea to the club and it was also cool to be a part of a brand new event since it was the first year for this."
During the walk, there were little booklets to be given out about more specific information; however, the more important message was expressed through the crowd showing passion and unison in a specific cause, with the goal of bettering the community and sharing the gospel with others.
"My favorite part of the trip was walking around Pittsburgh and interacting with different people," said Noah Bradley, a junior in Knights of Faith who attended the event.
At the conclusion of the walk, it was announced by one of its organizers that it will become an annual occurrence. This event was something that the participants in Knights of Faith enjoyed and are looking forward to being a part of next year. This event was open to anyone who wanted to join, and was not limited to being affiliated with a club or church; everyone is welcome. 
"The experience was spiritually moving and over all really enjoyable, the people involved were very compassionate and welcoming," said AJ Gentile, a junior who was also in attendance.