Norwin track finishes season at states
The Norwin Boys and Girls Track & Field teams stormed into May in the WPIAL Team Finals and Individual Finals. Both teams qualified for the Final Four Team Championship out of 55 AAA schools in the district, where the girls took third, while the boys fell to fourth place. 
 The WPIAL Team Finals were held on Wednesday, May 11 at West Mifflin High School. Both teams raced against Butler and North Allegheny, as the girls additionally took on South Fayette, while the boys face Mt. Lebanon.  
In addition to the WPIAL Team Finals, the WPIAL Individual Championship was held May 18 at Slippery Rock University. The Rock was host to many successful events. ALL RESULTS FOR KNIGHTS FOUND ON TEAM WEBSITE.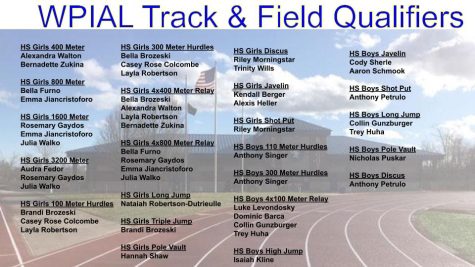 The girls 4×800 team, consisting of sophomores Rosemary Gaydos, Bella Furno, and Julia Walko, as well as junior Emma Jiancristoforo, placed fifth with a season best of 9:47. Junior Bella Brozeski placed fifth in the 300 hurdles, running a 47.52. Freshman Kendall Berger placed seventh for javelin, throwing a 112-11". Freshman Nick Puskar placed eighth after pole vaulting 12-3". Junior Hannah Shaw finished in eighth for pole vault as well, with a height of 10-6".
"
In addition to the aforementioned athletes, the following runners, throwers and jumpers moved on to the state championship: Zukina earned silver in the open 400 meter with a season best of 58.44. Junior Ashley Laukus finished second in the high jump with a 5-3". Seniors Cody Shirley and Aaron Schmook placed first and second respectively in the javelin. The girls 4×400 meter relay team, consisting of junior Bella Brozeski and seniors Zukina, Alex Walton and Layla Robertson, ran a 4:03, overcoming illnesses and injuries, to place second."
The PIAA Championship took place Friday and Saturday May 27-28, 2022 at Shippensburg University with thousands of athletes from across the state in AA and AAA. Six out of seven athletes sent to Shippensburg medaled.
Both boys and girls finished the regular season with perfect 5-0 records. After a final section meet against Penn-Trafford on Tuesday, April 26, both the boys and girls track team ended their regular season with undefeated 5-0 section records. The first round of WPIAL team playoffs, hosted by Norwin on Wednesday, May 4, found the girls beating Baldwin, Belle Vernon, and Bethel Park, and the boys winning against Baldwin, Canon-McMillan, and Connellsville. 
"Before meets, everyone on the team knew what they had to win or place," senior sprinter Bernadette Zukina said. "If points in an event weren't met, we knew that we had to make up points somewhere else."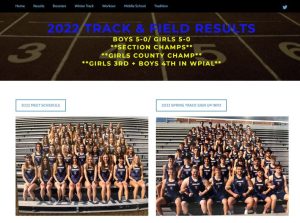 "Our competition is very tough, but I feel that if both the guys and girls teams do their best, we both have a chance," Schmook said. "I feel pretty strong that I will have a good showing at the team final and carry that into individual WPIALS!"
Schmook, who set the school record in javelin at 198'3", is ranked first in the state for javelin, and ninth in the country, and will moved on to the state championship at Shippensburg University on Saturday, May 28. Schmook placed eight in javelin after throwing a 171'11". Schmook has stepped up as a prominent team leader this season and racked up many points for the team.
"The biggest contributing factor that has gotten us to team finals this year is everyone working together and having first year athletes, along with seniors, stepping up," Schmook said. 
Another standout athlete from the track team has been Zukina, who qualified for the state championship in 2021 for the 400 meter, placing 12th with a time of 58.88. Zukina moved on to individual WPIAL playoffs to compete in the 400 again this year, with a personal best of 58.6 seconds for the 2022 season.
"A few of us have been to States in previous years, so we have a higher chance of making it again," Zukina said. "Our 4×4 was just short of States last year, but this year I'm confident in our chances. I've run the state qualifying time in the 400 a few times this year. I don't doubt that I'd run the qualifying time because there's just a lot of competition in the WPIAL in the 400."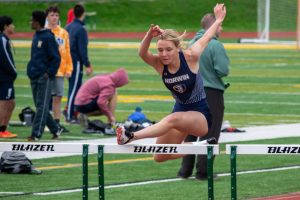 The team's significant number of WPIAL and state qualifiers can be chalked up to overall hardwork and dedication from everyone on the team.
"The team practices 6 days a week, and those who are winning and placing are the ones who show up everyday and are committed," Shaw said. "States is very hard to qualify for, especially being in AAA, but I think that this year we have some of the best athletes to come through in a while."
Shaw additionally moved on to the WPIAL individual playoffs for pole vault, qualifying with an 11'2" best.
Not only has this hard work paid off for the heavy hitters of the track team, but many newcomers as well. The team has depth, which has enabled them to score despite recurring injuries, such as freshman hurdler Ryan Schiller unfortunately breaking his ankle at the Butler Invitational on Saturday, April 23.
"I think getting everyone involved in the practices and meets puts some confidence in some kids," senior sprinter and jumper Dom Barca said. "We had lots of people step up this year and contribute big time. One thing I can take away is that your team is only as strong as your weakest link, and I think this year we included everyone and developed everyone to have a pretty strong team,"
Barca, along with senior Luke Levendosky, and juniors Collin Gunzburger and Trey Huha, qualified for the 4x100m in individual WPIAL playoffs with a time of 43.85.
The continued dedication to one another, not just as individuals, but as a cohesive co-ed team, seems to have permeated into much of the track team's ideology.
"One thing that I will take away from this season is the comradery between teammates and friends, the bus rides to meet, and all day competitive invitationals," Schmook said.
"This season's team support and spirit at even the smallest meets is one of the most important factors," Shaw said. "I think we push each other, even at practice, to work toward PRs and better our training."
As the Knights headed into the heart of their post-season, they found it important to keep in mind to maintain the focus and drive they've held all year long.
"Every meet this year, something unusual has happened, just showing that anything is possible and there is always an opportunity to go as far as you want." Barca said. "I believe we can reach states on some of our relays depending on how we do at WPIAL individuals."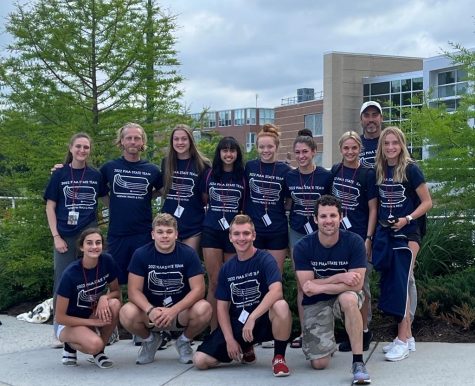 The Pennsylvania state championship meet, held at Shippensburg University on Friday, May 27 and Saturday, May 28, resulted in a great deal of success for Norwin.
"
 Laukus tied for eighth in high jump after hitting a 5'2" jump. Schmook, as previously mentioned, placed eight in javelin, throwing 171'11". The girls 4×400 meter relay team placed seventh in the finals, running a 3:59.49, and setting a huge personal record in the prelims the prior day with a 3:57.69. "
Leave a Comment
About the Contributor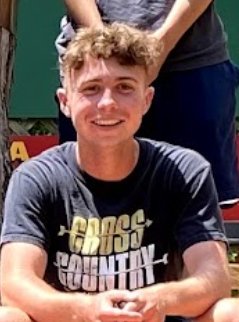 Max Christopher, Writer
Max is a second year writer for the Knight Krier.  He is a senior at Norwin High School who, in addition to the school newspaper, is involved in cross...