A season of success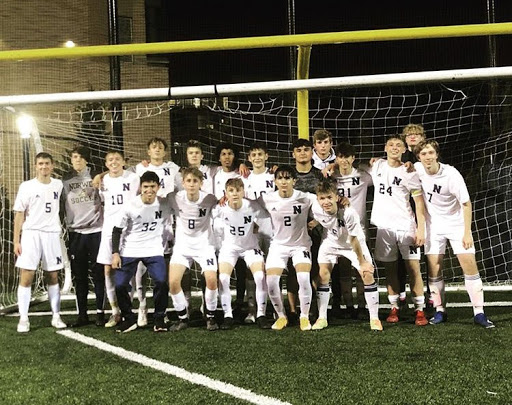 Champions of their section with a record of 10-0-2, the Norwin Boys Soccer team currently stands undefeated at the conclusion of their regular season. 
     On Sept. 14, the team kicked the season off with a 1-0 win against Pittsburgh Central Catholic. 
     "We were very confident going into the game as we knew we had a very strong team. Nothing was going to stop us from winning," said senior captain Brendan Ash.
     That winning attitude led the boys to win the following five games against Connellsville, Latrobe, Hempfield, and Penn Trafford.
  On Monday Oct. 5, the boys' perfect record was challenged by Taylor Allderdice. The game ended in a 0-0 tie, extending into double overtime.                                                                                                                                 
     "We had never played Allerdice before, so we really had no clue what to expect," said Ash. "The only thing that we could judge off of was the scores of games that they had played."
     The boys played Allderdice again the following Thursday. In order to prove themselves the better team, and they secured a 3-1 win. 
     "Our team has been so successful this season mainly because of our commitment to playing the game we love," said junior Riley Zimmerman. "We don't like the feeling of losing at all and we try our hardest to settle for nothing less than the best."  
   On Oct. 19, the boys closed their regular season off with a 3-1 win against Pittsburgh Central Catholic. 
     On Oct. 31, the boys will play their first WPIAL(Western Pennsylvania Interscholastic Athletic League) playoff game at Norwin's stadium against the winner of the North Allegheny vs. Taylor Allderdice game.
     "We believe that we have the best team in the state, and no team can beat us when we play at our best," boasted Ash. "We all have faith in each other and trust one another, so we believe that there is no limit for this team."
     The only thing that could possibly stop the boys from their success is COVID-19. If members of the team contract coronavirus disease, they will have to quarantine. This could lead to elimination in the WPIAL playoffs. If an opposing team they played got the virus, this could possibly affect them as well. 
     "You never know what is going to happen," said junior Ryan Harrigan. "Different teams contracting COVID-19 and having to shut down or quarantine key players will really change the game. That is our worst fear at this point. I think that if we all wash our hands, stay six feet apart, and follow all of the safety procedures, then we will be safe. We shouldn't have to worry about the virus until we have to- we have playoff tunnel vision and can't let anything distract us."