Boys tennis wraps up season
After two months of hard work and many matches, the boys tennis season has come to a close. The team, led by head coach Ryan Hornick, ended their season on May 5 finishing with a 7-5 record.
The team consisted of 13 players, tied for 2nd in their WPIAL section with Kiski, falling short of Franklin Regional. Since last season, the team improved from the 15th seed to the 11th seed in WPIAL playoffs. 
Senior captains Mitch Kenney, Luke Snyder and junior captain Brady Johnson, have seen massive improvements since last season.
"Commitment outside of practice has really paid off in matches," said Kenney. "I've been playing since my freshman year and it's great to see us improving each year."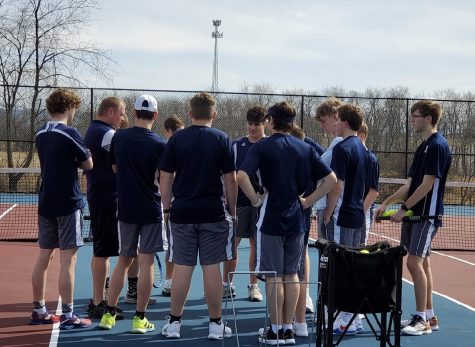 Singles players consisted of Brady Johnson at first, Luke Snyder at second, and Bret Village at third. Brady Johnson and Bret Village finished with the best section record on the team as each finished 6-1. 
In WPIAL Section Singles, Snyder earned  5th seed and Johnson the 3rd. Unfortunately, Johnson was defeated in the first round and Snyder was upset in the 2nd round.
The boys first doubles were led by Mitch Kenney and Nicholas Cormas, and second doubles included Cole Kubistek and Max Snyder. Kenney and Cormas finished with a 5-2 section record.
As the season progressed, the Knights secured themselves a spot in the WPIAL playoffs defeating Greensburg Salem 5-0. 
However, as they moved into the playoffs, the boys competed in sections against powerhouse 1st seed, Franklin Regional but ultimately lost 5-0.
"Franklin has always been a top team, so it was upsetting to fall short to them," said Snyder. "But, we're a strong team and this only motivated us more."
Despite this setback, the team continued their season celebrating their senior night on May 2 after numerous weather delays on previous dates. Despite the celebration, the boys unfortunately lost to North Hills.
Days later, the boys hit the road traveling to Fox Chapel where their season came to an end losing to the 6th seed 5-0.
"Overall, it was a great season," said Johnson, who is already preparing for his senior season. "We had many ups and downs, but I'm proud of our improvement and excited to see how far we go next year."