Norwin Band closes season with bang
(Published Nov. 2, 2020)
     The COVID-19 pandemic has resulted in changes in academics, athletics and just about every other facet of life.  But not only sports teams have persisted through the challenges brought on by COVID-19, the Norwin High School band and color guard have continued to have a great season even when presented with these challenges.
     The band and color guard have continued to compete and perform all season long, at both football games and virtual band competitions.  The President of the Norwin band senior Alex Hetrick feels that despite all of the changes, the season has still provided many opportunities and great memories.
     "Talking with others in the band and guard, it seems most people feel the same way – it's been a very memorable season, to say the least," said Hetrick.  "If anything, this season is one we'll remember for a long time, for better or for worse."
     The band competed twice this season, on Sep. 16 and Oct. 7, for USBands, coming in second place both times to two separate schools from Utah.
     "Not being in a competition environment with hundreds of people in the stands and dozens of other bands didn't feel right at first, and it took awhile for me to adjust," said Hetrick.  "I vividly remember stepping out onto the field for the preview show, our first official performance of the season, looking out at the empty rows of stands save for a handful of staff members and a camera, thinking to myself, 'Wow, this is really how things are this year.'"
     This year was meant to be an important one for the Norwin band, especially those who are seniors.
     "This season was supposed to be a huge one: every 4 years, the staff designs a big show, and we get the opportunity to travel out to Indianapolis and compete in the Bands of America Super Regional – one of the largest marching band competitions in the country," said Hetrick.
     While the band members have done all they can to make sure they performed as well as possible, band director Timothy Daniels had to make sure that things still ran as smoothly as possible.
     "As we considered how the program would look this year, one thing we looked at was making sure that we were teaching all of the skills necessary to return to a regular competitive season in the future which I think we accomplished," said Daniels.  "In general it has forced us to rethink the way we rehearse, when and how we perform, and how we keep all of the members connected when it is more difficult to meet in person."
     The band's showcase on Saturday Oct. 17 was especially something Daniels and the band looked forward to.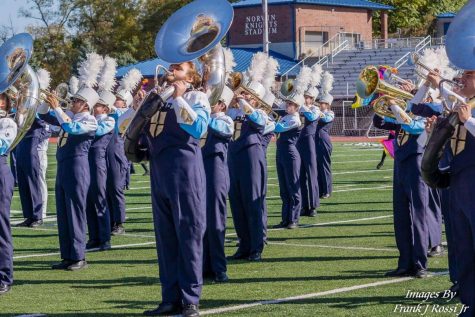 "It was all done through a livestream through Bands of America," said Daniels.  "We we
re assigned a time and we performed the show at that time.  And on the back end for people watching the livestream, it really looked like a regular regional.  For us on Saturday it felt like a normal show day."
     Though this year was quite a challenge for all involved, the band and color guard has pulled through.  Daniels feels that a similar circumstance to this next year would be handled better.
     "If we were to be faced with a similar situation next year, I think that a lot of the infrastructure for teaching online and for online performance exists now that we have been through the process once," said Daniels.  "Looking ahead to next year, if we are in a similar situation I think we would focus more on the social aspects of band, and being more creative with activities outside of rehearsals and performance."
     The 2020 season has thus far provided a multitude of challenges for various teams and clubs across the district.  However, the Norwin band has taken the unfortunate circumstances and turned them into positives.  This season has provided them with unique opportunities to adapt to changes and proved that great leadership and enthusiasm allows for great success.