Inside Norwin's dynamic javelin duo
Seniors Aaron Schmook and Cody Scherle have been throwing javelin together for 4 years, and as their last high school competition approaches, they have the opportunity to pull off something truly special.
The sun beams down on the track on a Tuesday afternoon, inducing a few stray beads of sweat, sure to leave a splatter on the ground. Cody Scherle takes a few careful, deliberate steps before whipping his contraption through the air.
He isn't holding a javelin, the device that's given him mountains of praise and recognition in the last few years; what's in his hands looks more like a pool noodle, made out of towels and held together by tape. "It just helps us practice our throwing motion and keeping our weight back," Scherle says. "It's really there to save our arms on the days we don't throw the actual javelin."
It's not as exciting as watching a medieval-looking weaponized stick take flight, but glamor isn't on anyone's mind at the moment. In just a few short days, Scherle and his teammate Aaron Schmook will have plenty of time to bask in the limelight and enjoy the tail ends of their senior years, but neither of them can afford to lose focus at the moment. Taking their eyes off of the prize isn't what allowed them to find themselves where they are today — hoping to take gold and silver in one of the most competitive events at the PIAA Track and Field Championships. While most seniors spend the last days of May lounging in the comfort that four years of hard work have afforded them, Schmook and Scherle understand that they still have a job to do — a responsibility that, while hazardous to place on two 18-year-olds, is entirely warranted.
"I definitely think we're capable [of winning]," Schmook says. "If we do what we're capable of, and everything works out for us, I don't see why we can't go 1-2."
If anything, it's a narrative that the two of them have constructed themselves. They certainly fed into the hype during Norwin's dominant 115-35 opener against Greater Latrobe, when they started off their respective seasons with throws over 175 feet. They furthered it at the 57th annual Butler Invitational, when Schmook launched a 198-foot bomb that gave him the championship over 46 other throwers, as well as a top 10 ranking in the entire country, while Scherle took second with a near personal best. The spotlight definitely shone down on them at the WPIAL Championships, when the pair again took gold and silver in dominant fashion. Neither has finished outside of the top two in the javelin at any competition this year, and Saturday's competition will give them the chance to cap off the year the same way.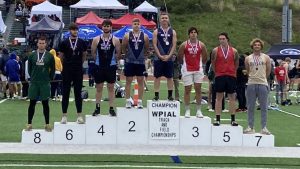 Of course, it comes with the added wrinkle that no Norwin javelin thrower has ever won a state title. Put simply, Aaron Schmook and Cody Scherle have a chance to make history — and cement themselves as one of the most dynamic duos in WPIAL track and field history.
"It would be incredible to show Norwin two state medalists," Scherle says. "It would be ridiculously cool."
In a greater sense, though, the two of them have been building this narrative for years, even if they didn't know it. If you'll notice, the names Schmook and Scherle are quite close to each other, and sure enough, the two have shared neighboring lockers since they stepped foot in Norwin High School. At the time, the two had never met, and although their camaraderie would take a while to develop — they didn't talk regularly until around junior year — fate would place these two together.
Just four years ago, Aaron Schmook was an incoming freshman finding his way in the football world after a decade-long career in baseball. Coming into the spring, he picked up throwing from a few friends — not as another sport to master, but as a supplement to football. He didn't even pick up a javelin at first; he started off with the more traditional route of shot put and discus, but one day, he took a stroll over to the other side of the massive green field, mesmerized by the footwork and the flight. "I came over to see how they were throwing it," Schmook says. "I picked a javelin up, probably threw it about 25 feet sideways, and it didn't even land in the ground, but for some reason, I knew I wanted to keep trying it." From there, he started throwing javelin, and that year, he threw just under 130 feet — still decent for a freshman, but nowhere near the mammoth numbers he puts up today.
"
It's almost like when you hit a baseball, when you hit a home run, you don't really feel it… it's like a slingshot effect."
— Aaron Schmook
For years, Schmook balanced the two sports, mainly as a means of advancing his career on the gridiron. There wasn't a ton of excitement on the javelin side until spring of his junior year, when he started off the season with a 30-foot personal best. That year, he notes, he took extra time to master the footwork and technique he had previously left behind for the weights. If there was any one performance that put him on the map, though, it was likely the 2021 Butler Invitational, a 175-foot performance that earned him a gold medal. "It's almost like when you hit a baseball, when you hit a home run, you don't really feel it," Schmook says. "You throw a javelin, and it all snaps at the right time, and it's like a slingshot effect. I knew it was gonna be a good throw right away… it definitely propelled my career into thinking that I could make something out of throwing, even at the collegiate level."
Things may have even continued this way — that is, if he had made it to the state championships. But a disastrous turn of events resulted in a mark of only 140 feet at the WPIAL championships and an abrupt end to the season, putting football back into focus. In what was still his main sport at the time, Schmook's senior year saw him put up impressive marks as a linebacker, with 74 tackles and an interception. He says if he had been asked at that time which way his future would go, it would have been a 50-50 decision.
But then this season happened. With his first throw of 2022, an impressive 185 feet, he launched himself onto the radar of every coach in the country and etched himself into Norwin's record books, toppling former phenom Justin Moose's 2004 mark of 179 feet. "I was surprised that I threw that on my first throw," Schmook says. But some part of him knew that was coming; after all, he had thrown over 180 feet numerous times during practice.
The numbers kept piling on — 189, 190, 198 feet. His performance at Butler on April 23 earned him field MVP honors for the day, and more than a few colleges took notice. The offers started rolling in, from Duquesne, Youngstown State, and Slippery Rock, among others, and a month later, on May 23, he committed to Kent State University. "The campus was beautiful, walking around," Schmook says. "I like the coaching staff there. I feel like I could go there and fit in to their program."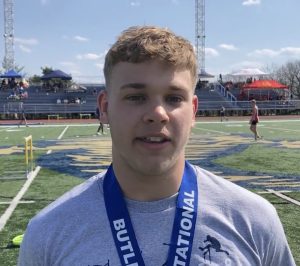 He could have cemented somewhat of a legacy at the WPIAL Individual Finals; as was the theme of this season, he held the top seed quite firmly. He ended up throwing 167 feet — certainly far enough to take care of business against anyone wearing another jersey, but not quite up to his own caliber. "I don't like to make excuses… looking back at my technique, I just wasn't on that day," Schmook says. When all was said and done, there was one athlete standing above him on the podium: his teammate, Cody Scherle.
"I ended up putting one out there," Scherle says. "It was a pretty good mark, and I knew with that throw, I was winning the finals. I know that was Aaron's goal… unfortunately, he just had a bad day that day."
To some, it seems less than appropriate that the WPIAL champion is only recognized in the context of his teammate, but Scherle embraces the dynamic. "No one knows me without him, or him without me," he says. "Everyone knows both of us." Looking back, though, it seems like things could have turned out much differently.
Scherle faced a similarly difficult decision as a teenager who wanted to quit one sport for another. "My parents absolutely loved baseball," he says. "They loved traveling around and watching me play, so whenever I told them initially, 'Hey, I'm not really having too much fun playing baseball anymore,' they were very shocked and surprised. They were somewhat accepting that I didn't want to play baseball, but they told me I had to find another sport." He followed one of his friends to track and field, and when his parents saw that he was having fun going to practice every day and demonstrating a clear talent for the sport, they followed with full support.
Like Schmook, Scherle started with shot put and discus in middle school, and he still competes in the latter to this day, but in his freshman year, he picked up a javelin and immediately got hooked, for no reason other than the obvious. "I liked it the best because I threw it the best," he says. He threw nearly 160 feet as a freshman, an almost unheard of distance for someone new to the event, and he started competing at invitationals alongside his upperclassmen teammates.
Through sophomore and junior year, he continued to work on his technique, leading to some impressive results, including a 2nd place finish at the Lady Spartan/Wildcat Invitational, a 7th place finish at the Butler Invitational, and a 9th place finish at the WPIAL Individual Finals during his junior season. Despite all of that, though, he failed to build on his personal best, which ended up lighting a fire inside of him and motivating him to work harder than ever during the offseason.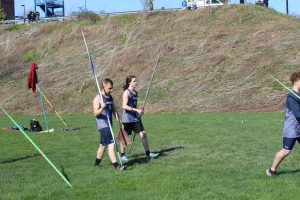 "I definitely improved a lot between my junior and senior year," Scherle says. "That's my biggest improvement. During that winter is when I trained my hardest and I was trying to go after the school record, and that's how I really gained some focus."
Sure enough, he started out the season with a 178-foot throw that remains his personal best today, and although he never eclipsed the old school record, his dedication and added time in the weightroom allowed him to finish inside of the top 2 at every meet this year. Nearly every one of those had been a second place finish, almost always behind Schmook, but he broke through at the WPIAL Finals, overcoming a slick runway and throwing 174 feet for the win.
"That is by far the biggest thing that I've done, because it was also very unexpected," Scherle says. "Obviously, most people thought that Aaron would get it, but even if [he] did struggle, they might not have thought that I could get it."
Scherle has always defied expectations, even his own. Two weeks ago, if you had asked him what his plans were after graduation, he likely would have told you that he planned on joining the Electrical Union and pursuing a trade. He didn't even begin to think about continuing his track and field career through college until Seton Hill offered him a scholarship following his WPIAL performance. "I was not going to go to college," Scherle says. "I was just going to be done with javelin and, you know, get through life… my entire life is at a changing point right now."
For years, that was a reasonable assumption; after all, very few high school athletes make it onto the collegiate stage, and at just 5'8″, 155 pounds, Scherle doesn't give off the appearance of an extraordinarily gifted specimen. He more than makes up for it with his technique, though, and he's been able to find similar athletes that have had professional success, notably Thomas Rohler from Germany, the 2016 Olympic champion. "I look up to him because his body type is the most like me," Scherle says. "He's a little bit on the skinnier side… but he's still really athletic and strong." For Scherle, Rohler exemplifies one of his main beliefs: you don't have to be a bodybuilder to be a good thrower.
Of course, it doesn't necessarily hurt if you are one; as a linebacker with years of lifting experience, Schmook has taken somewhat of a different approach than his teammate. He stands 5'11", weighs in at 210 pounds, and boasts a bench press just shy of 300. Strength has been his edge at almost every meet, and when a lifting PR is on the line, the atmosphere isn't too different from when he's about to whip his javelin. "There's no better feeling benching over 275 pounds, or going down for a squat, getting up and having all your teammates around you cheer," Schmook says.
Scherle, who often seems to be Schmook's antithesis, admires the hustle. "Every practice we have," he says, "I always see him there lifting… doing his thing. That's one thing I wish I could do better, just to lift heavier, to get the motivation to work on that."
It's a common theme for the duo; while Schmook's strength seems to carry him through his performances, Scherle relies on near-perfect mechanics and footwork. "We've always told each other," Schmook notes with a chuckle, "if we put ourselves together, we'd have a 240-foot thrower." The two are open to each other's criticism, despite the fact that either one of them could be the star of their own team. Schmook is constantly giving Scherle lifting tips and encouraging him to get in the weight room, while Scherle is never afraid to let Schmook know if he sees something off in his form.
"I know I'm nowhere near perfect yet," Schmook says. "I have a lot of stuff I still haven't fixed, and that's the exciting thing."
Whatever works, though, is what the team needs. While their individual results may look pretty on the scoreboard, it's the guaranteed 8 points at the end that show their true significance. "Me and Aaron, we always have javelin locked down," Scherle says. "We always take that top two, and I feel like it really gives the rest of our team a boost." Against section rival Hempfield Area, those points were crucial; the boys squeaked out an 82-68 win, and without their efforts, the Knights' undefeated record would have been in peril.
Of course, that frightening situation is becoming more real than ever; in just a few weeks, Schmook and Scherle will have graduated, and it will be up to new faces to shoulder the load. As much as they can do on the field, it's even more important for them to assume a position of leadership off of it. They've certainly done their work with the underclassmen, and aside from direct coaching, both of their work ethics set a great example for younger athletes to follow.
"I definitely coach them up throughout the season," Schmook says, "but when we first got out there, they knew I was a senior, and when they saw me throw, and they saw how far the javelin went out, the respect was there from the beginning." He says that there are more than a few talented underclassmen ready to take over — notably Brett Rikstad, who will have to lead the team next year as a junior — and he believes that the program is in great hands, no doubt because of the contributions they have made.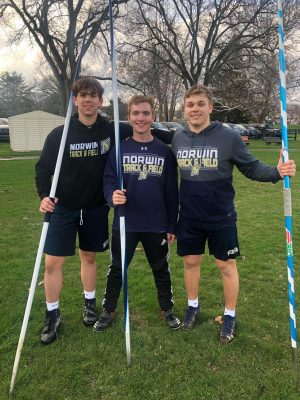 In addition to developing talent, though, they have also directed some outside attention towards the throwing aspect of track and field, something that wasn't there at all just a few years ago. "I think I've been seeing a lot more cameramen taking pictures of javelin," Scherle says, "mostly because of me and Aaron."
If the two are searching for a spotlight, though, they don't have to look very far. The cameras and the attention will be pointed directly towards them on Saturday morning as they attempt to make history. Despite their years of experience, neither of them can resist getting anxious at the line. "The adrenaline's kicking in once I get up on that runway to through," Schmook says, "but it probably starts about 2 days out. I'll be sitting in school, or at practice, and I'll just be thinking about that next throw."
And that throw will undoubtedly be crucial. They face stiff competition, including Bronson Krainak from Danville Area and Rhyel Miles-Eubanks from Coatesville, both of whom are seeded around 190 feet. "It doesn't matter that I threw 198 feet, it doesn't matter that Cody threw 178 feet," Schmook says. "There's a lot of people who throw 170, who throw 180…  it's so close that it's not like one specific person is the best. It's just about who can execute the best on that day."
For this dynamic duo, execution is nothing new, and they'll treat this competition like any other. They will walk together to inspect the runway, noting what distance the lines start at. They'll get a feel for their footing, making sure that they won't slip up and face disaster. Schmook will wear his baggy blue shorts, unlike the ones that the rest of the team wears, and he'll be throwing the same javelin that his pap gifted to him. Scherle will keep his own sort of superstition, performing a ritualistic lean before he throws, similar to the movements a long jumper would make. They'll throw their practice throws. They'll say their prayers. And just like every competition they've had in the last four years, they'll give it all they have.
When it comes down to it, they don't know any other way.