Norwin volleyball ends a successful season unexpectedly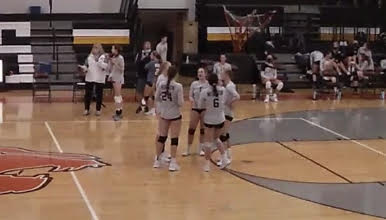 (Published Oct. 30)
     The Lady Knights volleyball team, coached by Mary Ellen Ferragonio and Al Warden, had a successful season, qualifying them for the WPIAL playoffs. The Lady Knights posted a 5-4 record before heading into their final week of play. Unfortunately, their season was cut short due to COVID-19 complications. The Lady Knights last two games were against the Latrobe Wildcats and the Oakland Catholic Eagles. On Oct. 14, they avenged their previous loss to the Wildcats with a 3-0 win. On Oct. 15, they unknowingly finished their season against section 3 champions the Eagles.
     This season, the Lady Knights were thankful to even be playing, as heavy restrictions were placed on volleyball due to COVID-19.  As girls volleyball is the only fall indoor sport, there were extra precautions put in place.  At the start of the season, the Lady Knights were restricted to 25 people in the gym at one time, allowing no spectators.  The team also was not allowed to have all athletes in the gym at games, causing Junior Varsity athletes to have to sit in the hallways for varsity games, and vice versa.  Soon, restrictions were changed and the Lady Knights were permitted two guests per player, and the entire team was allowed in the gym.  For the last two games of the season, the Lady Knights were permitted a student section, and had plenty of fans to cheer them on.
     "I was just so happy to be able to cheer for varsity in the gym, and have them cheer for us," said junior Natalie Miller. Miller saw time on both junior varsity and varsity this season. "It also allowed coaches to sub in and out of games we were ahead in."
     This season, the Lady Knights relied on their experienced senior class.  Six starters returned, including two all-section selections, seniors Abigail Lichtenfels and Jordan Stein.
     Along with Lichtenfels and Stein, starting hitters Brooke Gast, Mackenzie Yaniga, Rachel Sullivan, and starting defensive specialist Dylan Amic returned.  Rounding out the Knights starting lineup was senior hitter Kylie Mihalov, who came back from an injury that prevented her from playing last season, junior hitters Alyssa Laukus and Chloe Lukondi, and junior defensive specialist Julie Chenot.  
     "Our entire team is best friends," said Lichtenfels.  "It makes us play so well on the court together.  We all have an important role"
     Lichtenfels and her fellow seniors took the cancelation of the season hard, finding out that they played their last game as a Lady Knights and didn't even know it.
     "I would do anything just to be able to play one more time," said Stein. "I just want to hug my teammates in celebration one last time."
     As the team mourns, they also look forward to what the future will bring. Next season, the Lady Knights will receive three returning starters and many others who received significant playing time in 2020.
     "Dr. Seuss said 'Don't cry because it's over, smile because it happened'" said Ferragonio in an email to athletes and their families. "We will eventually do that."