Norwin High School Student Council takes on the new school year
President and Vice-President of Student Council ready to take on the new school year!
The 2022-2023 school year is here and Student Council is ready to bring their spirit to the student body's at Norwin High School.  This year our 2022-2023 Stuco President is Grace Ketler (12) and Vice President Maggie Maclaughlin (12).
This is a following interview of our 2022-2023 Stuco president Grace Ketler:
Q: Why did you initially run for vice president of student council?
I initially ran for President because I wanted to use my leadership skills to improve the daily life for all Norwin High School students. I looked forward to listening to my peers and other student council members about what they would like to see better and actually making it happen and putting it into action.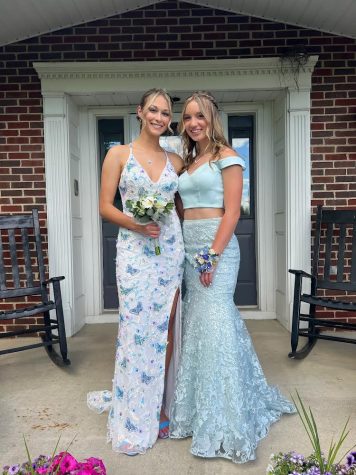 Q: How has being a student council officer impacted your day to day life?
Being a student council officer has impacted my day to day life for the basic reason that it is a time- consuming role and I spend a lot of time planning and working on student council related work. However, this role has also impacted my day to day life because I have learned to always look at life in a continuous improvement point of view. Even if everything seems to be working nicely, there is always room for improvement and it is important to be realistic with your goals, but plan to actually make something happen.
Q: Do you have anything new planned for this upcoming year now that we seem to be getting back to normal? 
We are very excited to bring back all previous events and start bringing in new events. Some examples of new things are hopefully school spirit assemblies and a community- wide dodgeball for charity event."
Q: Why do you think students should join student council?
Students should join student council because it is a real opportunity to make a difference and make life better for other people.
This is a following interview with the Vice-President of Student Council Maggie MacLaughlin.
Q: What's one thing the student council is proud to be announcing this year?
Student council is proud to announce our goals for the 2022-2023 school year. Encourage school unity and support through 5 spirit weeks and student-involved, in-school events and community- wide events, and help other clubs with their events at least 1-2 times. 
Q: How do you think the student council influences the students?
Student council influences students' daily lives in more ways than most people realize. We are responsible for the coordination of several events that students love, including homecoming, pep rallies, spirit weeks, and more!
Q: What inspired you to join the student council?
My dad, Mr. MacLaughlin, has 18 years of experience here as the student council advisor. I've been attending student council's annual events, like Candy Cane Castle, since I was born. From a young age, I've always known that I wanted to be a part of this organization.
Q: Why do you think students should join student council?
Students should join student council if they are passionate about making a difference within our school and community. This organization is so important to fostering a more enjoyable school experience for students.