FITZ'S Football Talk
NFL Week 13 Recap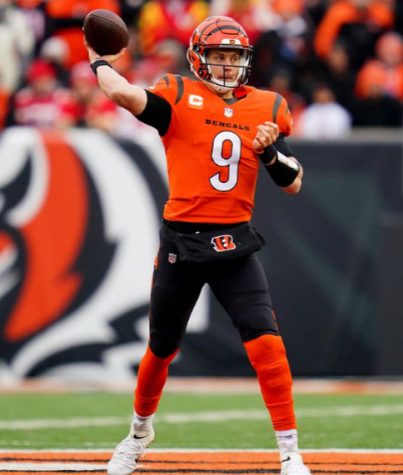 Burrow is Kansas Cities Kryptonite: Despite not having Joe Mixon the Bengals were still able to take out Pat Mahomes and the Chiefs in an AFC Championship rematch.  Burrow showed out in the battle of AFC  QBS finishing the game with 286 yards passing yards with 2 touchdowns, he also added a score with his legs. Burrow once again proved that he can thrive in big games and shows that he plays best when the lights are brightest.
Pickett starting to get it: The Steelers are starting to pick things up after their poor 3-7 start to the season. The Black and Gold are 3-1 in their last 4 games and most of it is due to their rookie QB Kenny Pickett starting to show promise. Pickett's made a lot of strides as hasn't thrown an interception in his last 128 passing attempts. He  hasn't been perfect by any means but every week he seems to be progressing and getting better which is all you can really ask for from a rookie QB.
Watsons Return: Despite winning on the road Deshaun Watson looked like he has a lot of rust work off. Watson only completed 12 passes for 131 yards while putting up the worst QBR of his career. However it's no need to panic considering its been 700 days since Watsons last start plus he's on a new team so there's bound to be some errors early on. Overall we know the player that Watson is and if he can get back to his MVP caliber forum the league is in trouble.
Upset of the week: Lions beat Vikings
NFL Week 12 Recap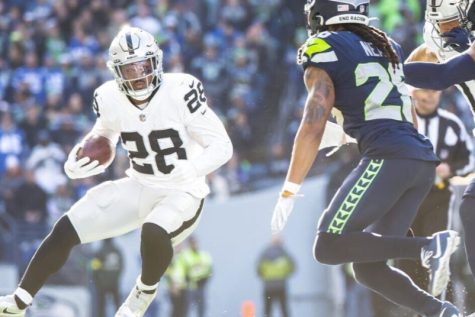 Josh Jacobs puts Raiders on his back: In the Raiders vs Seahawks game Josh Jacobs put on a clinic. He became the first player since  1950 to accumulate at least 225 rushing yards and 70 receiving yards in a single game. He also called game in a dramatic fashion with an 86 yard overtime touchdown run. Overall Jacobs needs to start being in the elite RB conversation because he is certainly playing like one.
Mike White Masterclass: After benching Zach Wilson the Jets turned to their backup QB Mike White vs the Bears. White shined and gave New York's passing offense a spark completing 22 of 28 passes for 315 yards and 3 touchdowns. Yes, it was against a depleted Bears defense but Jets fans should still be encouraged considering last week they had just 77 passing yards. Overall it's not often that a team that has had success like the Jets to switch Quarterbacks this late in the season, but if White can keep this up the move will be smart in retrospect.
Eagles lethal rushing attack: Although the Eagles have been flying this season they proved against the Packers that their most effective on the ground. Philadelphia put up a season high 363 total rushing yards with Jalen Hurts, Miles Sanders, and Keneth Gainwell all contributing in the ground attack. Jalen Hurts and AJ Brown have proved to be a great combo through the air but when you combine that with an effective run game you get a formula for success.
Upset of the week: Bears beat Packers
NFL Week 11 Recap
Washington Commanding respect: The Commanders have won 5 of their last 6 games and are rolling despite turning to their backup QB Taylor Heinicke. Their formula for winning has relied on their 1-2 punch rushing attack with Brian Robinson JR. and Antonio Gibson. Their defense is also putting together some promising performances and will only get better as their star edge rusher Chase Young is said to be almost ready to return. The Commanders in my opinion aren't a Super Bowl caliber team but they certainly shouldn't be slept on.
QB Controversy Brewing for Jets: Former second overall pick Zach Wilson was expected to take a big jump this season but frankly it hasn't happened and week 11 might've been the worst we've seen from him. Wilson looked atrocious completing  just 9 of 22 passes for 77 yards in the Jets 10-3 loss to New England. This hasn't really been out of the Ordinary for Wilson considering he ranks 38th in passer rating (72.6) and 39th in completion percentage (55.6) among QBs. The Jets still have a lot to look forward too as they've improved with a 6-4 record  this season, however this hasn't really been because of Wilson necessarily, its been more of an elite offensive scheme with the defense performing well. Overall the Jets have a lot of potential with Robert Saleh as the coach and lots of young talent around them but they should probably re-evaluate their Quarterback situation if they really want to take that next jump.
Dallas demolishes Vikings: Many people were looking forward to a close showdown with Dallas and Minnesota but it was anything but that. It was all Cowboys as Americas team routed the Vikings 40-3. Tony Pollard and Ezekiel Elliot were a dynamic 2 headed monster combining for 275 total yards, while Dak Prescott put up a near perfect passer rating going 22-25 for 275 yards and 2 touchdowns. The Cowboys are proving that they are one of the most dangerous teams in the NFC.
Upset of the week: Lions beat Bills 
NFL Week 10 Recap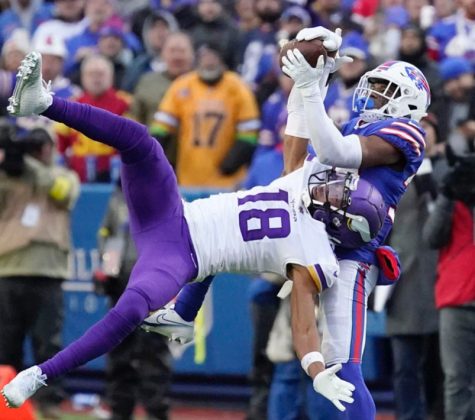 Justin Jefferson steals the show in game for the ages: Justin Jefferson once again proved why he is one of, if not the best wideout in football in the Vikings week 9 contest vs the Bills. Jefferson hauled in 10 catches for 193 yards and a touchdown, most notably he stole the show when he pulled in a near impossible one handed catch on 4th and 18 to help Minnesota stay alive. Jefferson's remarkable week 9 performance just added too his impressive third year campaign where he is second in the league in receiving yards.
Steelers see life: In week 10 Pittsburgh showed some life beating New Orleans 20-10. One of the biggest differences was the return of reigning Defensive Player of the Year TJ Watt. Watts' impact on the defense was like night and day as their pass rush looked like way more effective with him back. The Steelers also got a much needed spark offensively with Najee Harris and the rushing attack as a whole. Harris ran for 99 yards while his backup Jaylen Warren also tallied in 37 yards creating a healthy 1-2 punch. Pittsburgh still has quite an uphill battle but their win vs the Saints is certainly a step in the right direction.
Brady's Back: Brady and the Buccaneers are now on a roll beating the 6-3 Seattle Seahawks 21-16. Many were speculating earlier in the season that it was all falling apart for the Bucs especially offensively, however they seem to have found their rhythm. The scariest part about Tampa is despite their mediocre 5-5 record, their still in first place in their division because of how bad the AFC south is so bad. Overall no matter how bad it looks for Brady never count him out.
Upset of the Week: Lions beat Giants
              NFL: Week 9 recap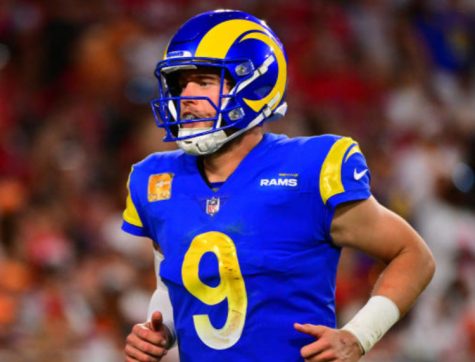 Tuesday November 8th, 2022
Bears offense heating up: Despite ultimately losing the game, Chicago fans still have a lot to look forward to after their battle against Miami. The Bears  once again took significant strides in the right direction on offense putting up 32 points, and most importantly Justin Fields stole the show by breaking the single game rushing record for a Quarterback that was previously held by Michael Vick. The past few weeks Fields has proved that he can be the franchise guy that the Bears have been hoping for, but ultimately they still need to go out and find him more weapons. However if they can do that I feel like this Bears team could be a juggernaut for years to come.
Green Bay getting worse and worse: The Packers season just seems to be going more and more downhill as the year continues. Their struggling offense was expected to have a bounce back week playing against the leagues worst statistical defense in the Lions, and once again they underperformed failing to put up double digit points. The worst part is their next their next three opponents, Cowboys, Titans, and Eagles, all are top 10 in the league in scoring defenses so it wont be a pretty sight for Green Bay fans.
Rams in real danger: The defenending Super Bowl Champion Rams aren't really following in the footsteps that they did last season. In week 9 they fell to the struggling Buccaneers who snapped their three game losing streak by defeating Los Angeles 16-13. Matthew Stafford and the once dynamic Rams offense struggled once again, not even running a single play in Bucs territory in the first half. With this loss the Rams fell to an abysmal 3-6 and are in a diar need to get something going.
Upset of the week: Buccaneers beat Seattle overseas. 
NFL: Week 8 recap 
Tuesday November 1st, 2022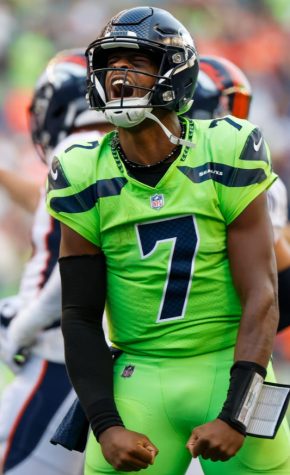 Geno Smith Celebrates after throwing a touchdown pass ( Sports Illustrated)
Tuesday November 1st, 2022 
Steelers Sob Story: After the week 8 loss to the Eagles it just seems to be getting worse and worse for the Black and Gold. Many fans speculated that over the bye week offensive coordinator Matt Canada would be relieved of his play calling duties but it seems that Mike Tomlin has indicated that its not going to happen. There's many players that have also disappointed one of them being Kenny Pickett. Pittsburgh's rookie QB had high expectations placed on him but so far he hasn't really lived up to them. Through 4 games Picketts played poorly,  throwing only 2 touchdowns too 8 interceptions.
Geno's Revenge Tour: Perhaps the biggest surprise of this season is Seattle's Geno Smith. Before the season many viewed Smith as a career backup or serviceable at best but he's quickly changed that narrative. Smith has been stellar so far earning NFC offensive player of the month honors. In week 8 Geno continued his revenge tour upsetting the 6-1 Giants 27-13. The 5-3 Seahawks are currently in control of the NFC West which is a big surprise. If Smith keeps this play up he very well could be the Comeback player of the year or even potentially MVP.
Cleveland ground attack: The Browns had a statement divisional win against the Bengals on monday night. Lead by the leagues leading rusher Nick Chubb, Cleveland's offense was on a role putting up 29 points. Despite a 3-5 record the Browns could be a dangerous team going down the stretch, especially if former first team all pro Deshaun Watson can return to his prime form.
Upset of the week: Bears beat the Dolphins 
NFL: Week 7 Recap
Tuesday October 25th, 2022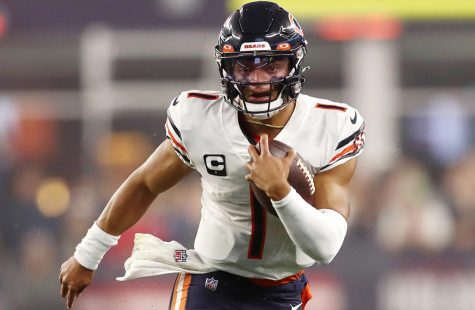 Brady's Breaking point: Tom Brady and the Buccaneers are starting to enter crisis mode. After an ugly loss to the Steelers in week 6 most thought they had an easy bounce back game to the 1-5 Carolina Panthers. However the Buccaneers once again disappointed everybody with a horrific loss to the Panthers,  in which their once explosive offense scored only 3 points.  What does this mean? Is this finally Bradys reckoning with Father Time? Well, it very well could be, but if there's anything I've learned growing up as a Football fan its that you can't ever count Tom Brady out. So I guess we will have to just wait and see.
Giants still rolling: One of the biggest surprises this season has been the New York Giants with a 6-1 record to start the season. However are they really as good as their record says or has it just been a fluke so far. In my opinion although they are way better then a lot of people, including myself expected. Still, I think New York is gonna fizzle out sooner than later. Not to be a downer but I just don't think Daniel Jones is that good and teams are gonna figure them out soon.
Fields finally delivers:  Going to New England and winning at Gillette Stadium is a tough ask for any team, especially a team like the Bears. However Chicago and Justin Fields made a statement by beating the patriots  33-14 in week 7. In the win, second year Justin Fields finally added a significant spark through the air and on the ground. In my opinion Fields I think fields could be very special, I just think Chicago has failed to give him weapons that could take him to the next level . I mean when your starting receivers are Equanimeous St. Brown and Darnell Mooney you obviously won't get the same results as a team like the  Bengals who are stacked with receivers like Tee Higgins and Jammar Chase.
Week 8 Upset of the week: Packers beat the Bills at Buffalo. 
---
Strange Situation For Steelers
Thursday Oct. 20, 2022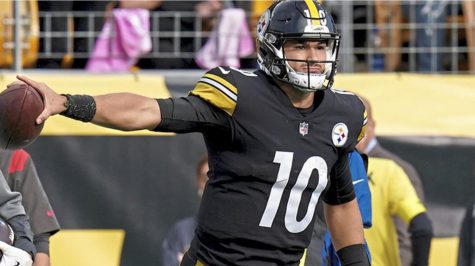 In week 5 Steelers fans were in a state of hopelessness as they had a demoralizing loss to the Buffalo Bills that brought their record down to an abysmal 1-4. It was also about to get worse as they had a tough task in week 6 vs. Tom Brady and the 4-1 Buccaneers. However with all odds stacked against them the Steelers shocked everyone with a 20-18 win over the seven time Super Bowl champion. Not only did they win but they did it in dramatic fashion with Mitchell Trubisky coming to the rescue in place of the injured Kenny Pickett, completing 9 of 12 passes for 144 yards and a touchdown. The Steelers were also significantly depleted on the defensive side of the ball missing a handful of starters.
    So, what does this mean for the Black and Gold? Are the Steelers back in contention? Well yes, because this year uniquely, the rest of the AFC North isn't too good either and the Steelers are only one game out of first place. However it won't be an easy road as they have some difficult games coming up. 
    Quarterback wise the Steelers are in a strange position as well, in the end of the game against Tampa Bay, Money Mitch finally arrived looking like an actual quality starting QB. However moving forward as long as he's healthy I believe we should still stick with Kenny. Although Trubisky did look good in this game, he still hasn't shown that he can consistently play like that. Plus if you give up on Kenny after just two games that he didn't even necessarily play badly in, it  could really mess up his long term development. 
    Probably the most surprising area of the Steelers in week 6 was the secondary. The back end of the Steelers defense was severely depleted, missing Minkah Fitzpatrick, Levi Wallace, Ahkello Witherspoon, and Cam Sutton, so that was a recipe for disaster especially when facing one of the best passing offenses in football.  Despite the injuries however the Steelers did the opposite of what everyone expected and held up fairly well against the Buccaneers Ariel attack. Arguably the best performance among the secondary was Cornerback Josh Jackson. Jackson, who was just called up from the practice squad, made his first start and had the tall task of covering the all pro Receiver Mike Evans for most of the game. He played extremely well especially given the circumstances, holding Evans to just 1 catch for 11 yards on 6 targets. Cornerback James Pierre and Safety Trey Norwood also made their first starts vs Tampa and both played well. Mike Tomlin always preaches the next man up mentality and it showed this week for the Pittsburgh pass defense. 
    The Steelers take on the Miami Dolphins next week who have their talented young QB Tua Tagoviloa back from injury so it should be interesting to see how Pittsburgh holds up.  Mike Tomlin has never had a losing season in his career but after the Steelers got destroyed by Buffalo most fans thought that was in serious jeopardy. However just when all hope was being lost the Steelers answered the Bell in statement fashion.
---
NFL Predictions
September 7, 2022
It's the most wonderful time of the year, and I don't mean the Christmas song. I mean it's time for Sundays spent by the tv watching America's favorite game. Yes ladies and gentlemen it's football season, so let's recap some of the craziness in the NFL that happened in Week 1. 
Surprising Seattle showdown 
All eyes were on the Monday night Football matchup with Denver vs Seattle in Russell Wilson's return to his former home. However it wasn't Wilson who stole the show. In fact it was a man who hasn't started a game in the past 8 years. Yes, Geno Smith played lights out in his debut for the Seahawks, throwing 23 completions on 28 attempts with 195 yards yards passing, 2 touchdowns and no interceptions while upsetting the Broncos. 
Josh Allen's revenge tour
After the overtime heartbreaker for the ages that ended the Bills season last year it seems they are out for blood. In the season opener they took on the defending Super Bowl champion LA Rams on the road and made a statement by beating them 31-10. I think it's safe to say that after a performance like this Josh Allen and the Bills mean business this season.
Pittsburgh defense 'Steels' the show 
The defending AFC champion Cincinnati Bengals came into their battle vs the Pittsburgh Steelers heavily favored and ready to pick up right where they left off. However the Steelers had different plans intercepting Joe Burrow 4 times and taking out the defending AFC champions in a gritty overtime win.
 WRAP UP… 
Overall it's pretty early to predict a Super Bowl matchup right now considering we have a long season ahead of us but if I had to guess I'd say Bills Vs. Buccaneers. Honestly it could be anyone out of the NFC because no team in that conference looked particularly good, however it's always safe to bet on Tom Brady to be competing for a Lombardi trophy. Plus after retiring than coming back it would be in Tom Brady fashion to take it all the way after all this drama. In the AFC there are a lot of teams I could see going to the big game like the Chargers and Chiefs but none of these teams more than the Bills.   Like I spoke about earlier the Bills mean business, with Josh Allen performing like an MVP and their defense finally playing up to speed with new acquisitions like Von Miller I see them being very difficult to beat.