Norwin grad Jack Salopek becomes starting QB at Western Michigan
Jack Salopek was a four-year letter winner for Norwin football, and the all-time passing leader in Westmoreland County history when he graduated. Now, he has the chance to lead a Division I program.
Last year, Norwin graduate Jack Salopek made his first college appearance at Heinz Field during the third quarter of Western Michigan's upset win vs. Pitt. He played one series in the game, completing all 3 of his pass attempts for 20 yards. 
This Saturday, he'll have a chance to repeat against the Panthers, except he'll be on his own turf, and more importantly, he'll be starting behind center.
Salopek, a redshirt freshman, officially landed the starting QB job for the Broncos over Alabama transfer Stone Hollenbach and another underclassmen candidate during the team's training camp in August.
"Those guys pushed me and made me better every single practice," Salopek said. "It's always been a childhood dream of mine to play quarterback at the highest level… I was lucky enough to be able to do that this year, and it just goes to show how much work I've put in."
Despite the competition, Salopek said he was "not surprised" to have earned the job.
"I don't say that in a cocky way," Salopek said. "I say that in terms of just being confident in myself… it's been a goal of mine every year since I've been here at [Western Michigan.]"
Salopek is running the system of first-year offensive coordinator Jeff Thorne, who was previously the coach at North Central College, a Division III program, for seven years, posting a 65-10 record in that span. 
Thorne's system has yielded mostly positive results through the team's first two games. In Week One, they faced off against Michigan State in front of 75,000 fans, and although they lost 35-13, Salopek was able to complete 21 of 36 passes for 193 yards. 
"As a player in an environment like that, you have to do your best to tune out the crowd and just focus on the game," Salopek said. "After the first play or two, I was able to solely focus on the game and tune out the other things around me."
The next week, they picked up their first win against conference opponent Ball State. Salopek threw for 230 yards in the contest, adding a touchdown.
So far, Salopek's favorite receiving target has been junior Corey Crooms. Last year, he saw a significant chunk of playing time, and since standout receiver Skyy Moore's departure to the NFL, he has taken over the first string duties. Through the first two games of the season, the two have connected to the tune of 15 receptions, adding up to 143 yards and a touchdown.
"Corey has definitely been our best target so far this year," Salopek said. "That's because of the work he's put in. Any time I go to the facility, I always see him doing extra things, whether it's getting extra catches on the JUGS machine or taking care of his body so he's in the best shape possible come game day."
Tomorrow, the two will have to be in sync if Western Michigan hopes to upset No. 23 Pitt. Last year, they were able to overpower the Panthers in a 44-41 shootout, but they aren't expecting an easy win this time out.
"Even though last year, we went into their place and won, every year they're a completely different team, and so are we," said Salopek. "It's a whole new game… a whole new challenge."
Salopek himself was almost a Panther. He landed a scholarship offer from offensive coordinator Shawn Watson after his sophomore year at Norwin, but when head coach Pat Narduzzi fired Watson and hired Mark Whipple, the team rescinded his scholarship offer. At that time, Salopek had already taken a few visits to Western Michigan, and he decided to commit before his senior season.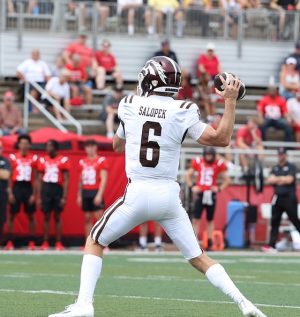 "I fell in love with the place immediately," Salopek said. "The people, the coaching staff, I thought their values aligned directly with mine. Their goal every year here is to win, and obviously, I love to win."
In his first two years, he saw limited game action as the backup behind Kaleb Eleby, but due to his redshirt status, he will still have three remaining years of eligibility after this season. This isn't the first time he has had the chance to lead a team as a young player, though. At Norwin, he was a four-year letter winner at quarterback and he landed the starting job going into his sophomore year. During his four years on the varsity team, he threw for 6,150 yards and 40 touchdowns, ending his career as the all-time leading passer in Westmoreland County history.
"I will always remember Jack's work ethic and leadership," his high school coach, Dave Brozeski, said. "I am blessed to have had the opportunity to coach him in high school and I will not be surprised if we are watching him on Sunday afternoons in the future."
Despite his accomplishments as an individual, though, his teams failed to secure playoff berths in his sophomore, junior and senior seasons. At Western Michigan, he is facing a similar uphill battle. The team finished 8-5 last season with a win over Nevada in the QuickLane Bowl, but they went only 4-4 in conference play, tying for last place in the MAC West. This year, he's aiming to turn that around.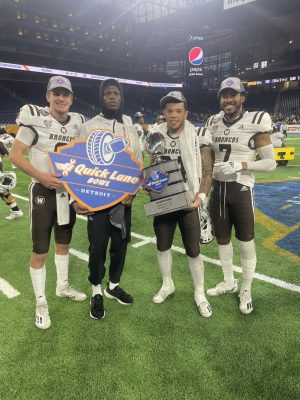 "My number one goal this season is to win a MAC championship," Salopek said. "That's something that's only ever been done three times at my school, so it would be a great accomplishment." 
If his team can find success, he might also find some as an individual. Dozens of Western Michigan products have gone on to the NFL, including the Steelers' Robert Spillane and Chukwuma Okorafor. Salopek himself hopes to pursue a career in professional football.
"That's always been another goal of mine, to play in the NFL," Salopek said. "If the opportunity presents itself, I will definitely take advantage of it."
Although he is not the first of his family to participate in athletics in college — his brother TJ played quarterback for Allegheny College, and his brother Michael wrestled for the University of Virginia — he would certainly be the first to reach the professional stage. Still, he credits his older siblings, as well his parents, for helping him get to the point where he's at today.
"The people that have had the biggest impact are my immediate family," Salopek said. "I'm lucky enough to have two older brothers who were successful in athletics at Norwin and at college, and they helped me a ton throughout the recruiting process… along with my parents, who would drive me to 8, 9 different camps in a month. All four of them have been great role models to me."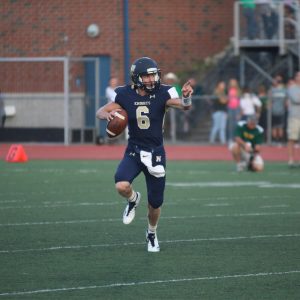 Salopek certainly isn't one to forget where he came from. When he gets under center on Saturday, hoping to beat the school that "snubbed" him in the recruiting process, he'll be thinking about a lot of things, whether it's his personal dreams or his goal of delivering a MAC championship to his school. Most of all, though, he'll be remembering where it all started.
"I'm very proud of [representing Norwin]," Salopek said. "To be honest… my family… my parents went to Norwin, my cousins, we're all kind of based out of North Huntingdon. Living up to what they have done is a big task. I'm just happy I've made them proud, and I hope I continue to make Norwin proud and the Norwin football program proud as I continue throughout my college career."