Boys golf gears up for post season
Boys varsity golf opens season with Westmoreland County Championship.
The boys varsity golf season is off to a 'tee-rrific' start this year. The team coached by retired social studies teacher Neil Rushnock has a record as of Sept. 28 is 6-4.  The team won the AAA Westmoreland County Coaches Association Final for the first time in 10 years, and Alexander Graham (11) and Dominic Cerilli (10) medaled.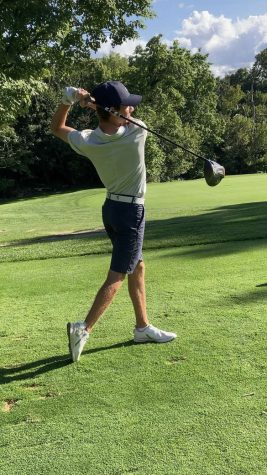 Graham and Cerilli had both golfed a 77 in the WCCA, placing them in 6th and 7th place overall in the County and assisted the team on capturing the Westmoreland County Coaches Association championship.
"My team and I really stepped up this year and brought our A-game to each match we played," said Jason Lucas (12). "This year was the first time in 10 years we came in first for the WCCA Finals and really brought us together to really show how strong we are."
Although losing some matches may have been tough the team had truly persevered and they came out on top. 
"The most difficult thing for me this year was just staying focused and not letting a bad hole get to my head," Dominic Cerilli (10) said. "I got better at it over the summer and felt like a new player this year."
"The most challenging part of this season has been getting over some tough losses and getting prepared for the next match. I think more preparation for specific courses and conditions could have made a difference in our performance this season," said Graham.
"
Comparing myself to some of my teammates, some of them did better than me than i would've expected this year but that only means i gotta work harder to beat whoever. That's what I really love about the game is that it really pushes you to keep working hard at it and practice to be the best version of yourself.
— Jason Lucas
The boys started their WPIAL individual playoffs on September 19 at the Youghiogheny Country Club. Players advance based upon score of +8 or under to the semifinals the following week. 
Two students, Alex Graham (11) and Logan Robb (12) advanced into the next round of the WPIAL tournament after Graham golfed an 79 and Robb golfed an 80. The two will continue to play the next round of WPIAL games on Wed. Sept. 28 where the top 36 golfers in the WPIAL advance to the Finals at the Allegheny Country Club. At Champion Lakes in Ligonier, Alex Graham (11) advanced to the WPIAL Finals with a score of 79, cracking the top 36 golfers in the WPIAL.