Freshman boys soccer continues to build for future
With the 2022-23 school year starting, a new group of freshman athletes are beginning their high school athletic careers. The 9th grade boys soccer team is currently led by Coach Ron Gale and consists of a group of freshmen excited to learn and play. 
The current record for the season is 2-7-1, with the offense controlled by Ian Natale, the middle controlled by Joseph Brown and Jacob Halberg, and Brayden Thorsen leading from the back. Despite the losses, the team is working hard, both on and off the field, to better themselves as a team and as individual players.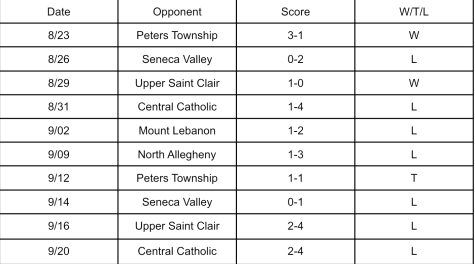 "This season I want to build off of what we have and get some wins," said Brown. "I definitely want to grow as a team and individual player throughout my high school career. I want to better my abilities with and without the ball to help the team out."
In addition to wanting to become better players, every athlete has goals for themselves. 
"I want to not only prepare myself for JV and Varsity but also my teammates for the level of competition that we will be facing in the future," said Brown. "I definitely want to grow as a team and individual player throughout my high school career." 
"For this season I hope to become a better player, so I can be an asset to the JV/ Varsity team next year," said Joseph Cramer. "I also hope to learn the strategies better, and become a better teammate. I know so far that our season hasn't gone as well as we planned, but my last goal is to win!" 
Like every sports team, the players have their weaknesses. 
"Weakness may be a mechanical error or speed of decision making," said Coach Gale. 
"There is a lot we need to fix," said Cramer. "For example, our defense needs work and we need to work on finishing around the net." 
The players are new to high school sports this year, so getting used to a new team and a new way to play has to happen. 
"We are still trying to figure out our groove," said Brown. "We started the season off strong but now have fallen behind so I definitely would like to see us end the season off like we started."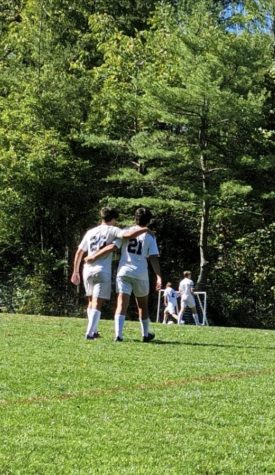 The team also has various strengths they apply when on the field. 
"Our strength is our smarts," said Coach Gale. "No matter the opponent's strength, we know how to lock it down." 
The team's strengths are a result of a dedicated coaching staff, and upperclassmen that help lead and inspire the younger players. 
"The freshman coach, coach Ron Gale has been a great help, he knows the sport very well, and is helping mold me and my teammates into better players," said Cramer. "The coaches of JV and Varsity, coach Joe Szilard, and coach Scotty Schuchert have played a huge part in making all of us new freshmen better players, so we can hopefully join them on the JV and Varsity teams next year. The coaches are not the only people who have been leaders to us, so have most of the older players. For example, Varsity captain Owen Christopher is a great role model for us young players. He shows great skill, and brings the team together as a whole."