Norwin XC wins section titles
For the first time since 2015, Norwin's boys' and girls' XC teams both won their section championships.
On Tuesday, Oct. 4, Norwin's boys' and girls' cross country teams beat Latrobe and Yough to clinch their section titles, something they haven't done simultaneously since 2015. 
The girls won 23-38 against Latrobe and 15-50 against Yough behind strong performances by freshman Annie Cjazkowski and junior Rosemary Gaydos. Cjazkowski narrowly missed beating Latrobe's course record of 19:41, which was broken by Latrobe sophomore Emerson Skatell, the winner of the girls' race. LATROBE/ YOUGH RESULTS
The boys enjoyed an even wider margin of victory, beating Latrobe 21-38 and Yough 15-50. Norwin's sophomore runners were instrumental in securing the win, as Thomas Gaydos and Enzo Jiancristoforo took second and third place overall, followed by seniors Andres Breauchy and Oliver Hinson. 
The wins pushed both teams' section records to 8-0, capping off a dominant regular season.
"Everybody performed above expectations," head coach Brian Fleckenstein said. "We were off a lot of teams' radar, and we ran really well all year. The boys made drastic improvements since last season, and we won the section and everything else."
Norwin had some excellent performances down the stretch to secure the section championship. Towards the end of September, the Knights picked up some momentum, starting with senior night victories versus Penn Trafford and Derry Area on Sept. 20. Norwin took 18 of the top 20 spots in the boys' race, led by Breauchy, Gaydos and Jiancristoforo. The girls took 8 of the top 10, as Cjazkowski, Gaydos, junior Audra Fedor, senior Emma Jiancristoforo, and freshman Elin Bash formed the Knights' top pack.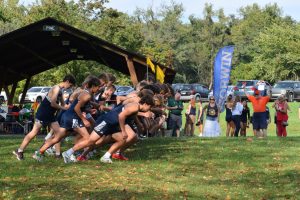 Four days later, the Knights swept the Blue Devil Invitational in Sharpsville, PA, coming home with 1st-place trophies for all six races (boys varsity, girls varsity, boys JV, girls JV, boys junior high, girls junior high). The girls' varsity team scored just 52 points, over 30 less than second-place finisher Dubois Area. All seven varsity girls medaled, and all of the top five set personal records, as Cjazkowski finished in second place overall with a time of 18:57, becoming the first female Norwin runner with a time of under 19 minutes since Jenna Kuhn in 2010.
"Running under 19 felt very special to me," Cjazkowski said. "It was a big accomplishment for me, personally, because I didn't even think I was going to run under 19:30, so running under 19 was just amazing."
Sophomore Emily Schaeffer won the girls' JV race in a personal best time of 20:59, as the team secured first place with only 24 points. The boys' JV team dominated their race, taking all of the top nine spots; junior David Shepherd took first overall in a time of 18:16.
The boys' varsity team won a tight race against Eden Christian Academy, scoring 72 points to Eden's 74, as all seven Norwin runners finished with times under 17 minutes. The Knights' sixth and seventh runners, sophomores Luke Simpson and Mario Breauchy, passed Eden's fifth runner at the end of the race, driving up Eden's team score just enough to secure the win for the Knights. 
On Sept. 28, the Knights won a hard-fought race against Greensburg Salem and Hempfield, arguably their toughest competition in the section. Simpson proved instrumental in the boys' race, as Norwin tied with Hempfield through the first five spots, but he beat Hempfield's sixth runner to break the tie. The girls took first, second and third against both opponents, automatically winning their race. 
Now, as section champions, the Knights have postseason goals in mind. The Westmoreland County Coaches Association Championships take place on Wednesday, Sept. 12, and it could be the biggest meet of the year for both the boys and girls.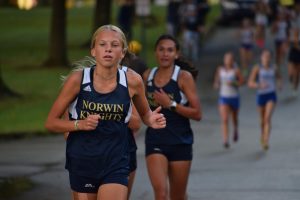 "[The County Championship is] always big," Fleckenstein said. "One of our season goals is always to win that meet, and it's a great chance to run fast. It looks like we're in shape, the weather is good, and everything should be ready to rock and roll. We definitely put a lot of chips into that basket."
Only one year of Fleckenstein's coaching career, the 2015 season, has ended with the boys and girls winning county championships. Last year, the girls were the second-place team, and the boys finished fifth. 
"I think it would be pretty cool [to win]," senior Andres Breauchy said. "It's something we haven't done since my freshman year, and just knowing how much I looked up to older guys like [Jacob] Tarosky, [Dominic] Spatolisano, and [Dominic] Demaro, it would be awesome to be like them."
After that, the Knights will set their sights on the WPIAL Championships, held on Oct. 27 at Roadman Park in California, PA. The boys finished 20th in 2021, and the girls finished 11th. This year, both teams are aiming for the podium, as well as a PIAA Championship berth.
"Our main goal is to go to the state meet," Emma Jiancristoforo said. "We know what needs to be done. The training that we put in throughout the summer is definitely paying off, and we are thrilled to even have a chance of accomplishing this goal."
Right now, the only thing Norwin's cross country teams can call themselves is undefeated section champions. In a few weeks, things could sound a lot different. Assistant coach Paul Henry believes this group has the tools to go far in the postseason.
"This is the hardest working group of kids I've ever had," Henry said. "I've been coaching Norwin cross country for 30 years, and this is the most dedication I've ever seen in a group."