Norwin wins first round of Hometown High Q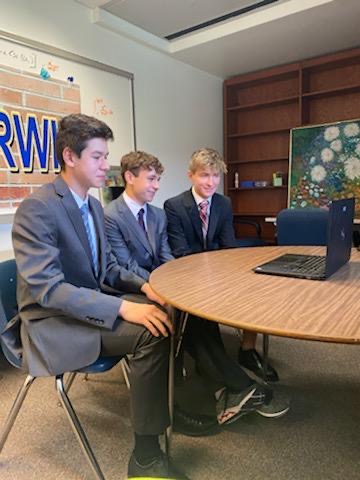 On Saturday, Oct. 1, Norwin's best and brightest took on Thomas Jefferson and North Hills in a battle of the brains, and they came out on top, securing their spot in the Hometown High Q playoffs.
The team of seniors Nicholas Cormas, Brady Johnson, and Oliver Hinson scored 505 points on the day, solidly beating North Hills' and Thomas Jefferson. The trio didn't get a single question wrong through the first three rounds.
"Our performance was exceptional," Johnson, the team captain, said. "We worked extremely well together as a team."
Johnson, who joined the team as a sophomore, has had time to refine his skills, which he said led to the team's success.
"My past experience has familiarized me with the type of questions that are being asked," Johnson said.
Johnson mainly contributes history and geography knowledge to the team. Meanwhile, Cormas, who maintains the #1 rank in the senior class, believes he has a lot to offer on the STEM side of things. 
Together, the team has nearly every academic area covered, which allows them to answer almost any question thrown at them.
"The team needs to be well balanced on a multitude of topics," Dr. St. Clair, the club's adviser, said. "Each member compliments the others and the team trusts each other when competing."
Because Norwin completed their preliminary round early in the season, they likely will not have another match until the winter, when playoffs begin. The Knights are confident, though, that they could end up winning it all.
"I expect this team to win several rounds in the playoffs," Johnson said. "This is the strongest High Q team I have been on."