Voting Procedures
Get ready to hit the polls!
How to Vote
The Nov. 8 Midterm Elections are coming up quickly, and for many seniors at Norwin, this will be their first chance to vote! The process may seem scary for those who haven't undertaken voting procedures before, but it can be broken down into several simple steps.
Each person is assigned a specific voting poll based on their address. Before going to their polling place, a voter should check the hours the polling place is open and choose the best time for them. It should be noted that depending on the time a person goes to their poll station, the line wait may vary, so it's always a good idea to be prepared for a longer wait time.
Once the voter has made it to the front of the line, first time voters ONLY should be ready with a legal form of identification (passport, school ID, drivers license, etc). After they've confirmed their ID with the poll workers at their station, they must confirm their attendance with their poll workers, and then move on to vote.
Once voters get to the voting machine, they select choices digitally and then are printed out a 'receipt' of their vote to correspond with digital choices. The paper 'receipt' is placed in another secure machine to ensure accuracy and correspondence with digital vote, thus eliminating any claims of fraud, etc.
————————
Registering to Vote
It is Oct. 24 and the last day to register to vote for the Nov. 8 election; any 18-year-old Norwin students who are ready to vote and have not yet registered are in the final hour, but they aren't too late. The process is fairly simple.

To start, go to the PA Voter Registration Application. The application will ask a series of questions, starting with the applicant's first, middle, and last name.
Following that, the applicant must check their eligibility and reasons for registering to vote. These are entirely mandatory sections and all questions within them must be answered in order to register.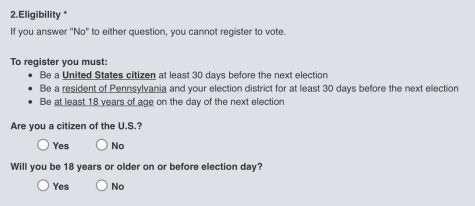 Next, there is a section regarding the applicant's demographics (birth date/age, gender, race, phone number, and email), as well as the addresses where they live and receive mail.
This is followed by sections on the applicant's identification, political party, whether or not voting assistance will be required for the voter, and if any voting information has changed.
The next three sections are the applicant's declaration (where an applicant will declare that they are legally qualified to vote), in addition to two optional sections asking if the applicant had any help with their form and whether or not they would like to be a poll worker.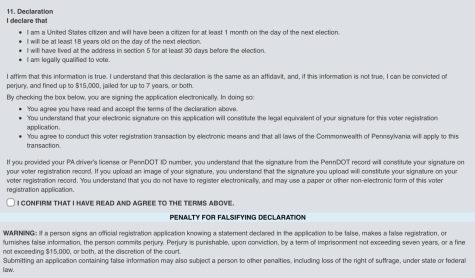 In the final two sections, applicants are asked if they would like to transfer their annual ballot and if they will be mail-in voting. 
Once these fifteen brief sections have been completed, the applicant is ready to submit their registration form, and head to the polls Nov. 8th, 2022.