Norwin welcomes Miss Courtney Kloos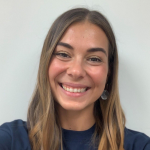 Norwin High School welcomed new staff members for the 2020-2021 school year. One of 
the newest members is English teacher Miss Courtney Kloos. She will be teaching 9th and 
11th grade English. 
Kloos is a recent college graduate who is ready to embark on her teaching career. 
 I went to St. Vincent College for all 4 years," said Kloos. "At St. Vincent, I got my bachelors 
in English and my certification English 7-12." She is currently extending her education by 
completing her masters in curriculum and instruction which she will receive in May 2021. 
While at St. Vincent, Kloos completed her student teaching requirements under Mr. 
Fleckenstein in fall of 2018 and uses the experience in her teaching today. 
"Fleck [Mr. Fleckenstein] is the master of technology. He uses technology so seamlessly in 
his classrooms and that has helped me a lot, especially in this hybrid model," said Kloos on 
what she took away most from her experience and how she applies it now. "He has definitely 
made me comfortable with the technology aspect." 
 As a first year teacher, Kloos hopes to impact her students in a positive way. 
"I hope that I can be a teacher students feel comfortable coming to," said Kloos. I hope that I've made my presence known to them and I hope they know I'm here for them inside and outside the classroom." 
 Speaking of outside of the classroom, Kloos is an avid traveler who has been to Europe many times and hopes to travel back in the future. 
 "I've been to Paris twice, Rome, London, Cologne in Germany, and Amsterdam many times," said Kloos. "I'm interested in going to Poland because I really like learning about the Holocaust and would like to visit Auschwitz."