Norwin Model UN sweeps competition at UVA
Eight members of the Norwin Model UN club traveled to the University of Virginia (UVA) on Oct. 20 to compete at their yearly conference, and came back with 5 awards: two Best Delegate awards (1st place), two Outstanding Delegate awards (2nd place), and one Best Small School award. The conference took the span of three days, and with around 1,500 students and numerous schools participating, the competition was fierce. 
MUN Social Media Manager, Molly Geissler (10), and fellow delegate, Harneet Singh (10), worked in the International Coffee Organization (ICO) room, a specialized committee that focused on the impacts of child labor in the coffee industry and the environmental repercussions of climate change on a coffee economy. Singh and Geissler were assigned Bolivia as their country, and with their research on the topics and country, they established themselves as leaders in their room, despite the challenges they faced as small school fish in a gigantic pond.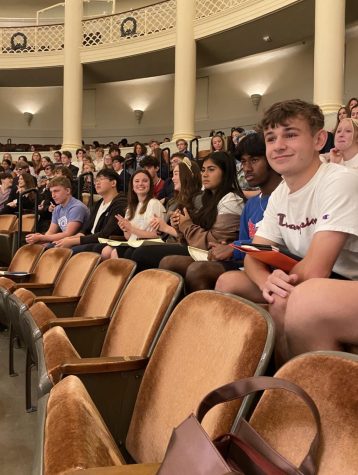 "I think overall Molly and I did amazing for our first big travel conference," said Singh. "We used our knowledge on our topic, country, and Model UN to establish ourselves in the committee. Compared to these other big private schools, Norwin seemed like nothing, however, we did amazing."
The effort and dedication that Singh and Geissler displayed was recognized by the Chairs— or moderators— of the room, as they were awarded the Best Delegate award, a feat that not many students who participated in the UVA conference achieved, especially as sophomores.
"I believe that we did so well because of how Harneet and I work together," said Geissler. "We're a collaborative partnership and we have learned how one another works and how to play to our strengths over time. For example, Harneet typically focuses on the research and writing resolutions portion of MUN, and I typically focus on taking part in debates and trying to speak as much as possible."
Geissler and Singh were not the only Norwin students to come away with awards, however. MUN President, Maleah Phetsomphou (12), also won the Best Delegate award in her room: The Court of Mary, Queen of Scots, a crisis committee where delegates work on the fly as new problems arise periodically for them to solve in a timely manner. The focus of the room was the future of the Stewart family line and rising tensions with the English, and Phetsomphou represented French Diplomat, Michel de Castelnau. Using her knowledge of the topics and interest in the period, as well as taking an active role and having fun in the room, Phetsomphou stood out to the Chairs of the room, winning her award.
"I think I performed well because of the preparation and background knowledge I had going into this committee," said Phetsomphou. "I chose to be a part of this committee because I was already intrigued by Mary Queen of Scots. I watched seven seasons of the CW show 'Reign' which helped as well. Having interest in a committee is one thing, but choosing to be active in it is another. As soon as the conference began I was drafting directives (legislative solutions), writing notes to other delegates, and sending crisis notes. I was also very creative— this is the best part of Model UN. I loved plotting 'evil' schemes while working with other participants to find valid solutions to the assigned problems."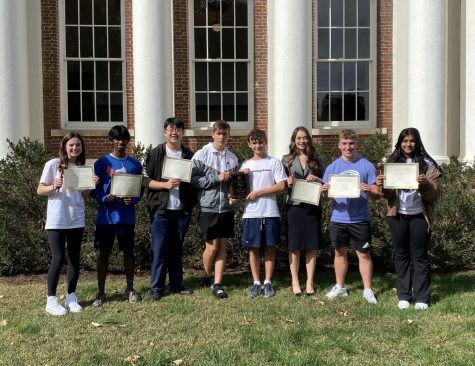 In addition to Norwin's two Best Delegate awards, MUN Vice President, Rex Wu (11), and his fellow delegate, David Shepherd (11), won the Outstanding Delegate award for their room, with the topics of global debt and ongoing corruption in Venezuela, as well as MUN Secretary, Andrew Brown (11), who was in a crisis committee on Bollywood's Cinema Industry. And though members Brady Johnson (12) and Oliver Hinson (12) did not win any individual awards, they and the rest of Norwin's delegates won the Best Small School award, crushing the competition in nearly every aspect. The Norwin MUN team didn't just return with some incredible awards; they came back with an experience like no other. [
"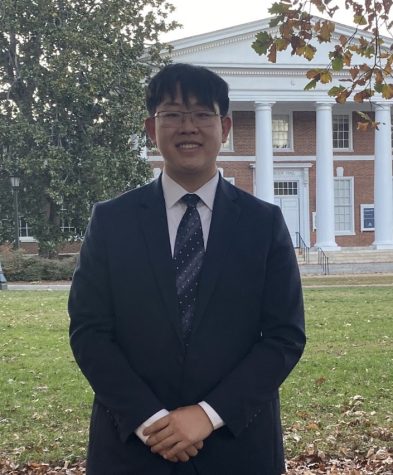 Prior to the trip, I hadn't visited that many college campuses so coming to UVA I didn't have the slightest clue on how the college worked. UVA's diversity and beautiful campus really surprised me and shows that I need to go out more often and visit more colleges.
— MUN Vice President, Rex Wu
"I had an amazing time at UVA, and it is an experience I will never forget," said Singh. "I had so much fun with the other mun members and made so many great memories here. I think winning best delegate in Molly and I's committee was the highlight of the weekend. I met so many different people from different areas of the east coast. Those people had similar and different cultural backgrounds from mine. These interactions were definitely memorable to me because I connected with so many people that I do not get the chance to meet here in Western PA."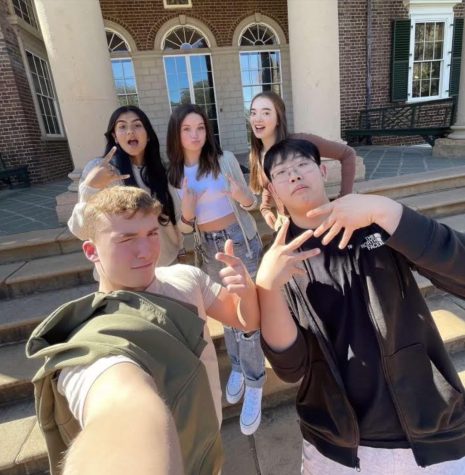 Though UVA is over, the Model UN season is not. Norwin's MUN club is gearing up for several local conferences, as well as their next big conference trip to American University in Washington DC, and they could not be more excited.
"The conference at UVA demonstrated that our students are ready for that next step," said Faculty Adviser and trip chaperone, Larissa Sturm. "I'm excited for American. It's our second new trip in one year."
Leave a Comment
About the Contributor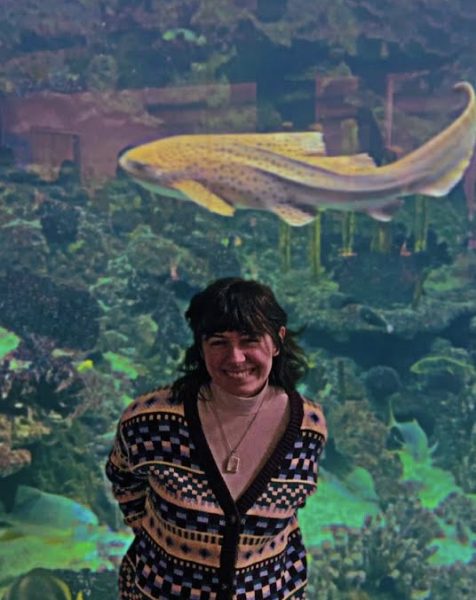 Paige Tokay, Vice President
Paige is Vice President of the Knight Krier, a Senior at Norwin, and into her second year on the Newspaper. When, she isn't writing articles, Paige is...