Norwin Basketball wraps up successful season
The 14-9 Norwin Knights basketball team ends season in first round WPIAL Playoffs.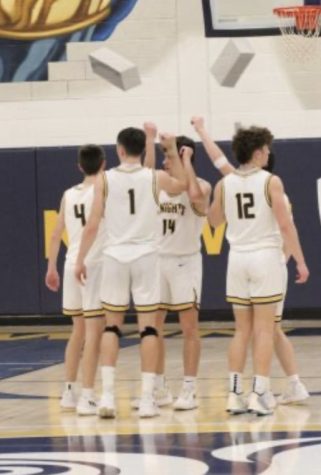 The Norwin Boys Basketball team overall had a successful season making playoffs for the second time in a row. Despite a loss to WPIAL #1 ranked New Castle Hurricanes 59-47 on Friday Feb. 24, the Knights have a lot to be proud of and took some steps in the right direction. 
The Knights had a handful of players that reached some pretty impressive feats this season. Most notably Senior Adam Bilinsky reached the 1000 Point Club while earning All Section honors. Seniors Ryan Edwards and Justin Weaver also were selected to All Section teams as well. 
"Expectations for our team are very high this year," said senior guard Adam Bilinsky. "Bringing back 3 starters and some key individuals on our team last year, should lead us into the playoffs and hopefully a section title." 
Although the Knights were unable to achieve their goal of winning a section title, they still had a lot of success throughout the season. The Knights started their season red hot with a 7-0 record but injuries mixed with some tougher opponents created a recipe for adversity bringing the Knights record to 11-8. One of the biggest bumps in the road was an injury to their leading scorer Adam Bilinsky who was averaging 20.5 points per game before he went out. He missed 5 games and the Knights went 2-3 in his absence. However when Bilinsky returned the Knights returned to peak forum and finished the regular season 14-9 with a number 8 seed in WPIAL playoffs.
Norwin was led by their backcourt trio of Adam Bilinsky, Ryan Edwards, and Justin Weaver, all of whom started last season. Bilinsky, who averaged right around 20 points, steals the show with his high flying dunks and overall skill.  Edwards, a crafty point guard, has not backed down from any moments as he hit a huge game winning buzzer beater to beat Cannon Mac. He  also stepped up big vs Hempfield when Bilinsky was out and hit some big shots to help beat the Spartans. Justin Weaver, a rangy athletic wing who's committed to Gannon for baseball, helped the Knights  with scoring especially from beyond the three point line.  The Knights also had a handful of newer faces like Jackson Pons and Noah Vogel who both came out for the team this year after being big contributors on the gridiron for Norwin Football. Other new faces that saw minutes were Trent Raspotnik, Colin Gunzberger, Danny Diven, Chris McKnight, Jacob Murray, and Louie Botti. 
Defensively the Knights typically ran a 2-3 zone but sometimes switch it up depending on the opponent they are facing. They run a pass and cut motion offense that moves fast paced and revolves around off ball movement. A major difficulty for the team had  been closing games out. Most notably in a recent section game vs Baldwin Norwin had a comfortable lead going into the third quarter. However the  Fighting Highlanders started to run a press that caused the Knights to turn the ball over  too much and it ended in a 63-50 loss for the Knights. 
"I expect us to win some games in section play and put ourselves in a good spot come the playoffs. I want to make a run in the playoffs for sure too," said senior guard Ryan Edwards. 
The Knights had their work cut out for them in the playoffs as they were given the 8th seed and had the daunting task of traveling out to New Castle and playing the no.1 ranked Hurricanes. Norwin stayed within striking distance with them but towards the end the Hurricanes pulled away taking the Knights out 59-47.