High expectations for Norwin Hoops
Norwin Hoops has a lot to look forward to this season and hopes to take their success to the next level. Last season under first year coach Lance Maha the Knights earned their first playoff berth in 6 seasons with a record of 9-11. 
"Expectations for our team are very high this year. Bringing back 3 starters and some key individuals on our team last year, it should lead us into the playoffs and hopefully a section title," said senior guard Adam Bilinsky. 
Norwin has a talented roster that should feature a deep rotation. The star of the show, hyper-athletic Mercyhurst commit Adam Bilinsky is set to lead the Knights after averaging 17 points and 10 rebounds last season. Returning starters Justin Weaver and Ryan Edwards have high expectations placed on them as they both played a crucial role in helping the Knights punch their tickets to the playoffs last season. Mike Mihalov, a 6"5' senior who battled injuries last season highlights the frontcourt and will play a crucial role down low.
The Knights also gained some new talent from the gridiron, with Noah Vogel, Jackson Pons, and Liam O'Brien coming out for hoops this season. Some other players that are in the mix to see time are seniors Trent Raspotnik, Cullen Rahuba, Colin Gunzberger, Danny Diven, Jacob Murray, and Louie Botti. As well as juniors Dylan McCullough, Noah Wilson, Alex Wiggins, and Luke Denny.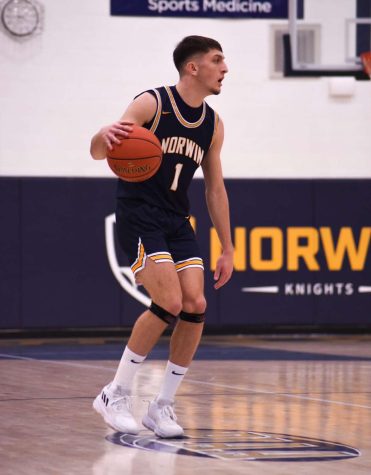 The Knights have looked strong up to this point so far as they went 2-0 in their own tip off tournament beating Jeanette and Uniontown. In both games senior guard Adam Bilinsky stole the show scoring 30 and then 24 points. In their next contest they took on crosstown rivals at Penn Trafford where the Knights won 61-54. This outing brought their record to a flawless 3-0 and was dominated by the back court trio of Bilinsky, Weaver, and Edwards, who combined for 54 of the teams 61 points.  The Knights have an uphill road ahead with some difficult opponents like Laurel Highlands and Mt. Lebanon but they are up for the task.
"I expect us to win some games in section play and put ourselves in a good spot come the playoffs," said senior guard Ryan Edwards. "I want to make a run in the playoffs for sure too." 
The Knights season ended last season after a high scoring affair in which they lost to Butler 81-73, however they hope to use that loss to fuel them to a deep run this season. The Knights play another local opponent at The Castle against Yough on Saturday December 10.