Spreading Christmas cheer
Operation Christmas child
The Christmas season is a time of giving back.  Norwin High School does many things to give back to people in need. In the third week of November, the Global Scholars Club joined the Interact Club in Operation Christmas Child, where the club members packaged and sent out shoe boxes full of gifts to children around the world. 
Operation Christmas Child is run by Samaritan's purse. The Interact and Global Scholar Clubs fill 30 boxes with at least 6 items in it. The students participating in the clubs sign up for items they are willing to bring to fill the boxes with.  Some items in the box are crayons, markers, books, journals, stuffed animals, toys, etc. Over 20 students participated in this project.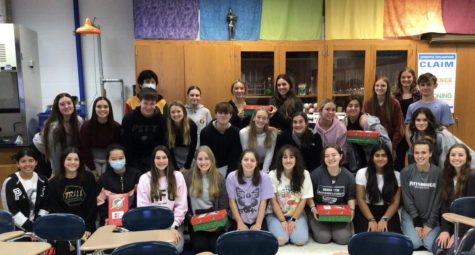 "Interact Club has been doing Operation Christmas Child for over 20 years,"  adviser Mrs. Debra Spang said. "The Interact Club must complete at least one International Service project each year to give our students a chance to think globally.  The Global Scholars program also participates in this project."
"
It means giving back and spreading joy and kindness and I couldn't imagine not doing this every year. "
— Kinsey Momeyer, senior Interact President
The first step to this operation is deciding what age group and gender to make the boxes for. After collecting all of the donations, the members sort out all of the items and package them. The members then label them and take the packaged boxes to the designated drop off location. The drop off location is where they start distributing the packages to the specific locations.
"It was a great success in my eyes as we were able to give back to kids who don't get anything for Christmas." senior Interact President Kinsey Momeyer said, "It's a great way to get high school students involved in a good cause."
Interact and the Global Scholar clubs are able to track a box this year. When the box gets delivered the students will be able to see what part of the world their box was sent to. The location allows the participants to have a sense of where the child they helped is located around the world.
"Operation Christmas Child is a way for me to pass my good fortune onto those who aren't as fortunate," Momeyer said.
Additionally, the Christmas boxes are not just going across the world. Some of the boxes are being shipped in the United States. The gift boxes could even be going to someone in the Norwin School District.
"It means giving back and spreading joy and kindness and I couldn't imagine not doing this every year," said Momeyer.