Students at Norwin GAME ON in the Esports Club
Joe Cramer, Intro to Journalism Contributor
December 12, 2022
Valorant, Rocket League, and Super Smash Bros are all very popular games for students at Norwin.  Imagine being able to play your favorite games with friends against other schools. Well you'd be in luck. At Norwin High School the Esports club is a relatively new club where students play competitively against their teammates and other schools.
The Norwin Esports club started up this year and is offering students the opportunity to play video games at school competitively against their fellow peers and against other schools in national and state-wide competitions. 
Currently, the club has 120 members, and 90 of those students have an interest in competing as a team in competitions.
With the number of students in the club, the club needed to find different avenues to play games together. The club uses the Generation Esports platform so that students can compete remotely from home when it's convenient for them.
"We also hope to promote Esports and draw attention to the different professions found within this new and growing field," said Esports Club adviser Mr. Brandan Salany.
"
There is much more to it than just being a gamer now. "
— Salany
As the club grows,  Mr. Salany would like to offer in-house competitions in coordination with state-based organization, Pennsylvania Interscholastic Esports Association (PIEA). Mr. Salany also has high hopes for his students in future competitions.
"It is hard to tell for sure how our students will do against the other schools with the limited information we have as well as experiences. My personal hope is that our players will have fun while also being challenged," said Salany. "We have been participating in fully online tournaments since September and just had an in-person tournament at Penn Trafford High School on November 19th."
While the Esports Club plays many video games, a few stand out as the more popular games.One such game is Valorant, a 5 v 5 first person shooter game which is very popular competitively amongst students and other Esports programs.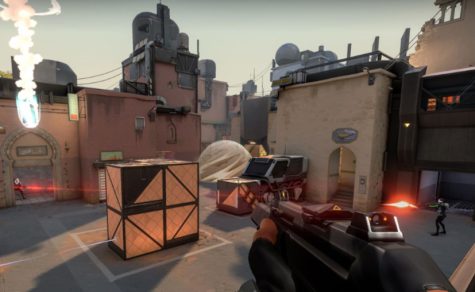 Another very popular game is Rocket League, in which two teams of 1, 2, or 3 players play against one another for lack of better terms "car soccer."

YouTuber Throneful

The club also strives to add more games to the line up. "Overwatch 2 seems like a cool game that is building in popularity so I expect to see more opportunities for this in the future," said Salany.

The Norwin High School Esports club has experienced growth and continues to add more to the club so these Knights can continue to game on.