Business Law classes hit the courts
Norwin's period 1 Business Law class took a field trip to the Westmoreland County Courthouse
Norwin's Business Law Class traveled to the Westmoreland County Courthouse on Dec. 6 to experience business law in a real situation outside of the classroom.
The students were able to get the chance to sit and view a real trial in action.
"On the field trip, we watched a jury trial on a man accused of not updating his location to the local police," Business Law student, Mario Breauchy (10) said. "We just sat in the back of the room and watched witnesses in the stand, evidence being presented, and arguments increase in intensity."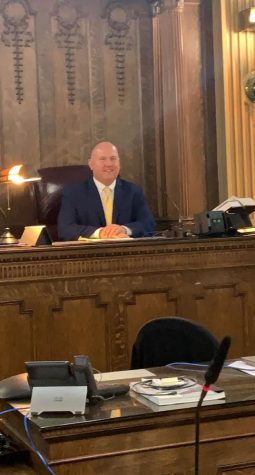 Throughout the trial, students viewed the learning they were doing in class from a real-life perspective.
"I think this trip benefited me because I was able to see an actual trial and relate it to different concepts we learned in class," said Breauchy. "Although we watched many movies and shows of trials, the class wasn't watching a Hollywood film anymore and we got to experience it in real life."
The field trip enabled the students to  interactively think about a real-life situation and see how a trial operates in real time.
" I enjoyed the most hearing the witness on the stand because I was able to connect the questions in the direct and cross examinations and how they would help prove the attorney's points," said Breauchy.
"
The class also allows students to open their eyes and understand different reasons for what happened to some people and why they got different punishments."
— Business Law student, Mario Breauchy (10)
This trip offers students enrolled in Business Law Class an opportunity to interact more deeply with the field and observe what really goes on as opposed to learning about it in a classroom and on a screen, leaving an impact on the students.
"I would highly recommend future students to take the class for many reasons," Breauchy said. "The teacher, Mr. Aftanas, has to be one of the nicest and respectful teachers you will ever meet. The class also allows students to open their eyes and understand different reasons for what happened to some people and why they got different punishments. Finally, I think that it forces students to think creatively and piece together different pieces of information that most people would normally miss."