GSA food drive
The Norwin GSA Club recently collected canned goods from fellow students for donations to the Westmoreland Food Bank as the holiday season began. Although club is new to the school, having formed earlier this year, they have already began making their mark by radiating kindness and inclusivity.
"The club is interested in promoting understanding and inclusivity in our school," said club adviser, Mrs. Angela Hufnagel.
Because the GSA club is so new, they are still making a name for themselves and promoting the club in as many ways as possible, which is one of the reasons they chose to sponsor a food drive for the community.
"We wanted to do something that shows the kindness the club wants to promote," Hufnagel said. "It came together very quickly, thanks to the club officers."
"
GSA's main focus is to spread acceptance and create a more positive environment at school"
— GSA Club President Harneet Singh
The club officers, president Harneet Singh (10), vice president Kiera Bolton (10), treasurer Ray Mamas (11), and secretary Izabella Watkins (12), all have been major components in the success of the club so far. They have helped run and promote the food drive and lead the club into success.
"Overall, we received a lot of food, especially for how new the club is," said Club President Harneet Singh.
The club performs caring acts for the community and their goal is to spread kindness towards everyone no matter their label; they are showing others it is easy to do the same back.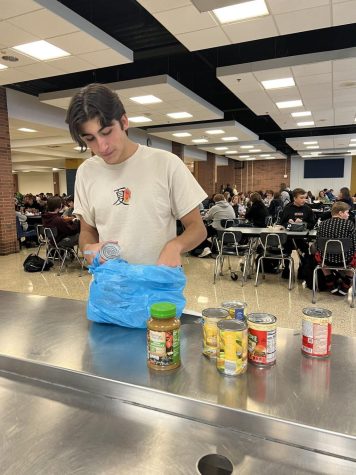 The Norwin GSA Club is more than ready for the rest of the school year and the other activities they have coming up. They plan on involving holiday ornaments in and having more events both before and after the start of the new year.
"As a new club, we are still doing a lot of brainstorming of ideas for events that could promote kindness and inclusivity," Hufnagel said.