Norwin Ice hockey off to a hot start
HE SHOOTS, HE SCORES! The Norwin boys hockey team is off to a hot start with a record of 8-2 https://www.pihlhockey.com/standings/show/7265870?subseason=824681, continuing last season's stellar finish with their first ever Penguins Cup last year.
Norwin has multiple high goal scorers that are helping tremendously through the first half of the season.  Mario Cavallaro  is leading the whole division in points with 35, Alex Thomas is not far behind with 29 points. Goalie Owen Burmeister has looked very confident in the crease as well.
"If we can get solid goaltending and our defense can hold down the fort I like our chances of winning this year," said head coach, Mike Robinson. 
As the returning Pen's Cup champions the Knights have a huge target on their back. The whole  division is going to try to take the boys down.  There are many keys to the boys' success as the second half of the season starts.
"The keys for us to repeat are going to be coming together as a team and buying into a team first mentality," said Robinson. "When we play together as a team, we pass the puck and work for one another we are very a hard to play against."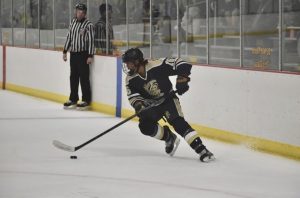 it's not all sunshine and rainbows there are always challenges for any team.  The teams rivals Greensburg Salem is the team that wants to take the returning Pen's Cup champs down. Also as a team, the Knights are currently working on the defensive zone play as that is their weak point.
"In my opinion the biggest challenge in our division will be Greensburg Salem," said Robinson. "They are a Very fast and physical team. They have 3 lines deep and add the rivalry that we've had for years now. We are a high scoring team and we need to make sure that we can play a full 200 foot game."
As the second half of the season begins the boys play Fox Chapel, which is in 2nd place and Greensburg Salem, who are first in the division.  
"
If the boys can buy in as a team and listen to what the coaches are telling them we will continue to win!"
— Head Coach Mike Robinson
Defending Pen's cup champions try to go back to back champs as they are off to a hot first half of the season with their record being 8-1.