Norwin Ice hockey skates to another successful season
"ELVIS HAS LEFT THE BUILDING!" A saying made famous by Pittsburgh sports legend Mike Lange is fitting for the Norwin boys hockey team who have a 12-4-1 record on the season, continuing last season's stellar finish with their first ever Penguins Cup last year.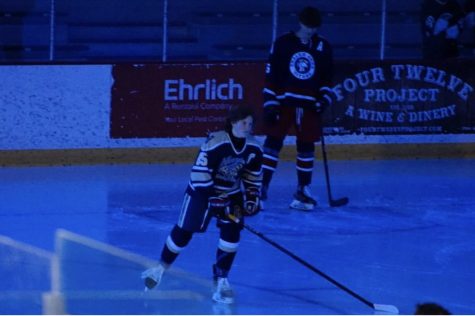 The Knights are coming off of arguably their best season in team history. Although many of the starters on last years team have since graduated, the team has not lost a step. Led by Captain Alex Thomas (11) the Knights are right where they need to be as they prepare for the postseason with just 2 games left to go.
"If we can get solid goaltending and our defense can hold down the fort I like our chances of winning this year," said head coach, Mike Robinson. 
Solid goaltending is exactly what this team has achieved with starting goaltender Owen Burmeister going 9-5 in 14 starts with a SV% of .855. The team's assistant captain and Forward Sean Hanley (12) has played 3 games in net and is 3-0 in his appearances;
As the returning Pen's Cup champions the Knights have a huge target on their back. The Knights have been able to respond with an impressive victory coming against Greensburg Salem (14-3)  by a score of 8-5.
"The keys for us to repeat are going to be coming together as a team and buying into a team first mentality," said Robinson. "When we play together as a team, we pass the puck and work for one another which makes us a really hard team to play against."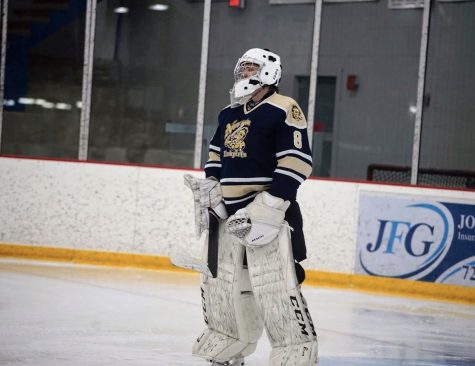 It hasn't been all sunshine and rainbows for the Knights. Fox Chapel, Greensburg Salem, and Kiski still remain ahead of them in the standings. Since the team's 8-1 start, the Knights have gone just 4-3-1 in that last 8. Also as a team, the Knights are currently working on the defensive zone play as that is their weak point.
"In my opinion the biggest challenge in our division will be Greensburg Salem," said Robinson. "They are a very fast and physical team. They have 3 lines deep and add the rivalry that we've had for years now. We are a high scoring team and we need to make sure that we can play a full 200 foot game."
The best part about this Norwin team is that they put up points. The Knights rank second in their division in goals scored with 109. Alex Thomas, who hit the illustrious 100 points milestone earlier in the season, has 56 points on the season with 29 goals and 27 assists. Mario Cavallaro has put 25 goals on the stat sheet this season and has averaged an impressive 2.86 points per game.
Another strength from the Knights is their power play unit which has scored 15 goals on 45 opportunities. (33.3%) Taking advantage of the extra man on the ice has led to great scoring opportunities late in games for the Knights.
"
If the boys can buy in as a team and listen to what the coaches are telling them we will continue to win!"
— Head Coach Mike Robinson
The defending Penguin's cup champions will attempt to repeat as back to back champs this postseason. Their next game comes against Freeport on Valentine's Day at Palmer Imaging Arena. Puck drops at 8:30 PM EST.