Playing during the pandemic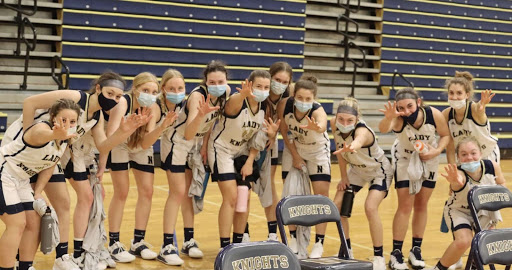 The first season of winter sports affected by COVID is in full effect. Unfortunately, because basketball is in an indoor sport during a recent spike in COVID-19 cases, Basketball was no exception to these major changes. Wearing a mask during the long hours of practice and playing games with nearly empty stands are all new experiences for the Norwin Lady Knights Basketball team. 
"We are required to wear them 24/7, during team huddles, on the bench, and during the game," said senior Mara Polczynski. "It's kind of frustrating to play with them on. Although it isn't strictly enforced to have them all the way over your nose, even having them on is uncomfortable and distracting," Polczynski has been playing basketball all 4 years of high school for the Lady Knights.
As we all have learned throughout the entire COVID-19 experience over the past year, there are many positives and negatives that have come out from the changes in all situations. 
"One negative is the number of people in the stands," said Polczynski  "With each team member only allowed one ticket, our fans have definitely decreased since last season. However, with every negative there is a positive Our coach is concerned about our safety when wearing masks. With that being said… our conditioning at the end of practice has significantly decreased and I think the whole team secretly enjoys that aspect of COVID."
Masks seem to be the biggest issue as a whole when practicing and playing sports. Masks can make athletes feel that they are having trouble breathing and also causes growth of bacteria in masks due to sweat. Though they seem to be a big inconvenience, Norwin's athletic department is strict on the mask mandate compared to other schools. 
"I think that Norwin is one of the only schools requiring the team to wear the masks everywhere, a lot of teams are allowed to take them off during the game. However, I do have to say regardless of the mandates, I'm thankful we are playing," said Polczynski. "I really don't feel protected at all with them on because we are all within six feet of each other. It is a contact sport after all, so if anyone feared getting COVID on the team, I'm sorry to say that masks are not the solution"
With a 6-2 record so far this season, the Lady Knights are still playing strong throughout all of the struggles of the pandemic.
 "It is a little sad to have such an unpredictable senior season and never know whether or not we will get another game, but at the same time I think that drives our team to work much harder for every win."