What does your future hold?
The pressures of choosing future careers in high school
Deciding where you want to go in life is supposed to be an exciting time in a high school student's life. However, it can be extremely stressful for students who don't know what they want to do yet. Not having a permanent plan for your future can put extra stress on top of all the school work that still needs to be completed.
According to Best Colleges, 52 percent of high school students feel pressure to make decisions about their future too soon. Nearly 1 in 3 students believe that college costs and mental health struggles will impact their future plans. These statistics show how many students feel pressure to decide on a future career path in high school.
Going to college, going to a trade school, or getting a job out of high school is exciting, but getting to that point puts stress on high schoolers who already experience stress in their daily lives. Norwin High School students are no exception to feeling that stress.
According to a recent Intro to Journalism poll of over 50 students at Norwin High School, 64 percent said that they already felt pressure to choose a future career as a freshman.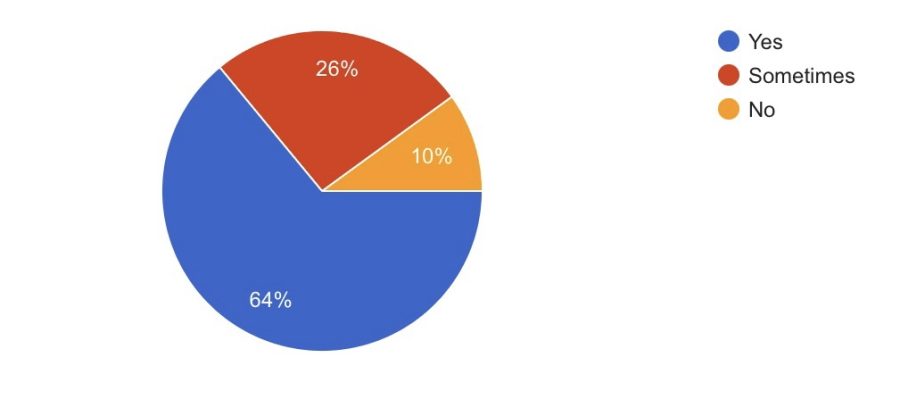 Deciding what you want to do for the rest of your life is a lot of pressure and students are already thinking about it when they enter high school. Everyone deals with relieving pressure in different ways.
"I focus on extracurriculars and hobbies such as swimming, tennis, and playing the piano," said senior Nicholas Cormas.
However, everyone is different and students relieve pressures in many different ways.
"Always knowing that you can change your mind," said senior Ashley Laukus. "You are allowed to switch majors in college and you are not held down to that major for the rest of your life. If I don't like it I can always try something else."
Knowing that you are allowed to switch majors can definitely help relieve some pressures, but Norwin High School can help as well.
"
It is alright if you are not decided right now because colleges have undecided majors. However, if you are still wanting to talk to someone about pressures you are facing, the Guidance office door is always open. "
— Guidance counselor, Kimberly Thorsen
A recent journalism poll of Norwin High School students showed that over half of students think that the school provides adequate preparation for preparing their students for their future.
After speaking with a guidance counselor, Kimberly Thorsen, the school provides many different ways of preparing their students for what lies ahead in their future careers.
"The school provides meetings, the students complete Xello activities, electives, and some students go to the Central Westmoreland Career and Technology Center (CWCTC) to find a trade they are interested in," said Thorsen.
According to Best Colleges, 53 percent are optimistic about their future after high school. This is no exception for Norwin students. Even though it is a lot of pressure, it is also an exciting time in every student's life.
Some students have already decided what career path they want to pursue in the near future.
Sophomore, Kara Kostrobala said, "Biomedical or medical careers because I enjoy the chance to help people and the field is expanding,"
Kostrobala is one of the many who already have an idea of what she wants to do.  Sophomore, Brayden Wardzinski also has an idea of what he wants to do when he graduates high school.
"An engineer or business manager because I enjoy dealing with numbers and the math aspect of the careers."
Deciding on a career can have a negative effect if you go through it alone.
Best colleges website discussed: "As they [students] ponder their post-graduation plans, students have primarily sought advice about life after high school from family (72%), friends (51%), and school faculty or staff (45%)."
Picking a future career in high school can be a lot of pressure, but there are definitely different ways to deal with that pressure. Everyone is different, but at least having an idea of something you are interested in is a positive start.
"It is alright if you are not decided right now because colleges have undecided majors," said Thorsen, "However, if you are still wanting to talk to someone about pressures you are facing, the Guidance office door is always open."
Leave a Comment